Betty Star Ajani Russell Watches Anime in the Bathtub and Swears by Dr. Barbara Sturm
The actress discusses all things Korean beauty, and how her art form has imitated life.
---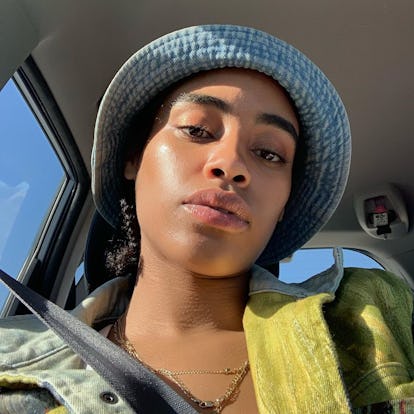 In the new HBO show Betty, the term "Betty" is used as a somewhat derogatory term by male skateboarders who see women skaters as posing hangers-on. The plot centers around a group of female friends living in New York City, chronicling their day-to-day lives, freely skating through the streets of Manhattan, hitting weed pens, and navigating the winding road of adulthood. Skateboarding is their escape, a means for enjoyment, and a form of expression—disparaging comments about whatever veiled intentions they seem to have, be damned.
For the actress Ajani Russell, who plays Indigo—a young woman trying to mask her silver-spoon upbringing from her homegirls—skincare and makeup are linked to her artistic interests. The Brooklyn-born 22-year-old lives in Los Angeles, where she's been attending classes at Cal Arts and is currently holed up at home during quarantine with her roommate, creating characters using wacky makeup and taking baths to pass the time. Like skating, modeling, and multimedia art projects, beauty is a way for Russell to flesh out her own ideas and gain inspiration. She sees makeup as something that is no longer relegated to one gender or another, a "Betty" or not. It's just a way to have fun, get creative, and for now, stave off some boredom.
Here, Russell shares her favorite K-beauty products, why skincare is the most important part of the beauty process, and why, despite a traumatic experience on a photoshoot set, she still feels invigorated by the fashion industry.
It's interesting to me that your character in Betty gets scouted to be a model, and you also were cast to model in the Rag and Bone show this past fashion week. It's like art imitating life.
The script is based loosely on things that happened to us in real life. They're all topics we're passionate about, discussing from our perspectives—things that haven't been seen before, necessarily, on this type of platform. That was one of the things that was the important for us to share with people.
There's a scene in the show in which you're modeling in a photo shoot, and the photographer instructs you to "Give me food stamps, give me WIC!" That really happened to you?
It was something I experienced a few years ago. They didn't say those words exactly, but the context of the shoot, was a girl gang shoot, cool girls in groups, different types of girl gangs. I showed up to set, and it was mostly trying to be a Chola, Uptown, Latina vibe, but they were cornrowing Russian models's hair, it was at 7 in the morning, and there was no breakfast. They put a fake scar on one girl, and a fake tattoo on another girl. I heard the makeup artist be like, "Make it more ghetto." I was talking to the other models, and they were so uncomfortable. I'm Puerto Rican and I was very offended. It was traumatic for me. I left that shoot, I didn't actually follow through with it because once I was in hair and makeup, I looked in the mirror and I was furious.
Despite this negative experience, I noticed on your Instagram and also in the show that beauty and fashion do seem like ways of expressing yourself.
I love beauty, and fashion and I love how both can be tied into art. I'm studying art, so I find myself being inspired by modeling—it informs my art, which then informs my skateboarding, and whatever I'm working on at the moment.
What are your favorite go-to beauty products?
I am big on skincare, and I love a nice glow—a dewy, moisturized look. I have dry skin, so I love Korean beauty. I like Innisfree products. I have this J.One Jelly Pack Primer, which acts as a top layer for all my moisture products. Another one is the Shiseido Aqua Label Special Gel Cream. I bought it at the airport in Japan because I was flying to Milan and I needed a moisturizer. I had been flying all week and my skin was so thirsty. I asked the woman in the cosmetics shop, "What is your favorite, most moisturizing product?" And she pointed this one out.
Did you learn any beauty tips from your Betty costars?
How to place little gem accessories in patterns on my face, and using different colors for makeup that I would have never thought to try. I remember one episode, Dede [Lovelace] had on neon green mascara—I've used other colors like purple and red on my eyelashes, but not those hot pinks and vibrant colors. That was so cool.
What was one good beauty trick you picked up from the makeup artist Natalie Young on set?
Natalie would do skincare routines with us. After the day was done, she would wash our face with a cold makeup remover cloth, which she would dip in ice, then wipe off all our makeup with it, and then she would put a hot towel on our faces. Then she'd apply serum, and a final light moisturizer. I remember when I was shooting the movie, Skate Kitchen, the makeup artist didn't have a process like Natalie did. I remember my skin was breaking out at that time, because I have very sensitive skin and I'm not used to wearing makeup all the time. But the makeup artist on Betty was really attentive to my skin needs.
Natalie was really fun and loved to play around with looks. If there was a look I was really inspired by that I found on Instagram, I'd be like, "Can we do something like this?" She'd be like, "Let's do it." She was all for trying out colors and glitter. I actually found this brand of makeup, Kosas, through her. They have liquid glitter pigments, cream blushes, and highlighters that I love. They also have a tinted skin oil, and it makes my skin look like butter.
What products, if any, did you wear on set?
I don't usually wear makeup on the day-to-day. I like mascara and bronzer or highlighter. I use The Balm cosmetics, they have this nice bronzer called the Betty Lou-manizer.
How have you seen your beauty regimen change in quarantine?
In quarantine, I'm making characters with makeup, just because I think it's fun and I'm bored.
I did a campaign for Wet 'n' Wild a while back. They did this Pac Man collaboration last year, and they sent me the stuff, but I had never used it because it's all crazy colors. So now, I'm trying it out. They have blue lip gloss that I've been really into lately. And I've been doing lots of face masks.
Is there any face mask in particular that you're loving right now?
I'm using Formula 10.0.6 Deep Down Detox Ultra-Cleansing Mud Mask. It's a mask with orange and bergamot.
So it's not a sheet mask.
No, this one's a clay mask. For paper or sheet masks, there's this Korean brand Malie System that has all these different types of masks. I got the variety pack, with aqua, pomegranate, pearl, snail, and stem cell masks, which I love.
What's your nightly bedtime beauty routine now?
I wash my face. I have two facial cleansers: one is a Shea Moisture African Black Soap, and it's a facial scrub. I use that one, or I use La Roche Posay's cleanser. But I don't think I like the La Roche Posay one as much—it dries out my skin.
But everyone swears by that brand.
Yeah, my roommate was the one who recommended it to me. But you gotta find your own routine, and listen to your skin.
When you wake up in the morning, what's the first thing you do?
I wash my face, with just water. I'll pat my face down and then I'll put on Whamisa's Organic Flower Deep Rich Essence Toner. I love this toner so much. During the day, I use A'Pieu Pure Block Aqua Sun Gel. I put it on every day, since I'm in California, and I like to go outside and be in the sun. And I also love the Dr. Barbara Sturm eye cream. That stuff, I don't know what it is—it's like magic. It'll give you baby eyes.
What's your ideal spa day and where?
I don't do too many spa days, but if I had to choose, probably a Korean bathhouse. My Korean friend took me one time to a bathhouse in Los Angeles. She was like, you're going to sit in this water for 40 minutes, and when I come back, I'm going to scrub you. She scrubbed down my whole body, and there were layers of skin melting off of me. It was so crazy. [Laughs.]. She got some kind of satisfaction she got from scrubbing all my skin off. She was like, "Now you're baby smooth."
I also went to the Dr. Sturm store in New York once to get the Glow Facial, I believe it's called. I don't remember the woman's name, but she had magic hands. She made me look like a baby: like, two years old, fresh out the womb, there's not a pore in sight on my skin.
You've gotta find out what that woman's name is.
I know. We were talking about her kids, we were really bonding. I have her card somewhere, I saved it in my wallet.
What is your favorite form of self care?
My favorite form of self care probably involves a face mask, a cup of tea, and a bath—watching anime in the bath is my favorite thing to do. I did that two days ago, because I was skateboarding, and I fell. My knee was so swollen so I took a bath. I was in there for, like, two hours and I came out all wrinkled, and my roommate was like, you've been in there for a while. I was wondering if you were okay.
Bathing is an underrated, restorative beauty act. I love soaking in natural hot springs.
I did that once in Tokyo, but only once. And I wish I could do it every single day.
Related: Betty Director Crystal Moselle on the Skate Culture "Tipping Point"