Beyoncé Cuddles With Blue Ivy, Sir, and Rumi in Behind-the-Scenes Video of Vogue Shoot
The ultimate Bring Your Kids to Work Day.
---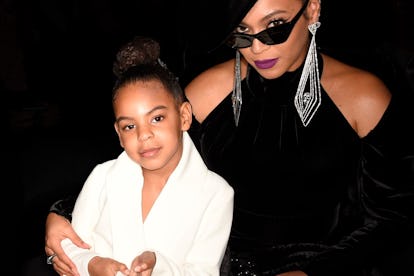 Composite. CBS Photo Archive/Getty Images
Upon its release earlier this month, Beyoncé's September 2018 Vogue cover made history, as it was the magazine's first-ever cover in the nearly 126 years since its founding to be shot by a black photographer. As seen in a new behind-the-scenes video from the shoot, released by Vogue on Tuesday, Beyoncé made sure her kids were there to witness history. In between clips showing Beyoncé being photographed by Tyler Mitchell, others show six-year-old Blue Ivy running around in the grass and offer a rare glimpse of Bey's 14-month-old twins Sir and Rumi.
The video opens with Blue Ivy helpfully offering to "zoom in for you guys" on the outdoor set of the cover shoot, before she's shown holding a camera in her hands. Later, she takes a break from her director of photography duties to play around with a friend and show off her cartwheeling skills, then to cuddle with her younger siblings and her mom in sweet close-up shots. When she's not snuggling with her children, Beyoncé alternates between holding serious, regal poses as Mitchell clicks away, then breaking character between takes to relax with little dance moves and pull funny faces. She's also shown getting her hair braided and nails painted for her various cover looks—which are shown in glorious, up-close detail in quick shots throughout the video—and she joins Mitchell to peek at Polaroid versions of his photos to get an idea of how the shoot is going. As you've probably seen by now, it went very well.
It makes sense that Beyoncé would bring her kids with her to the history-making set. In her Vogue interview, she spoke about the importance of teaching her daughters especially to take control of their power. "As the mother of two girls, it's important to me that they see themselves, too—in books, films, and on runways. It's important to me that they see themselves as CEOs, as bosses, and that they know they can write the script for their own lives—that they can speak their minds and they have no ceiling," she said. "I hope to teach my son not to fall victim to what the Internet says he should be or how he should love. I want to create better representations for him so he is allowed to reach his full potential as a man, and to teach him that the real magic he possesses in the world is the power to affirm his own existence."