Beyoncé Declares Her Love for Her "Mommy Pouch"
"My little FUPA and I feel like we are meant to be."
---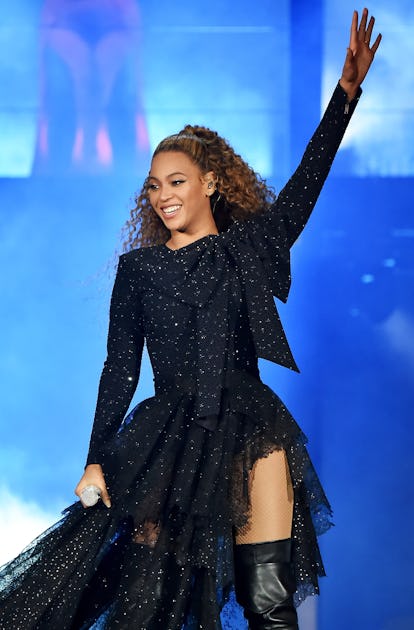 Getty Images
Beyoncé's long-awaited takeover of Vogue's September issue is finally here, proving that, once again, the Beyhive didn't disappoint with their sleuthing skills. As promised, she was photographed by the first-ever African American to shoot the magazine's cover—23-year-old Tyler Mitchell—and introduced Beyoncé's vision of a cover story. Naturally, it's in her own words, formatted into a series of sections on topics such as "pregnancy and body acceptance," which sees her dive right into getting real.
"I was 218 pounds the day I gave birth to Rumi and Sir," she wrote, flashing back to last June, when she delivered her twins with Jay-Z (and was dedicated to keeping everything about it a mystery). As it turns out, that was in part because she was dealing with so many pregnancy-related complications, spending more than a month on bed rest and swelling up from toxemia before having an emergency C-section—a previously rumored surgery that she confirmed, describing how, at the time, she was "in survival mode" and unable to "grasp it all until months later."
By "it all," Beyoncé means just how "major" the surgery was, leaving her "core [feeling] different." ("Some of your organs are shifted temporarily, and in rare cases, removed temporarily during delivery. I am not sure everyone understands that.") Afterward, then, she decided to give herself "self-love and self-care," which primarily meant deciding to "embrace being curvier" and "accept what my body wanted to be." And while she did end up eating a vegan diet and cutting out coffee and alcohol for a spell in preparation for her mania-inducing appearance at Coachella, it was after a much, much longer period of convalescence than she'd allowed herself previously after giving birth to her daughter Blue Ivy, in 2012.
As for how she moved on from that pregnancy, Beyoncé summed up her approach quite simply: "Looking back, that was crazy." Because she "believed in the things society said about how my body should look," she pressured herself to lose all the baby weight in just three months, and even scheduled a tour timed to her deadline to hold herself to it—never mind that that meant she was actually still breastfeeding Blue Ivy throughout her 2012 residency in Atlantic City.
If there's anyone likely to actually follow through when they say "whenever I'm ready to get a six-pack, I will go into beast zone and work my ass off until I have it," it's Beyoncé, who, "to this day," has "fuller" arms, shoulders, breasts, and thighs. She also has "a little mommy pouch," which she's not only "in no rush to get rid of," but also seems to have warmed up to quite a bit: "Right now, my little FUPA and I feel like we are meant to be."
Related: A Brief History of Celebrities Letting Loose (and Losing It) at Beyoncé Concerts