Everything That Beyoncé Did Differently For Her Second Coachella Performance
The outfits were on point again, obviously.
---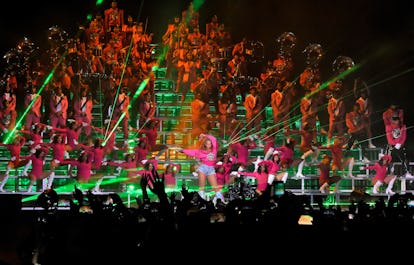 Photo by Kevin Mazur/Getty Images for Coachella
For a star of Beyoncé's caliber, the greatest challenge is reaching the expectations set by her own performances. Audiences want every show and concert to be bigger, better, cooler than the one before, but there comes a point at which Beyoncé reaches Peak Beyoncé. After her jaw-dropping performance at the first weekend of the Coachella Music Festival, fans were rightly interested in what she would do for weekend two. If she did the same thing, then it's boring, and Bey is never boring. If she changed everything, then it would be like, well then what was weekend one? A rehearsal?
Perfectionist genius that she is, Beyoncé changed just enough of her look to keep the second headlining performance unique and interesting to people who had already watched the livestream of her first, while still keeping the essentials the same so no one in the audience on either weekend felt like they'd missed out. Here's exactly how she updated her aesthetic for the second performance of #Beychella, from changing the yellow color palette to candy pink and swapping one gorgeous Balmain bodysuit for another:
This regal look is glitzier than the one she donned a week ago.
Black pleather in the California desert? She's Beyoncé. She's fine. Here, have a scholarship.
This sequined tunic replaced last week's mesh.
Can we just take a moment to talk about how none of the members of Destiny's Child have aged a day?
If Beyoncé says that pink is the new yellow, then pink is the new yellow. And college sweatshirts are still in. She gets to make those rules.
Truly, we are all just blessed to live in a time where there can be two weekends of #Beychella.
Related: The Best Celebrity Reactions to Beyoncé at Coachella, From Rihanna Dancing in the Front Row to Adele Dancing in Her Living Room
Jennifer Lopez, Blake Lively, and Beyoncé Are All About Super Curly Hair These Days
Taking a break from her signature bombshell waves, actress Blake Lively elevates her look with voluminous, bouncy curls.

@blakelively
French model Jeanne Damas opts to wear her curls in a tousled top knot paired with a vibrant red lip.

@jeannedamas
Victoria's Secret Angel Lily Aldridge flaunts her natural beauty with radiantly bare skin and side-swept beach waves.

@lilyaldridge
Singer Ciara pairs her voluminous, long curls with full brows and a creamy nude lip.

@ciara
Wonder Woman actress Gal Gadot shows off her spring time glamour with tousled curls and a berry pink lip.

@sabrinabmakeup
Singer Jennifer Lopez is all about the drama, wearing her curls middle parted with a magenta smokey eye.

@jlo
Singer SZA makes the case for long, polished curls and tousled, brow skimming bangs.

@sza
French beauty and Estée Lauder's Global Beauty Director Violette, poses pretty in pink with her soft curls and matching magenta smokey lids and lips.

@violette_fr
It's all about dark plum lips, a natural smokey eye, and a sleek, polished up do for Beyoncé.

@beyonce
Model Sara Sampaio channels the 70's with her shoulder length voluminous curls and exaggerated smokey eyes.

@sarasampaio