Beyoncé Collaborator Diana Gordon Was Born in the Wrong Decade
The talented musician spoke candidly about her life, her career, and her personal style at W's first Cultural Conversations Series, held in partnership with G-Star RAW, at Electric Lady Studios in New York.
---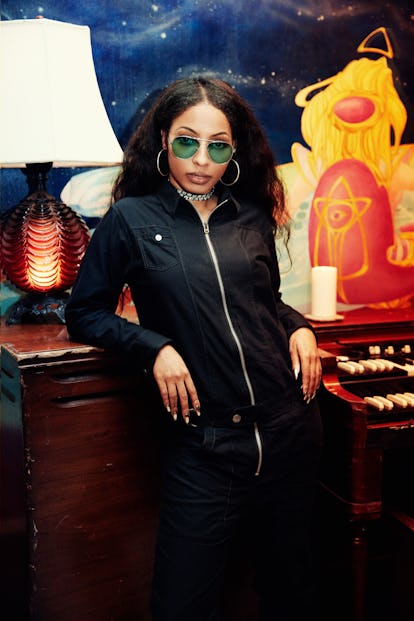 You may not have heard of Diana Gordon, but you've definitely heard her work. The Queens, New York-born songwriter, producer and performer has writing credits with some of the biggest names in the business—Mary. J. Blige, Jennifer Lopez, and, most recently, Beyoncé's Lemonade ["Don't Hurt Yourself", "Sorry", and "Daddy Lessons"]. As Wynter Gordon, she had several hits on the pop charts. Now, Gordon is back, with her given name Diana and two new singles: "Woman" and "The Legend Of," both soaring odes to the strength and power of women around the world. Here, she opens up about who inspires her, growing up in New York in the '90s, and what raw truly means to her.
You recently returned to your given name, Diana: Why? I needed a change. I had made a lot of mistakes and choices out of fear both personal and musical. But I'm not running from my past, I'm moving forward.
What was the inspiration behind your new songs? "Woman" is inspired by all of the intelligent and beautiful hardworking women I know. The single super-moms who raise families on their own and sacrifice everything for their children when society is looking down on them. The boss women who rise to the top of their fields, knocking down doors and blazing trails. Those women who won't be body-shamed because of stretch marks, breasts that sag a little, thick thighs or anything else media says is not in style. Every day I become prouder to be a woman and stand up for the woman next to me.
What do you love about collaborating with other artists? If I ever find myself in the position to collaborate with an artist that I respect and enjoy, I become a student. I love to learn. These days I'm finding more inspiration in visual artists than musicians but I would love to work with Francis and the Lights or Christine and the Queens —who recently covered [Beyoncé's] "Sorry" and I was delighted.
"Raw" is a personal sentiment that has to be felt to be understood. What does being or feeling "raw" mean to you? Fearless, uninhibited, full of love for one's self, unashamed. I am not there yet but it is my greatest desire to be raw.
How does growing up in New York inform your work? I was a little black kid in the '90s growing up in Jamaica, Queens, and had a job since I was 12. I went to elementary schools with Catholic Italians and my first crush was a boy with blue eyes. Then I went to high school in Manhattan across the street from Lincoln Center. I would go see the opera and the ballet on a student ticket. I take nothing for granted and I know what it looks like at the top. My hunger is endless and I will outwork you any day. That's what it means to be from my New York.
Your style is so unique. Do you love fashion? I always say I was born in the wrong era. All of my style icons are men and women who ruled the stages of the '70s. Every curl, cut, blowout and fringe rolled into one. Silky blouses that cling and mod mini-dresses. I truly am a melting pot of that era deep in my heart.
How does denim work in your life? I discovered not too long ago that high-waisted straight leg blue denim is a must for me. I have exceptional curves!
What's next? Continuing this journey and making more art. I don't know what tomorrow brings, but I do know if I'm alive I will be creating.
Beyoncé Collaborator Diana Gordon Performs at Electric Lady for W Magazine's First Cultural Conversations Series
The legendary Electric Lady Studios.

Photo by Katie Thompson.
Inside Electric Lady Studios.

Photo by Katie Thompson.
Behind the scenes at Electric Lady Studios.

Photo by Katie Thompson.
During soundcheck, Diana Gordon wears a G-Star RAW Utility Zip Boilersuit, $260, gstar.com.

Photo by Katie Thompson.
Gordon with her band during the performance.

Photo by Katie Thompson.
Gordon performs at Electric Lady wearing G-Star RAW Lynn High Waist Flarestream Jeans, $190, gstar.com.

Photo by Katie Thompson.
A stripped down, acoustic performance.

Photo by Katie Thompson.