Beyoncé and Target, Who Were Apparently Feuding, Seem to Have Made Amends
Once again leaving Walmart in the dust.
---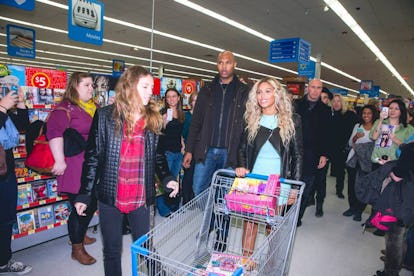 Courtesy of Beyoncé/Facebook
Over the last year or so, it's been practically impossible to escape the drama surrounding Jay-Z and Beyoncé, who chose to tackle the former's infidelity in the very public forums of their award-winning albums 4:44 and Lemonade. You'd have to be deep in the Beyhive, though, to know that all this time, Beyoncé has also spent the last few years caught up in a complicated feud with not just her husband, but also a major U.S. retailer: Target.
Let's go back to 2013, the year that saw their promising relationship both blossom and suddenly catch flames. In July, Beyoncé was spotted roaming the aisles of a Target in Houston, pushing Blue Ivy along in a stroller and sorting through hats and other accessories. Apparently, she liked what she saw: Less than six months later, a couple of weeks before Christmas, she was spotted amongst the aisles of Target yet again, this time exploring a new location in San Clemente, California, reportedly even bringing along her mother, Tina.
Stars—they're just like us! At least, that's what it seemed like at the time, before her relationship with the store suddenly expanded far beyond the checkout line. Two days before Christmas, Beyonc´e made another appearance at a major retail franchise—except, this time, she'd pointedly chosen a Walmart over a Target, where she proceeded to remove her sunglasses, gamely pose for photos, and even post a gallery of them to her Facebook page. After hopping on the loudspeaker, she then proceeded to purchase her own album—along with a toy for Blue Ivy—and, naturally, make headlines that stretched far beyond the town of Tewksbury, Massachusetts' branch of the chain.
Go Behind the Scenes of Beyoncé's Cover Shoot with W:
Beyoncé, of course, hadn't suddenly forgotten Target. Her visit to Walmart was in fact a public dig at her former favorite retail haven, which she decided to make her, um, target, after it aligned with Amazon in refusing to stock her record BEYONCÉ because they were so incensed by its surprise drop. In short, the chain disrespected their relationship, and it wasn't long before they released a public statement, realizing their mistake.
That turned out to be a mistake, too, since it ended up reading more like an inadequate ex's not-so-convincing explanation of why they weren't there for you when you needed them most. ("While there are many aspects that contribute to our approach and we have appreciated partnering with Beyoncé in the past," it read, "we are primarily focused on offering CDs that will be available in a physical format at the same time as all other formats.") Beyoncé, then, of course retaliated, and did so at Beyoncé levels: She not only gave Target biggest competitor a blast of publicity, but also at least $37,000 in sales, since she also handed out no less 750 gift cards, each reportedly worth $50, to the store.
This being Beyoncé, though, even without the support of two of the biggest retailers around, it only took her six days to sell a million digital copies of the album anyway, which brings us right back to the present: Five years later, Beyoncé seemed to prove she doesn't hold a grudge this weekend in L.A. by paying a visit to—you guessed it—Target, donning a pair of heels for the occasion and bringing along Blue Ivy and assistant to help her with shopping cart, which was packed with Easter-themed goods and nearly overflowing.
Is Beyoncé really just like us, irrevocably bound to her brand allegiances? Is she at a loss to sourcing her vegan groceries? Is this a hint that sometime soon, in the wake of their upcoming tour together, the long-awaited Beyoncé-Jay-Z album is finally getting a release—and that it'll in fact be a Target exclusive? Only time—and, of course, the Beyhive—will tell. In the meantime, sit back and enjoy the memes.
Related: Beyoncé Is Going Vegan Until Coachella
What Beyonce, Nicki Minaj, and Karl Lagerfeld Do on Private Planes