Let Ms. Tina Knowles-Lawson Creative Direct the Ivy Park Campaign
Beyoncé's mother is aware of what a successful advertisement in 2020 needs.
---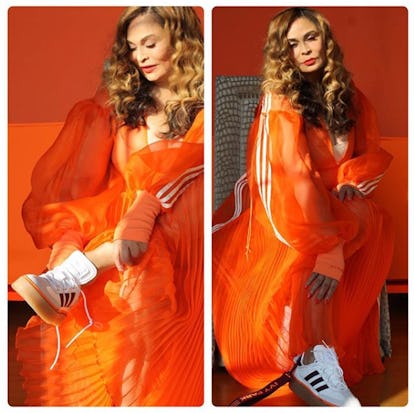 Yeah, yeah, Oscars, whatever.
Did you see the photos Ms. Tina Knowles-Lawson a.k.a. the carrier of Beyoncé Giselle Knowles-Carter and Solange Knowles, and grandmother to Blue Ivy Carter, posted on her Instagram this morning?!
She may have dubbed it a self-proclaimed "bootleg photoshoot," but the pictures Knowles-Lawson put on her account after receiving an orange box full of merchandise from her daughter's new Ivy Park line with Adidas pretty much rival some professional fashion editorials.
Knowles-Lawson once commended her offspring Beyoncé for having a good eye. Tina, we're here to tell you to look in the mirror.
She's got an eye for lighting. She hits her poses. And she's making a case for that orange pleated dress with the triple stripes running down the sides. Don't you want to sit around your house in that?
Beyoncé took a leaf out of YouTubers' books by posting her take of an "unboxing" (as the official Instagram campaign for Ivy Park). In it, a series of stop motion videos depicting orange trunks moved around, opening and closing, revealing the new Adidas Ivy Park wares—shot in what looks like her Los Angeles home driveway.
Pfft. Knowles-Lawson is aware of what a successful advertisement in 2020 needs. Her post isn't just some GIF. This is a full-on BTS video shot by her friend Doug (who, she adds, is a "real director, so"!). He filmed Knowles-Lawson in her home, on her porch, with hillside views and greenery as far as the eye can see in the distance. It has got just the right amount of blurry, VHS-style video quality to appeal to Zoomers. Same goes for the photos.
This is why Tina Knowles-Lawson should be implemented as creative director for the new Ivy Park ad campaign ASAP. Just look at this production value—bask in it. She has the range. Ivy Park x Adidas drops the Ultra Boost on the 18th, the rest of the line is sure to be released sometime around then; there is plenty of time to put Knowles-Lawson on the job. We all know she is the original marketing boss, anyway—she owned the salon that served as Beyoncé's first stage. And now she's stealing the show, whether she meant to or not.
It runs in the family.