Beyoncé, Jay-Z, and Bono Had a Sing-Along to "Brown Eyed Girl" and, Thankfully, Tina Lawson Was There to Capture It on Video
"I am being the Mamarazzi."
---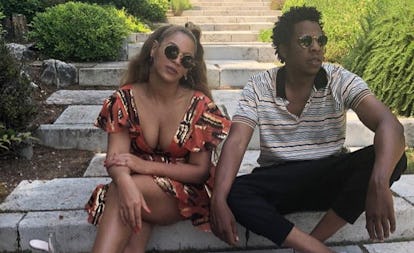 instagram.com/beyonce
There are few pleasures on the internet as great as browsing through the Instagram account of Beyoncé's mother, Tina Lawson. You never know what corny joke you'll hear, who will assist with it (recently it was Beyoncé and Blue Ivy), and who pop up in the audio (like the time Blue scolded her grandmother for taking video inside a Paris theater when it wasn't allowed). Last night's post, though, proved to be extra special: it included Beyoncé, Jay Z, and a special guest, U2 frontman Bono.
To ease any FOMO, Lawson shared a video clip of their table at La Petite Maison in Nice, where the Carters were performing on their On the Run II tour. At one point during their dinner, the trio broke into a sing-along of Van Morrison's 1967 classic "Brown Eyed Girl." While Bono and Jay-Z were happy to sing for the camera, Bey was more shy, smoothly shielding her face from her mom's lens with her hair. "Out in Nice great food , great music, great people. ❤️," Lawson later wrote on Instagram, before acknowledging Bey's reluctance to make a cameo. "@bono I am being the Mamarazzi and she is not co- operating❤️with my love Julez."
Beyoncé wasn't able to duck cameras of fellow diners at the restaurant when she left, though. Interestingly, her Lion King soundtrack partner Elton John was also in attendance at the restaurant and greeted the Carters on their way out.
Even though she's rarely pictured on Lawson's impeccable Instagram, Bey did make a voice cameo recently alongside daughter Blue Ivy. During Lawson's recent "corny joke," Bey and Blue Ivy played a small part, saying "who's there" after "knock knock" and leading to the punch line with "Obama who?" before Lawson erupted into Céline Dion's "All By Myself."
She's definitely warmed up to her mother's Instagram over the past year. Last March, Lawson joked about how Bey approached her about her corny jokes, saying, "You know, Beyoncé was telling me the other day that I shouldn't do corny jokes all the time," Lawson explained. "But I told her that when you get my age, you gotta find your light. So if you find some good light, you're supposed to take advantage of it. So yeah, I've done quite a few in one spot so I could have them, but it's okay, I'm 63, what can I say." Consider it just one more reminder that, despite her otherworldly talent, Beyoncé is human, and gets embarrassed by her parents from time to time like the rest of us.