What's Going On With Beyoncé, Kelly Rowland, and Roses?
The Bey Hive is full of rumors that Beyoncé and Kelly Rowland are teaming up on something rose-themed, but are we just being fooled?
---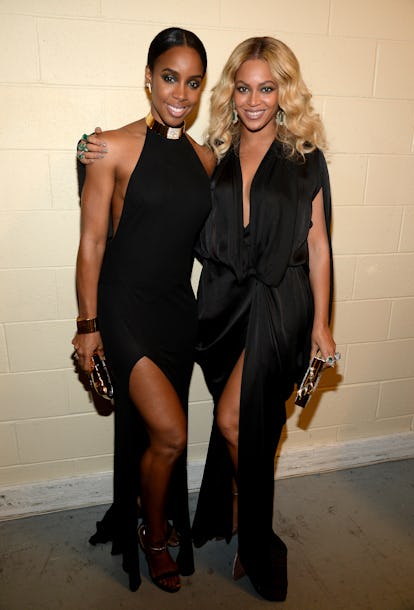 Kevin Mazur
Beyoncé and Kelly Rowland, the only two constant members of the band Destiny's Child, are friends for life. In fact, they were raised for much of their childhood in the same home. Even though Destiny's Child is no longer together as a group, it would be silly to think that the pair wouldn't continue to link up for collaborations here and there throughout there careers. Indeed, the two have already reunited for a few collaborations alongside Destiny's third child, Michelle Williams, but Twitter seems to think Beyoncé and Rowland are cooking up something all on their own that could drop soon. Guesses range from merely a Beyoncé feature on a Rowland song to a full-on collaboration album.
And Michelle Williams's feelings aside, we want to believe the latter. Beyoncé works in mysterious ways, releasing new projects seemingly at random—until we all go back and follow the trail to discover that there were hints, intentional or not, that something was on the way all along (those pre-Lemonade Instagram photos of lemons will always haunt us; how naive were we to not have guessed?!). Even if we already got one Beyoncé collaboration album this year in the form of Everything Is Love, we could always use another, and is there a better moment to drop an album that's a team-up with another female musician?
Of course, the problem with our obsession with the idea that Beyoncé is sending us secret messages is that often, she just isn't. Remember when we all thought she had made peace with Kanye because it seemed like she was wearing Yeezy heels, when in fact she was just inadvertently wearing $50 Yeezy knockoffs? Even our Queen is human and appreciates a good deal. It also means that trolls and bad actors can easily manipulate the Bey Hive into a frenzy, at least for a minute or so.
So what's going on with these Kelly Rowland and Beyoncé rumors? Well, here's everything we know.
Rowland Has Been Teasing New Music
The singer released her last album, Talk a Good Game, in 2013, and though she got married, had a kid, and has done a bunch of television work since then (including stints on Empire and coaching on The Voice Australia), it definitely seems like it's time to drop some new music. Indeed, the singer has talked about working on new music, and has even been teasing some snippets on social media. Last weekend, she winked and smiled while a new track played in the background, and then lip-synced to the lyrics "rose petals at my feet." The post was captioned "???."
Then the Pair Met Up at a Gala
Last week, the duo were both at City of Hope's Spirit of Life Gala, at the Barker Hangar in Santa Monica. Beyoncé (of course) shared some cute pics on her Instagram.
While she's wearing a black dress in the photos she posted of herself with Rowland, she later changed into a sparkly gown in a somewhat similar hue to Rowland's dress. The dresses were both more champagne colored, but a few people noted they could be considered rose gold, which, okay, sure. The point is that roses are an ongoing theme in these rumors.
Enter a Mysterious Instagram Account
The handle @EverythingIsLoveAlbum appeared and began posting on the day Everything Is Love came out. However, neither Beyoncé or Jay Z actually promoted the handle, it's not verified, and even after this rumor cycle, it has less than 2,500 followers. Still, it started a countdown that it never completed earlier this month, only to post an image of a rose on October 5. Mind you, that was days before Rowland posted her own rose emoji-captioned photo. The account also only follows Beyoncé, Rowland, and Tidal.
Then, just last night, the account posted a new video of a rose blooming with what sounds like new Beyoncé vocals.
It linked to the account @RoseIVYou, which also only follows the same three accounts, plus Netflix and Nicki Minaj. None of those people or companies actually follow either of those accounts.
Twitter went wild, using the hashtag #RoseIVYou to broadcast their excitement. Kelly Rowland was using rose emojis, the women were wearing rose gold–colored gown, and then, suddenly, these rose-filled Instagram accounts. It seemed like something was coming down the pipeline, and that something was almost definitely rose themed.
Add all of that to other bits of rose imagery that suddenly seemed to be popping up in the wider Beyoncé queendom.
As Ethel Merman once sang, everything is truly coming up roses.
Then It All Falls Apart
Beyoncé stans, however, quickly figured out that those seemingly new vocals in the Instagram teases on the unverified accounts were actually just background vocals from her song "Grown Woman."
Or Does It?
Of course, it remains a possibility that there is something afoot with Beyoncé, Kelly, and roses, but some bad actors are just taking advantage of the rumor mill to try and attract followers to their fan accounts. That doesn't necessarily mean that the other hints of roses are random, and in any event it does seem like Rowland has something, including Beyoncé or not, coming down the pike. Stay tuned. The thing about secretive album or single rollouts is that they only remain a secret for so long.
Related: A Brief History of Celebrities Letting Loose (and Losing It) at Beyoncé Concerts