Well, Beyoncé Did Not Wear Yeezy
Beyoncé seems to be in a forgive-and-forget mood.
---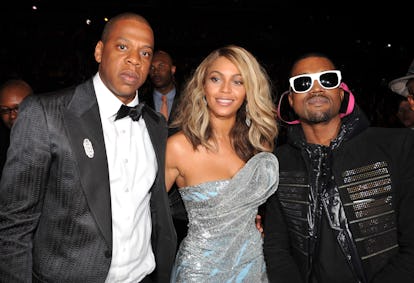 Lester Cohen
Is Beyoncé in a forgive-and-forget kind of mood? The singer has welcomed two of her former Destiny's Child bandmates, LeToya Luckett and LaTavia Roberson, backstage during dates on her On the Run II tour in recent weeks, and while greeting Roberson just last night in Phoenix she may have extended a bit of an olive branch to Kanye West by way of her choice in shoes. Yes, for the first time in a very long time, Beyoncé was wearing Yeezy.
Update: Despite West's own excitement about the shoes, according to sources who spoke to Love B. Scott, Beyoncé may have actually been wearing a pair of $50 Yeezy dupes from a brand called Public Desire. Original story continues below.
If you recall, 2015 was a much simpler time. Beyoncé and West were still friends, frequent musical collaborators, and occasional Connect 4 opponents. So it was little surprise that Bey made a rare New York Fashion Week appearance in the front row of the Yeezy Season One show, where she sat next to West's wife, Kim Kardashian West, and Anna Wintour. Bey would go on to wear a look from the collection during the "Freedom" portion of her visual album Lemonade, but the singer had never been spotted in anything from West's line in real life since.
That's likely because relations between the Carter-Knowles and Kardashian-West households have been somewhat icy over the past year and a half.
During a fateful rant while onstage back in November 2016, West laid into both Beyoncé and Jay-Z, exposing lingering tension between the superstars. West claimed he was hurt that Beyoncé would only perform at the VMAs in 2016 if she won Video of the Year, thereby ensuring that West's own "Famous" video would not win. "Beyoncé, I was hurt. I went down seven years on behalf of [you]," he said, referring to the infamous "I'ma let you finish" moment at a previous VMAs. West has also since revealed that he was deeply hurt by the fact that Beyoncé and Jay-Z missed his 2014 wedding to Kardashian, though in an interview earlier this year with David Letterman, Jay said he still viewed West as a brother, even if they'd had some fallings-out.
Fast-forward to last night, when Beyoncé greeted another former collaborator with whom she has a tense history, Roberson, and her choice of a pair of Yeezy Season 5 PVC Mules which retail for a cool $850. Was it a message that she's ready to bury whatever hatchets with West?
Beyoncé has emerged this year as something of an obsessive and detailed fashion blogger, often uploading numerous images of her outfits worn both onstage and offstage on each stop of the OTR II tour the morning after. It's hard to imagine that any part of her carefully curated 'fits is an afterthought. Though it is possible that West's people sent over a shipment of Yeezy products that she just had lying around and decided that night was the night to finally wear them, simply because they looked good with the outfit. Sometimes a shoe is just a shoe.
Still, the choice does come just a few days after a West tweet referencing a sequel to his joint album with Jay-Z, and while Beyoncé famously doesn't tweet herself, it's hard to shake the idea that her own way of replying is with her most frequent contact with the public these days: sharing fashion photos.
Update: It looks like a "famlee" reunion may be in the cards after all.
Related: Beyoncé and Jay Z Share Never-Before-Seen Intimate Photos in On the Run II Tour Book