Beyoncé and Kim Kardashian Met Up at Serena Williams' Wedding for the First Time Following Their Husbands' Feud
This might have been an awkward moment.
---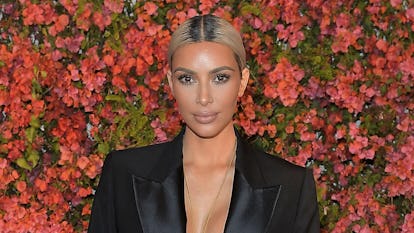 Charley Gallay/Getty Images
Kim Kardashian West and Beyoncé might be two of Hollywood's biggest stars, but even they aren't immune to that awkward moment when you run into a frenemy at a mutual friend's wedding. The two celebs reportedly crossed paths at Serena Williams' big day on Thursday, marking the first time the pair may have spent any time together since the friendship between their husbands, Kanye West and Jay-Z, fractured.
While it isn't clear if Kardashian West and Queen Bey were sharing inside jokes and photos of their kids, we do know they weren't in "hide behind the potted plant until the other leaves" mode. Some eye-witnesses reportedly spotted the women standing together at the bar enjoying some champagne, according to E! News.
Perhaps things were less tense because their significant others, who had a falling out last year, did not attend the nuptials in New Orleans. The feud was sparked when West said, in front of a crowd at one of his concerts, that Beyoncé was skipping the MTV Video Music Awards unless "Formation" won video of the year, which was competing against one of West's own videos. According to Jay-Z, the tension that created between the two artists has persisted because West brought Beyoncé into it. "You got hurt, because this guy was talking about you on a stage," Jay-Z said on the Rap Radar podcast this August, according to E! News. "But what really hurt me, you can't bring my kid or my wife into it. Like, Kanye is my little brother. He's talked about me a hundred times. He even made a song called 'Big Brother.' We've gotten past bigger issues, but you brought my family into it, now it's a problem."
The wedding might have brought Kim and Beyoncé together, but it looks like a North West/Blue Ivy playdate might still be off the table for the foreseeable future.
Related: Kim Kardashian's New Fragrance Just Made a Record-Breaking $10 Million In One Day
7 Infamous On-Set Hollywood Feuds: