Beyoncé, Solange, and Tina Demand the Senate Give Us Safe Voting (and a Second Stimulus)
Don't ignore the Knowles family, Mitch McConnell.
---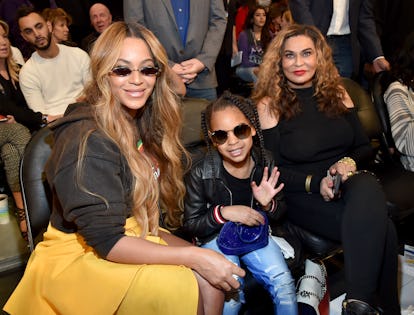 Kevin Mazur/Getty Images
Who do you trust more when it comes to your voting rights: Tina, Beyoncé and Solange Knowles or Senate Majority Leader Mitch McConnell?
Well, only one answer is currently advocating the passage of the HEROES Act to ensure that everyone can vote safely and fairly in the midst of a pandemic (oh, and, would give you another stimulus check to boot).
In the midst of the COVID-19 pandemic, Tina Knowles-Lawson has partnered with The Leadership Conference on Civil and Human Rights' And Still I Vote initiative to ensure that all voters have a chance at casting their ballots through the summer primaries and in November. Now, she's written a letter addressed to Senate Majority Leader Mitch McConnell and Senate Minority Leader Chuck Schumer urging them to pass the HEROES Act.
The bill was passed by the Democrat-controlled House of Representatives all the way back in May, but has lingered in the Republican-controlled Senate ever sense. Both McConnell and President Trump have separately called it "dead on arrival," even as the coronavirus is raging toward a second peak in America. As it's written now, the bill would not only authorize a second stimulus check for citizens, but also offer hazard pay for essential workers, and offer new relief for renters, those paying mortgages, small businesses and those with student loans. Importantly, it would also offer funding to ensure states are properly prepared to handle elections in the midst of a health crises. Advocates also worry that elections lacking safe and efficient in-person voting places and a vote by mail option could both work to suppress the Black vote and put Black voters at a higher risk for infection.
"In passing this legislation, you will take an affirmative step toward declaring that Black lives matter," Knowles-Lawson wrote. "You will help build an America as good as its ideals. And you will lead the country—thanks to the creation of a more accountable democracy in which all Americans' voices are heard."
Beyoncé and Solange have both boosted the letter, and its corresponding petition, to their followers. Janelle Monáe, Viola Davis, Octavia Spencer, Regina King, Halle Berry, Jada Pinkett Smith, Whoopi Goldberg, Gabrielle Union, and Kelly Rowland have also signed on the letter.
While there's some indication that the Trump Administration and the congressional Republicans may try to implement their own forms of some of the bill's provisions (including a second stimulus), there's worry that voting protection could fall by the wayside. Especially as Trump himself seems more concerned about the supposed dangers of mail-in ballots than he does, say, reports of Russians putting bounties on American soldiers.
We'd recommend that McConnell and his senate colleagues take the letter seriously, lest Blue Ivy get involved.
Related: Iconic Trio Beyoncé, Michelle Obama, and Tina Knowles Lawson Reunited in Paris