Beyoncé's Stylist on the Met Gala, Lemonade, and Her Insane Instagram
Marni Senofonte hasn't worn black in 15 years. And there's a lot more you need to know.
---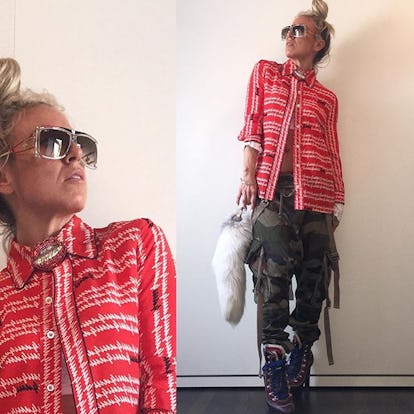 It's a mystery how Marni Senofonte, who's worked with Beyoncé 2007, has been able to remain relatively behind-the-scenes for so long, given her loud style, personality, and social media presence to boot. But the recent splash of "Lemonade" and her work with the "Formation" world tour has everyone watching. Senofonte broke into the fashion world roughly 20 years years ago, starting as Norma Kamali's assistant and eventually making her way to style celebrities like Mary J. Blige, Kim Kardashian, Brandy, Lauryn Hill, and, yes, Jay Z, too. Prior to "Lemonade," she worked with Beyoncé on her "On the Run" tour as well as her videos for "7/11" and "Feeling Myself." Senofonte's love of layers, statement pieces, and mixing high and low can be traced throughout the singer's performance history. And if there's one thing her bold Instagram poses prove, it's that she's always known how to slay.
Did you have a hand in styling Beyoncé's Met Gala look? Not directly, as I have been embroiled in getting the "Formation" world tour costumes set… But it was nice to see that Riccardo kinda kept in "Formation" by keeping in the same world that I have created for this project. There was a Victorian/antebellum feel to it.
What are your thoughts on the Met Gala looks in general? I love seeing the differences between designers interpretations of the theme. I also appreciate everyone who fearlessly goes for it!
Did people interpret the theme well? Who were your favorites? Seems like everyone participated a bit more than years past, which is exciting and means that the years to come are gonna get good! I loved Karolína Kurková's dress, along with Kate Hudson, and Rita Ora's… And of course Bey's!
In your opinion, what does the "future of fashion" look like? I think that it's going to be more about what fashion feels like than what it looks like. The future of fashion is going to feel more comfortable than ever. We have pretty much reinvented the entire Victorian era with stretch-waist trimmers and leggings that make our asses rise a few inches. We are going to be able to redesign our bodies through our clothing, and it will most likely be comfortable! After designing this tour, I realized how able we are to develop structural shapes in easy, stretch comfortable fabrics.
In your own words, how would you describe Beyoncé's look? How has her look evolved since you started working with her in 2007? Since Bey's "7/11" video, she has become more and more relatable. When I did the "Feeling Myself" video with her and Nicki [Minaj], we really got a taste of Bey as just one of us. Or if not one of us, at least only an arm's length away. Letting some of the imperfections come through seemed rather perfect!
Top three favorite Beyoncé style moments ever:
"Why Don't You Love Me" video.
Mrs. Carter tour.
"Lemonade" album cover.
Do you have a favorite look from "Lemonade?" Or a look that you spent the most time on? Oh, man… So many!!! One of my favorite group shots was from "6 Inch." It was such a fresh version of modern Victorian/antebellum.
And this cuz I designed it! Haha.
Describe your personal style in three words: Sexy, preppy, tomboy.
Style icons and inspirations: 1999 Lauryn Hill, Prince, Bridgette Bardot.
Do you have a style motto you live by? Layers!
Secret styling tip from your toolkit: It's a mental one: Match your lingerie to whatever you're wearing… It makes me feel complete.
Most frequented stores: Opening Ceremony, HLNR, Barneys, Zara, TopShop, Elyse Walker, luisaviaroma.com, net-a-porter.com.
Last purchase: Gucci something! Majorly addicted to Alessandro Michele right now!
Lusting after: Francesco Scognamiglio's entire fall 2016 collection and Fausto Puglisi.
Recent fashion week trends you approve of: Saint Laurent shoulders, puffer snow jackets as evening coats, huge furs, the color pink, and velvet.
Favorite designers of the moment: Alessandro Michele, Francesco Scognamiglio, Fausto Puglisi, Julien Macdonald, Alessandro Dell'acqua for No.21, Rosie Assoulin, Stella Jean, Chitose Abe for Sacai.
Style pet peeve: Slave to high end brands and trends.
Anything you would never wear? I haven't worn the color black in 15 years. I don't own anything black (lingerie and socks included!) Black is a wardrobe safety color, and I like the challenge every morning.
Most prized possession in your closet: Revillon Rick Owens fur, my Lorraine Schwartz jewels and my four pairs of Alaïa mountain boots.
You have an incredible Instagram. How does it allow you to express your personal style and personality? For me, I love the fact that there is a platform where people can see the swag and steez of others. What I wear on Insta is what I wear in the streets. Insta-stylists are not slaves to advertising dollars, so it's kinda cool to see that Forever 21 mixes really well with Balmain. The horror of fashion snobbery is alive!
Instagram greatest hit(s): Pic of me and my Nana's hands. She was dying, but still had her nails painted hot pink and her big 'ol Italian pinky ring on.
What's your favorite pose? I have my own: Head down, one hand pointing to the sky, other arm on hip, slight concave, and turn of the leg!
Watch W's most popular videos here:
Photos: Beyoncé's Stylist on the Met Gala, Lemonade, and Her Insane Instagram