Beyoncé Is "100 Percent Involved" in Writing Her Own Songs Say Everything Is Love Producers Cool & Dre
"Haters, that's their job: to do everything to discredit brilliant people."
---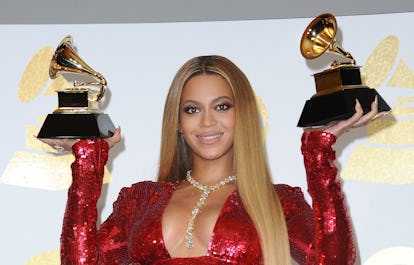 Jason LaVeris/FilmMagic
At this very moment, Beyoncé is twirling on her haters without even knowing it. Specifically, those who think she doesn't write her own songs. What has long been debated on the Internet can finally be put to rest: Beyoncé is, in fact, "100 percent involved" in the songwriting process, according to two producers who contributed to her and Jay Z's joint album, Everything Is Love.
While she's been known to recruit a team for writing sessions—at this point, which pop artist doesn't? (Hello, Kanye West, Adele, and, more infamously, Drake)—Beyoncé had a hand in every one of the songs on the surprise album. "She was 100 percent involved," Dre, one half of the production duo Cool & Dre, told Billboard. "She put her mind to the music and did her thing. If she had a melody idea, she came up with the words. If we had the words, she came up with the melody. She's a beast." Indeed.
What's more is Beyoncé, an exceptional human being at everything she tries, doesn't just write songs in English. "I'll tell you one story," Dre said. "When I went out to their compound, I played them a sample that had a lady singing in French on a loop throughout the whole record. Bey said to play it again, and I did. And then she said to play it again, and I did. On the third time, she sang the whole sample from beginning to end—in a different language! When you make a beat, that could take hours, days. I didn't know what the hell that sample was saying. But in three listens, she picked up on a sample in a different language and sang the whole thing. When I saw that, I was like, 'This is a totally different level.' "
When pressed further about assumptions that Bey's songwriting contributions are minimal, Dre said, "Haters, that's their job: to do everything to discredit brilliant people."
No doubt, Beyoncé has been discredited by many over the years—and held to standards that don't exist for many of her white peers, in a racist fashion—but a number of her collaborators have always come to her defense. When Ne-Yo, who co-penned "Irreplaceable," was questioned about their collaboration by the Breakfast Club, he said they both wrote "two damn totally different songs, with all the harmonies and extra stuff that she put in there…. So, yeah, I gave her writer's credit," he explained. "Because that counts. That's writing…. She put her spin on it."
Meanwhile, the musician Ryan Tedder, who co-wrote "Halo," told Gig Wise of his experience working alongside Beyoncé: "She does stuff on any given song that, when you go from the demo to the final version, takes it to another level that you never would have thought of as the writer. For instance, on 'Halo,' that bridge on her version is completely different to my original one. Basically, she came in, ditched that, edited it, did her vocal thing on it, and now it's become one of my favorite parts of the song. The whole melody, she wrote it spontaneously in the studio. So her credit on that song stems from that." Case closed.
Related: On Everything Is Love, Beyoncé Reveals Herself to Be a Pretty Great Rapper
Beyoncé, Rihanna, Kendall Jenner and More Celebrities Wearing High Heels at Basketball Games
Beyonce wore Gianvito Rossi boots with a Jacquemus skirt while attending The 67th NBA All-Star Game: Team LeBron Vs. Team Stephen at Staples Center on February 18, 2018 in Los Angeles, California with her daughter Blue Ivy and mother Tina Knowles.

Allen Berezovsky
Victoria Beckham's nickname is Posh for a reason. While attending a game between the Los Angeles Lakers and the Dallas Mavericks with her husband David Beckham, and their children, Cruz and Romeo, the singer-turned-fashion designer put her platform heels on display.

Kevork Djansezian
Wearing a simple tee and jeans, Beyonce looked surprisingly understated while attending a New Jersey Nets v New York Knicks game at Madison Square Garden with Jay Z… until you look at her feet. Those, ladies and gentleman, are Christian Louboutins. And they are anything but casual footwear.

James Devaney/Getty Images
Kate Upton's bright pink pumps stood out at a New Jersey Nets vs the New York Knicks game at Madison Square Garden. Fortunately, her seatmate also got the memo about fancy footwear.

James Devaney/Getty Images
Alicia Keys proved that her heels were made for walking, while attending the Miami Heat vs New York Knicks game at Madison Square Garden with Swizz Beatz.

James Devaney/Getty Images
At a game between the New York Knicks and the Chicago Bulls at Madison Square Garden, singer Taylor Swift looked sleek in an all-black ensemble, paired with Christian Louboutin booties.

Jim McIsaac/Getty Images
While Kanye West looked casual in a white button-down, jeans, and boots, Kim Kardashian was all glammed up in strappy sandals and a little black dress to watch the Los Angeles Lakers take on the Denver Nuggets in Game Seven of the Western Conference Quarterfinals in the 2012 NBA Playoffs.

Harry How/Getty Images
While they're wearing very different looks–Kendall Jenner went full Yeezy monochromatic, while Cara Delevingne channeled a British guard–both supermodels got the memo about heels: when you're courtside, they're a must.

Noel Vasquez
Kendall Jenner wore a somewhat more understated ensemble, with entirely more outrageous shoes, while attending a basketball game between the Houston Rockets and The Los Angeles Clippers with her sister Khloe Kardashian.

Noel Vasquez
Back at it, Jenner wore a pair of nude booties to a game between the Dallas Mavericks and the Los Angeles Lakers. Her companion, Bella Hadid, chose a pair of black Christian Louboutin pumps.

Noel Vasquez
In a "Dior Addict" graphic tee paired with vintage Levi's jeans — both from What Goes Around Comes Around — and Yeezy-inspired clear boots, Kendall Jenner channeled Rihanna a basketball game between the Memphis Grizzlies and the Los Angeles Lakers.

Noel Vasquez
While Jay Z and Blue Ivy wore coordinating sneakers, Beyoncé Knowles stood out wearing a pair of strappy sandals and some sort of unexplainable poncho at the 66th NBA All-Star Game in New Orleans, Louisiana.

Theo Wargo
Rihanna, eternal queen of courtside style, looked displeased but chic at Game 1 of the 2017 NBA Finals between the Golden State Warriors and the Cleveland Cavaliers.

Ezra Shaw