An Italian Socialite in Texas
Bianca Brandolini d'Adda swings through Dallas after fashion month.
---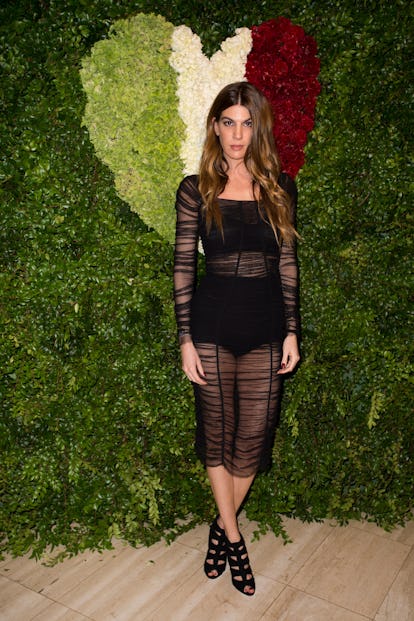 The Italian socialite Bianca Brandolini d'Adda was in Dallas on Thursday night. It was her first time in the city.
"I didn't know what to expect," she said. "I guess just the things you see on TV and in the movies."
By this, she meant big hair, bold makeup, a certain swagger. And she was surprised, if a little disappointed, she hadn't seen more of it as she took in the sights.
"My dad was like, 'Bring your boots!' No one is like that really," she said, crestfallen.
D'Adda, a descendent of the Agnelli family – dad is Ruy Brandolini d'Adda, son of Cristina Agnelli – hails from Venice and now spends most of her time in Paris. When she's in America, you're likely to find her on the coasts, and in fact, there was something about this Southern metropolis that reminded her of L.A.
"No one is walking, everyone is in their car," she said.
D'Adda was at the iconic Rosewood Mansion in the wealthy neighborhood of Oak Lawn in her capacity as an international ambassador of Italian sprezzatura. Nordstrom was launching a series of pop-up shops dedicated to Italian design at four of its Texas locations and this was the kickoff. Fifty five brands – winnowed down by the store's Olivia Kim, vice president of creative projects, in partnership with the well-heeled Italian Trade Promotion Agency – were represented, all new to America. As d'Adda was all too aware, major American cities have become an even more important market for Europeans than ever before, and Dallas and Houston are the very forefront of the race for those dollars. It was lost on no one that Nordstrom was launching this project in Neiman Marcus' own backyard.
"People buy a lot here," d'Adda said. "When I hear my designer friends talking I know Texas is really important to them."
In her lacy black Dolce & Gabbana and perfectly imperfect brown tresses, d'Adda, 28, stuck out. Scores of locals dressed for a night out on the town kicked back flutes of Champagne and posed for pictures in front of a hedge in the colors of the Italian flag. The scene was very different from Paris, Milan, and New York, where d'Adda had just finished the month-long fashion week marathon. Still, she took in the view with interest. There was something refreshing about the way Texas women approached personal upkeep and fashion.
"I feel like they do everything by themselves," she said. "I saw this woman yesterday spend maybe an hour in the bathroom. I saw the before and after and [the difference] was crazy. I would never be capable of doing anything like it."
Though from all the selfies she indulged, it might appear that the Texans had something to learn from the rail-thin European in their midst, d'Adda said it was the other way around. It seemed to her they could teach New York and Parisian women a thing or two.
"The difference is that we want to play natural even when you have a makeup artist doing your makeup," she said. "Here they don't give a damn. They just go for it."
Even if she was intrigued by the local color, her trip would be a short one. After just two nights in town, she departed the city on Friday.