Bibi van der Velden on Auverture, the New Online Shop That Will Curate Fine Jewelry For You
Featuring the likes of Eugenie Niarchos of Venyx, Noor Fares, Pamela Love, and Beth Bugadaycay of Foundrae, the site aims to tell the story behind the jewel.
---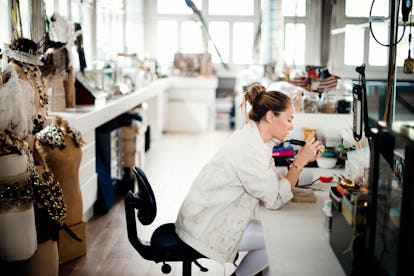 The Dutch jeweler Bibi van der Velden launched her namesake line over a decade ago, but earlier this year, she expanded its reach with a new online shop called Auverture that aims to tell her not just the story behind her own work but that of other designers she admires.
Van der Velden started out as a sculptor – her mother is one as well – but after studying at the the Florence Academy of Arts in Italy she discovered metalworking and began a practice of making what she describes as "jewelry sculptures," which became the foundational basis for her brand.
In her work, she puts a premium on high-quality craftsmanship over commercial appeal, sometimes pushing the boundary of what a traditional piece of fine jewelry can be.
"If you look back, even as long as ten years ago, there was this really big gap between fine jewelry that was classical and stuffy, and costume jewelry that was fun, fantasy stuff," she told me. "Then, slowly, there were all these young designers experimenting, using real but yet unconventional materials that presented a new challenge. That was also my challenge: to apply those materials to see how I could do something different with it."
It was partially to give like-minded designers a broader platform that she created Auverture with her husband Thomas de Haas, who acts as chief executive. The online marketplace for jewelry seemed impersonal and bottom line-driven with little attention paid to the artistry of the designers' work or how customers typically shop for jewelry.
And so van der Velden sought to create a space that felt intimate, as though you were "looking over someone's shoulder, how they were creating, what the idea behind their collection is, what art books inspire them." After all, "The ultimate luxury is something that is made for you, or customized for you," she added.
Featuring the likes of Eugenie Niarchos of Venyx, Noor Fares, Pamela Love, and Beth Bugadaycay of Foundrae, the site's goal is to share with jewelry aficionados a narrative about designers' work, from the very creation of a piece to its afterlife once it's purchased. A team travels to the designers, interviews them and fully captures their worlds hoping that shoppers will then get a better insight into how their precious jewels are made and therefore have a stronger connection to the product.
"People are very conscious about what they invest in, which is especially why uniqueness is important," said van der Velden, adding her clients tend to be discerning women with defined tastes in Europe and Asia who increasingly long for one-of-a-kind jewels instead of a label.
Since these customers seek more quality and exclusivity in their purchases, it made sense that their online shopping experience is equally curated.
"Consumerism in general is something that people are beginning to become a bit sick with," said van der Velden.