The Big Little Lies Season 2 Full Trailer Is Finally Here
The first full-length trailer shows what to expect from this season.
---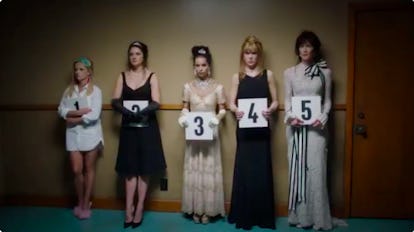 HBO
Let second grade begin: Ahead of the season-two premiere next month, the full-length trailer for the new Big Little Lies is here. The second season finds Renata (Laura Dern), Madeline (Reese Witherspoon), Jane (Shailene Woodley), Celeste (Nicole Kidman), and Bonnie (Zoë Kravitz) dealing with the fallout from the stunning, murderous conclusion of the previous season (the supposed conclusion of the "limited series" BLL was originally billed as, before it was renewed)—confronting both ongoing police questioning and, as was teased in the short clip released back in January, the suspicions of Perry Wright's mom, Mary Louise, played by Meryl Streep. The second season will be based on a story by Liane Moriarty, who wrote the novel on which the first installment was based, and directed by American Honey's Andrea Arnold.
In the latest trailer, we get a bit more of a sense of what the Monterrey Five are going to be dealing with this season—anchored by Streep's chilling performance as Mary Louise, who just wants answers. "It's a classy crop of moms, these ones," Principal Nippal says as images of the moms in their finest '70s garb (perhaps this year's version of last season's ill-fated Audrey Hepburn dance?) flash by. "That one, she's the Medusa of Monterrey," he adds, ostensibly referring to Renata, who's seen posing for a photo in a glittery fuchsia ensemble while he narrates. Madeline, apparently, is "unhinged." Celeste still feels responsible for Perry's death; so does Bonnie (fair, since she's the one who pushed him down the stairs). Jane is just feeling guilty for lying to her son, Ziggy.
And then there's the Wright matriarch. "My son is dead, and I want answers," Streep says. "I gave you answers," Celeste replies. "Yes, but you left some things out, didn't you?" her now dead husband's mom shoots back. "You were planning to leave him, and you learned of his infidelity just 10 seconds before he died. Oh," she lets out a chilly sigh, "you left that out, too." Perry Wright may have been last season's villain, but his mom is shaping up to be quite a threat to the Monterrey Five, too. See the full trailer, below.
Nicole Kidman Has Taken a Lot of Risks on the Red Carpet, and They Always Pay Off
Nicole Kidman (Photo by Barry King/WireImage)

Barry King/WireImage
Nicole Kidman and Tom Cruise at the Director's Guild of America in Hollywood, California.

Ron Galella/WireImage
Nicole Kidman (Photo by Barry King/WireImage)

Barry King/WireImage
Nicole Kidman (Photo by Barry King/WireImage)

Barry King/WireImage
Nicole Kidman and Tom Cruise during "Eyes Wide Shut" Los Angeles Premiere at Mann Village Theatre in Westwood, California, United States.

SGranitz/WireImage
Nicole Kidman during 9th Annual Screen Actors Guild Awards.

Jeff Kravitz/Getty Images
Nicole Kidman (Photo by Barry King/WireImage)

Barry King/WireImage
Nicole Kidman during 53rd Annual Golden Globe Awards at Beverly Hilton Hotel in Beverly Hills, California, United States.

Ron Galella/WireImage
Nicole Kidman and Tom Cruise (Photo by Kevin Mazur Archive/WireImage)

Kevin Mazur Archive/WireImage
Nicole Kidman in Tom Ford for Gucci. (Photo by Gregory Pace/FilmMagic)

Gregory Pace/FilmMagic
Nicole Kidman (Photo by Steve Granitz/WireImage)

S. Granitz/WireImage
Nicole Kidman at the The Kodak Theater in Hollywood, California (Photo by Jim Smeal/WireImage)

Jim Smeal/WireImage
Actress Nicole Kidman arrives for the 80th Annual Academy Awards at the Kodak Theater in Hollywood, California on February 24, 2008.

AFP/Getty Images
Nicole Kidman arrives at the Golden Globe Awards at the Beverly Hilton January 20, 2002 in Beverly Hills, California.

Gregg DeGuire/WireImage
Nicole Kidman during The 76th Annual Academy Awards – Arrivals at The Kodak Theater in Hollywood, California, United States.

SGranitz/WireImage
Nicole Kidman during The 62nd Annual Golden Globe Awards – Arrivals at Beverly Hilton Hotel in Los Angeles, California, United States.

SGranitz/WireImage
Actress Nicole Kidman arrives on the red carpet for the 68th annual Golden Globe awards at the Beverly Hilton Hotel in Beverly Hills, California, on January 16, 2011.

AFP
Actress Nicole Kidman arrives at the 17th Annual Screen Actors Guild Awards at The Shrine Auditorium on January 30, 2011 in Los Angeles, California.

Barry King/FilmMagic
Nicole Kidman arrives at the 83rd Annual Academy Awards held at the Kodak Theatre on February 27, 2011 in Hollywood, California.

Jason Merritt/Getty Images
Nicole Kidman arrives at The 53rd Annual GRAMMY Awards held at Staples Center on February 13, 2011 in Los Angeles, California.

Steve Granitz/WireImage
Actress Nicole Kidman arrives at the 45th annual CMA Awards at the Bridgestone Arena on November 9, 2011 in Nashville, Tennessee.

Jon Kopaloff/FilmMagic
Nicole Kidman arrives at the 69th Annual Golden Globe Awards at The Beverly Hilton hotel on January 15, 2012 in Beverly Hills, California.

George Pimentel/GettyImages
Nicole Kidman attends the "The Paperboy" premiere during the 65th Annual Cannes Film Festival at Palais des Festivals on May 24, 2012 in Cannes, France.

Vittorio Zunino Celotto/Getty Images
Nicole Kidman arrives at the 70th Annual Golden Globe Awards held at The Beverly Hilton Hotel on January 13, 2013 in Beverly Hills, California.

Jason Merritt/Getty Images
Nicole Kidman attends the 55th Annual GRAMMY Awards at STAPLES Center on February 10, 2013 in Los Angeles, California.

Larry Busacca/WireImage
Nicole Kidman attends the World Premiere of "Paddington" at Odeon Leicester Square on November 23, 2014 in London, England.

Karwai Tang/WireImage
Nicole Kidman arrives at the 87th Annual Academy Awards at Hollywood & Highland Center on February 22, 2015 in Hollywood, California.

Jeffrey Mayer/WireImage
Nicole Kidman arrives at Women In Film 2015 Crystal + Lucy Awards at the Hyatt Regency Century Plaza on June 16, 2015 in Los Angeles, California.

Jon Kopaloff/FilmMagic
Nicole Kidman attends the opening ceremony and "Grace of Monaco" premiere at the 67th Annual Cannes Film Festival on May 14, 2014 in Cannes, France.

Tony Barson/Getty Images