Big Spenders
Hopscotching from Saudi Arabia to Switzerland, well-heeled fashion lovers can drop six figures in a single spree.
---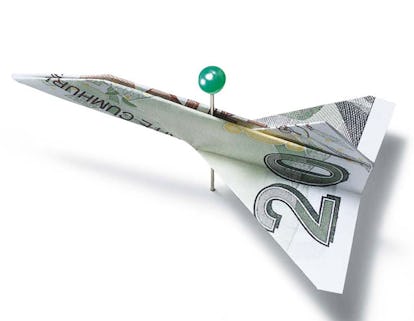 John Hooks, deputy chairman of Giorgio Armani Group, was enjoying a quiet weekend afternoon last summer at his Milan apartment when he got an excited call from the Armani megastore at 31 via Manzoni: A princess from the Gulf region was thinking of buying some clothes for her family and asked if a selection could be sent over to her suite at the Principe di Savoia hotel. Hooks gave the go-ahead to dispatch the goods, along with two top salespeople, who ended up flying to the royal's home country to finalize her purchases, which totaled roughly $500,000. "The more service you throw into it," says Hooks, "the better."
At the de Grisogono boutique in Geneva, a phone call last December resulted in major ka-ching. A gentleman from Turkey rang to inquire about the luxury jeweler's new Meccanico dG watch, which has a patented dual analog and mechanical digital display, and retails from $320,000. After a quick e-mail exchange came a transfer of funds and, one day later, a private plane to collect the timepiece. "It cost him a fortune, but there are still people spending like they used to," marvels de Grisogono founder and president Fawaz Gruosi.
Welcome to the world of fashion's big spenders, where six figures can be dropped in a single excursion—and that's not counting serious jewelry. Unlike even a decade ago, when much of the big-bucks spending was done by the Japanese, Americans and Russians, today's elite fashion consumers can come from anywhere and spend pretty much everywhere, downturn be damned.
"There's still a lot of cash in the world, in all countries," says Bernard Fornas, president and CEO of Cartier, whose coveted high jewelry pieces run to about $27 million. "Look at the price of Cartier pieces at the auction sales. It's stunning!" Stunning, too, is the way Cartier coddles its customers. Last October the jeweler flew 150 of its best clients to Istanbul for a lavish weekend, complete with tours, private dinners and a smorgasbord of 300 new high jewelry pieces displayed in a mansion on the Bosporus. The baubles included a platinum bracelet with 30 pear-cut yellow diamonds dripping from a blizzard of brilliant-cut stones. "We sold very, very well," Fornas says, beaming, while declining to give figures or—heaven forbid—name any clients, whose privacy all luxury brands and retailers guard ferociously.
Still, there's no question the worldwide financial crisis has hit even the deepest pockets. Global Blue, a company that specializes in tax-free retailing, says spending by Russians dropped 20 percent as the recession hit hard in 2009. Americans pulled back a bit further after a major retrenchment (27 percent) in 2008. Yet purchases in the six figures were not unusual, and total spending last year on big-ticket items rose somewhat despite the economic situation. Global Blue's other findings? Paris, London and Milan remained the top three destinations for fashion splurges, and the top-spending nationalities last year were Russian, Chinese (up 50 percent), Japanese, American and Indonesian.
De Grisogono's 18k white gold, emerald and diamond necklace.
Robert Polet, president and CEO of Gucci Group, draws from studies by Capgemini, Merrill Lynch and the China Market Research Group showing that the number of high-net-worth individuals (those with investable assets of $1 million or more) slipped by about 15 percent during the recession, while China charged ahead with impressive growth. In fact, Asia-Pacific is expected to overtake North America as the largest region for big spenders by 2013. The Chinese already rank third, after Americans and Japanese, as the biggest consumers of luxury goods. "Paradoxically," Polet notes, "big spenders are now in some of the poorest but fastest-growing countries."
In chats with luxury-brand honchos, Asia comes up again and again. "Big spenders remain in Asia—Hong Kong specifically—followed by Japan. China is gaining more and more big spenders," says Bruno Pavlovsky, Chanel's president of fashion. The French brand just unveiled a sumptuous store in Shanghai, in tandem with a showing of its luxe Métiers d'Art collection, and is fortifying its presence on the mainland and in Hong Kong. "Big spenders are definitely looking for extreme quality and the best services," he adds.
Sarah Rutson, the ultrachic fashion director of Lane Crawford in Hong Kong, says that one need only look on the streets of this teeming business hub to understand the wealth factor: "Every other car is a Maserati or a Bentley," she marvels. "It's extraordinary." The most profligate of her VIP clients spends easily $1 million per year on clothing, and the same amount applies to mainland Chinese, "but they pay for everything in cash," Rutson notes. What's more, they're adventurous consumers who like to shop for more niche brands, such as RM by Roland Mouret and The Row, which is designed by Mary-Kate and Ashley Olsen. Meanwhile, other buzzy labels, like Rick Owens and Alexander Wang, are gaining traction as part of what Rutson dubs "the new wave of luxury."
Sheikh Majed al-Sabah, founder and former chairman of Villa Moda, the Kuwait-based fashion emporium that helped draw attention to the wealthy, fashion-hungry throngs in the Gulf region, says elite shoppers from Saudi Arabia, Qatar, Kuwait and Abu Dhabi continue to lap up luxury. "Sometimes the whole family—four or five sisters—they go in, boom," he says. Al-Sabah notes that high service expectations are common in the region, and clients don't hesitate to ask the impossible, from rushing a selection of evening dresses to a client's home ahead of a big party to convincing Riccardo Tisci to add more beading to a Givenchy couture gown. "They're willing to spend, but they want it to be the way they want it to be," says al-Sabah.
From top: Christian Louboutin's leather and Swarovski crystal pump; Cartier's Secrets et Merveilles platinum and white and yellow diamond bracelet.
According to those who deal with them on a regular basis, big spenders can be impulsive. For example, a businesswoman from Dubai recently came into Selfridges on Oxford Street in London to buy gifts for her coworkers, only to blow $110,000 on clothes and accessories for herself. Remembering her original purpose, she made a beeline for the store's Wonder Room, chockablock with luxury watches and jewelry, and dropped another $31,000, relates Sally Scott, the store's marketing director. Thirty percent of Selfridges' business comes from wealthy tourists, with Kuwait, United Arab Emirates, China, Saudi Arabia and Russia currently the top five countries. To further coax open pocketbooks, Selfridges boasts a VIP entrance from the parking garage, a tax-free lounge where customers get value-added tax back on the spot—and sales associates fluent in 40 languages.
Other countries that executives consider "on the verge" of producing big spenders include Brazil, Ukraine, Azerbaijan and Thailand. Sidney Toledano, chief executive of Dior, explains that any country with a dynamic social and class system, such as China, is fertile ground for big spenders. "Even in Africa, things are moving," he says. Dior, Fendi, Gucci and other luxury brands all have outposts in Marrakech and Casablanca, Morocco.
Shoe god Christian Louboutin notes that many of his most devoted clients behave like collectors, buying favorite styles in multiples. And he certainly can relate. He happens to have a soft spot for antique doors and once had 16 in his possession, with not enough doorways in which to hang them. Ditto for Charvet ties. He can scoop up a dozen at a time, he says, and probably has 400 in his collection. "And I barely wear ties," Louboutin adds sheepishly. "The real problem of big spenders is storage."
De Grisogono necklace: Courtesy of De Grisogono; Christian Louboutin pump: Courtesy of Christian Louboutin; Cartier bracelet: VINCENT WULVERYCK © Cartier 2009