Billie Eilish Wears a Tank Top, Dares You to Judge
"Would you like me to be smaller? Weaker? Softer? The body I was born with—is it not what you wanted?"
---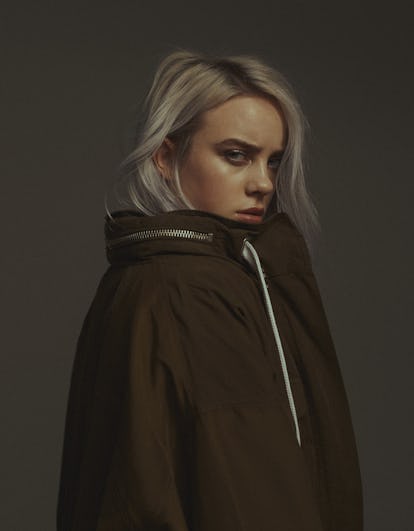 Photo by Sebastian Sabal-Bruce, styled by Caroline Grosso
Three days before she postponed the rest of her "Where Do We Go" tour, Billie Eilish kicked it off in Miami with a show that also served as a screening for Not My Responsibility, a short film the 18-year-old made to accompany her across North America. It didn't disappear completely; a shaky, vertical iPhone version uploaded the following morning now has more than two million views. But it wasn't until Tuesday night, when Eilish uploaded the official video to YouTube, that fans could actually hear what she was saying over the crowd's screams and cheers.
"Do you know me—really know me?," Eilish begins. "You have opinions about my opinions, about my music, about my clothes, about my body."
The last two subjects are Eilish's focus, and unfortunately just the latest example of the teen being the only mature person to discuss her body. Last year, a video of her wearing a tank top in public went viral; as Eilish later recapped the aftermath, "my boobs were trending on Twitter! At number one! What is that?! Every outlet wrote about my boobs!" (Eilish, of course, is known her personal style, which is heavy on baggy clothes.) "I have to wear a big shirt for you not to feel uncomfortable about my boobs!"
The film echoes those sentiments in a series of statements and questions. "Some people hate what I wear. Some people praise it. Some people use it to shame others. Some people use it to shame me," Eilish continues in the voiceover. "But I feel you watching. Always. And nothing I do goes unseen. So while I feel your stares, your disapproval, or your sigh of relief, if I lived by them, I'd never be able to move."
"Would you like me to be smaller? Weaker? Softer? Taller? Would you like me to be quiet? Do my shoulders provoke you? Does my chest? My stomach? My hips? The body I was born with—is it not what you wanted?," Eilish says as she takes off her jacket to reveal (gasp!) a tank top. "If I wear what is comfortable, I am not a woman. If I shed the layers, I'm a slut."
Those who judge her body, Eilish continues, have never actually seen it. She then takes off the tank top, sinking into a pool of black in her bra. "If I wear more, if I wear less, who decides what that makes me? What that means?," she asks. "Is my value based only on your perception? Or is your opinion of me not my responsibility?" After nodding to the film's title, Eilish slips into the pool and emerges covered in what appears to be tar.
Eilish has repeatedly made these points in interviews for years. "I was born with fucking boobs, bro," she added when revisiting the viral tank top video in September. "I was born with DNA that was gonna give me big-ass boobs."
From the sound of it, the film has been months in the making. "I'm gonna be a woman. I wanna show my body" Eilish said at the time, looking ahead to when she turned 18 in December. "What if I wanna make a video where I wanna look desirable?"
To be fair, her audience does seem to have slightly matured in the time since. The response hasn't been "I've lost all respect for her," as Eilish predicted. But she was right about her prediction that what's now the top trending video on YouTube would be "a huge thing."