Billie Eilish Recalls Her Failed Stint as a Normie
She barely made it through a single night.
---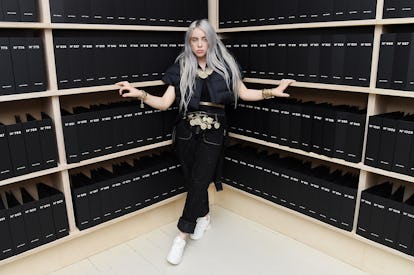 Getty Images
Far too many celebrities, not to mention everyday humans, have fallen into the trap of briefly attempting to be "alt." But at 18, Billie Eilish has discovered that she has the opposite problem: The enigmatic singer is incapable of deviating from her alt lifestyle. (At least, she insists as much; we have to dock her a few points for retiring the @wherearetheavocados handle, and for pivoting her monogram mania from knockoffs to actual designer goods.)
If there's one moment that best encapsulates Eilish's authenticity, it just might be one that she recalled in a 73 Questions video that Vogue published on Thursday. Taking a page out of Eilish's book, the outlet broke with convention by enlisting an AI robot to interview Eilish, kicking things off with the question "What are you like?" Quite a few curveballs followed from there, but there was also one that a journalist—albeit an unimaginative one—would typically ask: "Do you want to go back to being anonymous?"
The short answer is no. And the long answer is that Eilish did used to feel that way, out of frustration at the difficulties fame presents for partaking in everyday activities, like going out to dinner with a friend. One evening, though, Eilish decided she had had enough: "I was like, Why don't I try to disguise myself?," she recalled. "So I put on a wig. I put on just a hoodie and a little bow on my head, and some jeans. And I went out."
Of course, we already know that the apocalypse did not come to pass. But it was certainly earth-shattering to Eilish; she couldn't stand betraying her roots. "I hated it. I hated it. I hated it. It's so fucked up! I just didn't like it," Eilish said.
Though it sounds like even then, Eilish was beginning to embrace her fame: "I was like, People aren't nice to me now," she continued. "I think mainly, it's that I wouldn't wanna not be me. I think that's what it is. It's not like I wanna suddenly be somebody who isn't me, and be anonymous. I want to be who I am, and that means that I have to be this way, and live this life.
"I hope that doesn't come off as cocky. I hope that it comes off as, like, grateful. I have an incredible life." Spoken not exactly like a true alt—but also definitely not like a true poseur, either.
Related: Billie Eilish Continues to Be the Only Mature Person Discussing Her Body
A Brief History of Celebrities Attempting to Be "Alt"
Kanye West and Lorde became the stuff of meme legend when they attended Christian Dior's Fall/Winter 2015 show in Paris, where they easily could have been mistaken for sulky teens. (If sulky teens could afford Vetements, that is.)

Getty Images
Ashlee Simpson quickly set herself apart from her much blonder older sister, Jessica Simpson, by dying her hair jet black and wearing a color palette to match.

Getty Images
"I was really into Nirvana. My wardrobe consisted of ripped corduroy jeans and flannel shirts. One day after school, I dyed my hair blue," Ivanka Trump wrote in her 2017 memoir, in which she dropped the bombshell that she, too, enjoyed a "punk phase" at one point or another during her youth. Alas, the photographic evidence is slim, save for this black lace dress and choker that she, perhaps in a fit of teen angst, wore to celebrate her father's 50th birthday.

Getty Images
A year after the dawn of the Twilight era, Kristen Stewart attended the 2009 Teen Choice Awards wearing a dress adorned with fake bullets, designed by—wait for it—Rock and Republic. She also appears to have gone to lengths to style her hair as messily as possible.

Getty Images
Before he became known as Skrillex, Sonny Moore was already an internet heartthrob, thanks to his long-haired, eyeliner-heavy tenure as singer of the screamo band From First to Last.

Getty Images
Hilary Duff rang in the new year of 2007 with a return to her darker roots, which she first exercised in 2005, during her controversial relationship with Good Charlotte's Joel Madden.

Getty Images
Evan Rachel Wood, pictured here with Mickey Rourke, attended the 2008 Venice Film Festival with new streaks of red in hair, which was memorably jet black throughout the duration of her relationship with one Marilyn Manson.

Getty Images
The word "goth" gets thrown around a lot when it comes to the early days of Angelina Jolie. And while Jolie was never goth goth, she did make a spate of red carpet appearances such as this one at the 2001 premiere of Lara Croft: Tomb Raider, where she wore all black, with tattoos to match.

Getty Images
Taylor Momsen left Gossip Girl in the dust by fully leaning into her dark side, which was best exhibited onstage during performances with her band, the Pretty Reckless.

Getty Images
When she wasn't onstage at the Teen Choice Awards, or on-screen alongside Joe Jonas in Camp Rock 2, Demi Lovato spent part of 2010 stepping out in ensembles like leather jackets and ripped tights.

Getty Images
They might now be living the lifestyles of the rich and the famous, but before they married the likes of Cameron Diaz and Nicole Richie, Benji and Joel Madden stuck to wearing eyeliner and playing with their band, Good Charlotte.

Getty Images
Satan bless Christina Hendricks, the only true celebrity former alt we have. While now renowned as a redhead, the actress used to dye her hair black, red, and purple, and has proudly spoken out about doing so on several occasions in the years since. "My parents would say, 'You're just alienating everyone. You'll never make any friends looking like that.' And I would say, 'I don't want those people to be my friends. I'm never going to be friends with the people who beat up a kid while everyone is cheering them on. I hate them,'" she told the Guardian in 2014.

Courtesy of @actuallychristinahendricks