Ashlee Simpson Is Back, With New Music, a New Reality TV Show, and a New Outlook on Love
The singer is returning to the spotlight.
---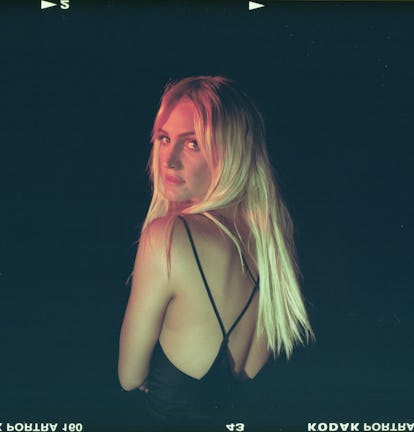 Photograph by Emily Lipson for W Magazine.
It's been 14 years since Ashlee Simpson appeared on a now infamous October 23, 2004 episode of Saturday Night Live, in which she was caught lip-syncing—and decided to make the most of the moment with an odd dance. Although it seems fairly harmless, especially considering the more salacious celebrity scandals that have come and gone in the years since, there are still people who want to ask about those awkward 39 seconds. So, Simpson likes to talk about it first.
"That's something that people always bring up," said Simpson on a recent Tuesday morning in New York City, where she was gearing up for the premiere of her new reality series, Ashlee+Evan. The first episode of the series, which airs this Sunday, also addresses the SNL incident. "Of course I bring it up," she explained. "That moment in my life shouldn't have been as big of a deal as it was. I just put it out there because it's something that people got obsessed about."
It's certainly hard to imagine that now, in the age of daily Twitter feuds and Instagram comment wars, that such an event would capture the public in the same way. "I know, right?" Simpson agreed. "It definitely taught me to be a strong woman and to stand up for myself and to believe in myself."
So there it is. Now it's officially time to move on. Simpson certainly has.
These days, Simpson is 33 years old and happily married to actor and musician Evan Ross, son of Diana Ross, and the mother of two children, Bronx, her nine-year-old son with former husband Pete Wentz, and Jagger, her daughter with Ross whose third birthday they recently celebrated with a "hippie"-themed party. When we meet in August, her hair is long and bright blonde, not jet black or fire-engine red or short and choppy, or any other iteration you may recall from the early aughts. She's sitting at the kitchen table of a Tribeca apartment that has acted as a makeshift home during a recent stay in New York, and she is wearing a simple, floral slip dress and white sneakers—no studded belts in sight. Clearly it isn't 2004 anymore. But it is 2018, and if there is one thing 2018 loves, it's a nostalgic pop culture moment, so come Sunday night, Simpson is returning to reality television.
But this is no reboot The Ashlee Simpson Show, the MTV docuseries that aired 2004–2005, as Simpson is quick to point out. "When I did my first show, reality was different," she said. "It's different that I have my own family now, and back then I was just a young girl in my punk pants and going through heartbreak and all those kind of things. This time, I'm getting to do a project with my husband."
In fact, Ashlee+Evan wasn't even intended to be a reality show in the beginning, but rather a type of home-movie documenting the couple's process making of a joint album, due out this fall. Eventually, the idea of turning it into a docuseries was conceived, and the pair ended up at E! with a full-series order and prime airtime directly following Keeping Up With the Kardashians on Sunday nights.
Naturally there was also some hesitation on her end about returning to life in front of the cameras. "At first I was like, 'What am I doing?'" she shared. "But I think a part of me knew it was important. I've been gone for a very long time and for me, I needed this time for myself and to be a mom to my kids."
During that time, she was building quite the life for herself—one that is seemingly tailor-made for reality TV. There's her relationship with Ross (the pair were married in 2004 after a year of dating), as well as her extended friend group, some of whom avid fans may recognize from The Ashlee Simpson Show. "I dyed her hair back in the day," she said, gesturing toward pal and frequent companion Stephanie Pearson, who happened to be passing. "I had blonde hair when we did The Ashlee Simpson Show and I had finished shooting 7th Heaven, and I dyed my hair from a box. I went to the grocery store and bought one. Then I tried to do hers and it was like wine, red wine. And I did her eyebrows. It was really bad. I'm definitely not coloring anyone's hair now."
There's also her family. On her side, big sister Jessica Simpson and parents Joe and Tina; on his, eight siblings, including actress Tracee Ellis Ross, and, of course, mom Diana—all of whom make cameos on the show. "They were really supportive. They know our love," Simpson said. "We're pretty open people with our friends and what not, and who we are. It's definitely different being open like that with cameras, but when you're not, you can tell. That was a decision: When we're doing this, we have to come in with open hearts, or it shows."
And, yes, she knows she's lucky to have not just an amazingly supportive family but also two older sisters known for their distinctive styles. "They both buy the greatest pieces ever," she said. "[Jessica] buys me the greatest birthday gifts ever. She got me this Gucci leather jacket with studs and embroidery, so she gets where I'm at. Her closet is really amazing. And Tracee, her style is next level. I'm inspired by them, for sure." (Of her own personal style, she says: "I'm definitely not in green Converse and pants with my butt crack hanging out [anymore]…My pants were really low back then.")
In addition to the adult family members, the show also includes appearances from both of Simpson's children. "I didn't want the cameras in their faces. It was more if they wanted to be in the room, or that was happening at that moment, then naturally that would happen. Jagger is the boss. She's like, 'Okay, we're done. Stop shooting my mom,'" Simpson says. Of older son Bronx, now practically a preteen, she described him as "a little old soul." "Doing this project has been so special to me in getting to share my music with him. He loves music and he's never seen his mom perform before, so getting to share that side of myself with my family and kids is so special. The other day he said, 'I'm so proud of you,' and that's all that matters. I was like, 'I win, I did it.'"
As Simpson says, for her professional life it's "music first, always." Each week on the show, Simpson and Ross will debut a new song off their forthcoming album. Nostalgic fans expecting a musical sequel to pop-punk anthems like "Autobiography" or "La La," however, are in for a shock. Instead, expect soulful love duets that focus more on lyrics and vocal tones than brash electric guitars and catchy choruses. "Evan and I, when we first started dating, we wanted to do an album about love. For me, it was taking a leap and saying, 'If I'm really going to do it, I have to put myself out there,'" she said. "We started writing songs together a long time ago, but something would always come in the way; he had a movie or I got pregnant. We've been waiting for that moment, and we finally had it…. Both of us are inspired by beautiful soul music and duets. This is our passion-love project together. Of course we'll both make our own albums after, but it's been fun to do it with the person that I love the most."
The demand for a fourth solo Simpson album is certainly out there, despite a 10-year absence from the Billboard chart (her last record Bittersweet World was released in 2008); earlier this year, The New York Times published an episode of their music-focused podcast Popcast titled "Was Ashlee Simpson Underappreciated? Discuss." (The general consensus was a resounding yes.) Simpson immediately starts laughing at the mention. "Oh, my God, yeah. That was so good. That was so unexpected and it was amazing. It made me feel so great."
So what would an Ashlee Simpson album sound like in 2018? "A solo album for me right now would be a little more…I don't know," she said thoughtfully. "There would definitely be a hint of that pop-rocky sound, but still that soul that I grew up listening to."
And, she noted, it would have to be different, as the music industry has changed dramatically since her first musical incarnation. "Everything has [changed], really," she said. "Everything."
But before that album comes to fruition, there may still be even more changes on the horizon in Simpson's life: namely, baby number three. "I definitely want to have another kid, for sure, I just don't know when," she said. "I want to do this and to tour a bit. Last time, when I got pregnant with Bronx, I was like, 'I'm going to take a break and just do this.' I think this time if I was pregnant, I'd keep going."
And how could she stop?