No One Is Having More Fun at Paris Couture Week Than Tracee Ellis Ross
Leave it to Tracee Ellis Ross to pull off looking both chic and silly at the same time.
---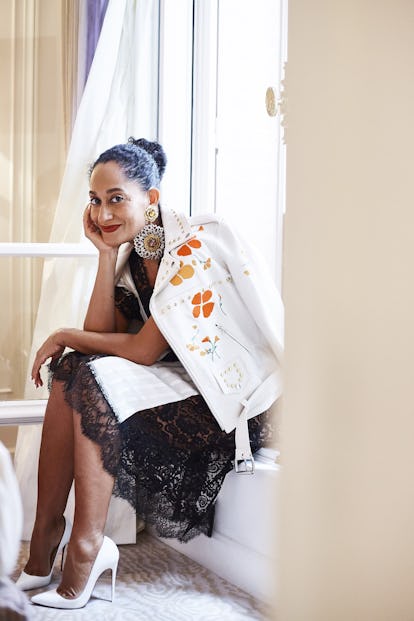 www.mollysjlowe.com
While other stars were celebrating the Fourth of July on water skis, Tracee Ellis Ross has been flexing on Instagram at Paris Haute Couture Fashion Week. And she seems to be having more fun than anyone else there.
It doesn't matter if she's donning a flower headdress from the runway or a Parsian chapeau: Ross has been showing off a delightfully silly side of herself, all while stunning her four-and-a-half million followers on Instagram with dashing looks in between couture shows in Paris. (There's also something to be said for anyone who can handle France's 50 percent humidity index and 90 degree weather with grace the way Ross has during Couture Week.)
There are not many who possess the ability to serve such elegant couture looks while remaining charmingly relatable, like Ross does on a daily basis (to the point where the majority of the comments on her Instagram posts come from superfans who call her "mom" or "auntie"), let alone while stunting in Paris during a celebration of haute couture designers like Valentino and Chanel, and their nods to the regal inspirations that came before them. Her celebrity run-ins—from Catherine Baba to Amber Heard in the front row at Valentino, where big hair reigned supreme on the runway—have also made for charming Instagram Stories content during Paris Couture Week for the Black-ish actress.
Whether she's "preparing for fashion" (as the actress said in her impeccably droll French accent on Instagram Stories) with a light therapy mask before hitting the runway shows, fan-girling over supermodels like Kaia Gerber at Valentino, or just enjoying a simple scalp massage before leaving the house (as one does), Ross seems to be getting the absolute most out of this haute couture occasion in Paris.
Related: See What Everyone's Wearing to Paris Haute Couture Fashion Week This Season
Getting Ready With Tracee Ellis Ross Before Rodarte's Paris Show
Getting ready with Tracee Ellis Ross before the presentation of Rodarte's spring/summer 2018 collection, in Paris.

www.mollysjlowe.com
Getting ready with Tracee Ellis Ross before the presentation of Rodarte's spring/summer 2018 collection, in Paris.

www.mollysjlowe.com
Getting ready with Tracee Ellis Ross before the presentation of Rodarte's spring/summer 2018 collection, in Paris.

www.mollysjlowe.com
Getting ready with Tracee Ellis Ross before the presentation of Rodarte's spring/summer 2018 collection, in Paris.

www.mollysjlowe.com
Getting ready with Tracee Ellis Ross before the presentation of Rodarte's spring/summer 2018 collection, in Paris.

www.mollysjlowe.com
Getting ready with Tracee Ellis Ross before the presentation of Rodarte's spring/summer 2018 collection, in Paris.

www.mollysjlowe.com
Getting ready with Tracee Ellis Ross before the presentation of Rodarte's spring/summer 2018 collection, in Paris.

www.mollysjlowe.com
Getting ready with Tracee Ellis Ross before the presentation of Rodarte's spring/summer 2018 collection, in Paris.

www.mollysjlowe.com
Getting ready with Tracee Ellis Ross before the presentation of Rodarte's spring/summer 2018 collection, in Paris.

www.mollysjlowe.com
Getting ready with Tracee Ellis Ross before the presentation of Rodarte's spring/summer 2018 collection, in Paris.

www.mollysjlowe.com
Getting ready with Tracee Ellis Ross before the presentation of Rodarte's spring/summer 2018 collection, in Paris.

www.mollysjlowe.com
Getting ready with Tracee Ellis Ross before the presentation of Rodarte's spring/summer 2018 collection, in Paris.

www.mollysjlowe.com
Getting ready with Tracee Ellis Ross before the presentation of Rodarte's spring/summer 2018 collection, in Paris.

www.mollysjlowe.com
Getting ready with Tracee Ellis Ross before the presentation of Rodarte's spring/summer 2018 collection, in Paris.

www.mollysjlowe.com
Getting ready with Tracee Ellis Ross before the presentation of Rodarte's spring/summer 2018 collection, in Paris.

www.mollysjlowe.com
Getting ready with Tracee Ellis Ross before the presentation of Rodarte's spring/summer 2018 collection, in Paris.

www.mollysjlowe.com
Getting ready with Tracee Ellis Ross before the presentation of Rodarte's spring/summer 2018 collection, in Paris.

www.mollysjlowe.com
Getting ready with Tracee Ellis Ross before the presentation of Rodarte's spring/summer 2018 collection, in Paris.

www.mollysjlowe.com
Getting ready with Tracee Ellis Ross before the presentation of Rodarte's spring/summer 2018 collection, in Paris.

www.mollysjlowe.com
Getting ready with Tracee Ellis Ross before the presentation of Rodarte's spring/summer 2018 collection, in Paris.

www.mollysjlowe.com
Getting ready with Tracee Ellis Ross before the presentation of Rodarte's spring/summer 2018 collection, in Paris.

www.mollysjlowe.com
Getting ready with Tracee Ellis Ross before the presentation of Rodarte's spring/summer 2018 collection, in Paris.

www.mollysjlowe.com