GRAPHIC DESIGN IS MY PASSION
Billie Eilish and Reese Witherspoon Are Graphic Designers Now
The pair is among 26 athletes and celebrities to design logos for the 2028 Los Angeles Summer Olympics.
---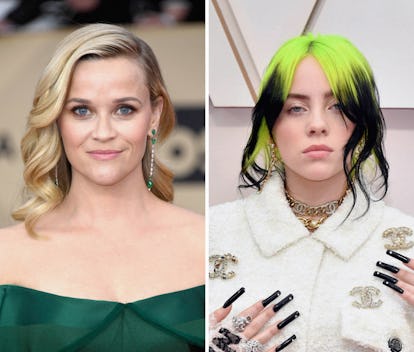 Left: Photo by Frazer Harrison/Getty Images. Right:Photo by Amy Sussman/Getty Images.
Looking back, it seems incredible to think that just a few months ago, the city of Tokyo planned to forge ahead with the 2020 Summer Olympics—a gathering that would have included at least 11,000 athletes. But as pandemic-unfriendly as the games are, they won't be disappearing entirely. And to remind the public that Los Angeles will play host to the Summer Olympics in 2028, the LA28 committee enlisted a motley crew of celebrities, including Reese Witherspoon and Billie Eilish, to head up their graphic design.
The list of 26 athletes and entertainers who have designed logos for LA28 includes a few more logical choices, like Olympians Adam Rippon and Gabby Douglas and actual artists like Alex Israel. (If you count tattoo artists in the latter category, there's also the celebrity-beloved Dr. Woo.) But Witherspoon is more qualified for the job than you may think. She followed the 2018 Winter Olympics so closely that Rippon even said he owed his medal to the actress in 2018. "You know I want to go out there and I want to make … my family proud," he told NBC. "I want to make my mom proud. I put so much hard work into this. And, more than anything, I really want to make Reese Witherspoon proud." According to Mashable, anyway, the actress was "the real star" of that year's games.
To Witherspoon, then, it was an "honor" to design one of 26 logos for LA28—even though it was just the letter A. She went with a pink and yellow, three-dimensional version of the letter, which Jennifer Garner heralded as "so cool."
The connection between Eilish and LA28 is far less obvious, which may be why the got her to explain it on video. The singer grew up in Highland Park, turns out to be an overall enormous fan of L.A. Plus: "The Olympics is the Olympics," she stated simply. "That's everybody, all over the world coming together."
It should come as absolutely no surprise that Eilish's take on the A, which is in the same font as her own logo, is slime green. But the 18-year-old hinted at the possibility that she'll have moved on from the color by the time she's 26. "Who knows if that's even going to be relevant in my life in eight years?," she asked. "But I have this whole thing about not wanting to please my past self or my future self. It's all about pleasing your present self."