Billie Lourd On Getting to Work with Longtime Family Friend Laura Dern in Star Wars
The actress, who is serving as a judge for the 3rd Annual Moët Moment Film Festival, talks about her favorite movies of the year and more.
---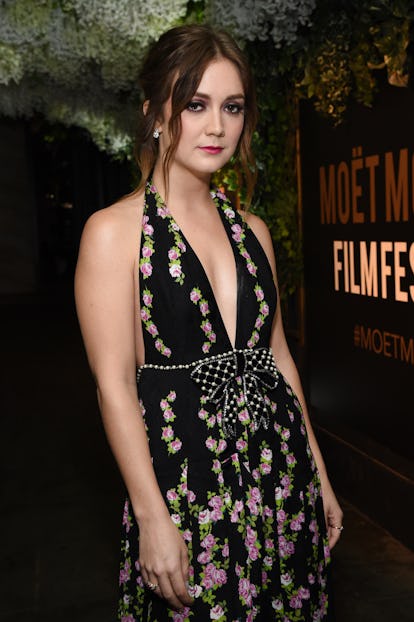 Michael Kovac
Since breaking into acting just a few years ago, Billie Lourd has played an ear-muff obsessed sorority girl, a punk political radical, and an intergalactic space lieutenant. It's safe to say that the actress, whose parents are the late Carrie Fisher and talent agent Bryan Lourd, has range. So, it comes as no surprise that Moët has tapped the young star as a judge for their 3rd Annual Moët Moment Film Festival. In the role, Lourd will work alongside fellow judges, including her Star Wars co-star Laura Dern, to select their favorite short film created by burgeoning filmmakers that centers on this year's theme of "A Cause for Celebration." The winner, which will be announced during the Tribeca Film Festival, will receive a $25,000 grant towards developing their career. As for Lourd, her personal taste in films is about as diverse as, well, her own on-screen roles. Here, the actress talks competition, film, and the best party she ever went to.
Have you ever judged anything like this before?
I mean, dance competitions at camp. But no, I have no serious judging experience. I was shocked when they approached me. I've never done any judging in the streets. I'm still in shock that I've been selected as a judge. So far I've just gone to the welcome party which was so fun, and I got to meet everyone who is making the films. I also got to meet the other judges, and I am so underqualified. Everyone else is so smart and cool and talented. I feel really lucky to be included. It is awesome to be a part of such an amazing program.
Did you know Laura Dern was another judge when you signed on?
No, it was an amazing surprise. It was so much fun seeing her at the kickoff party. We hadn't seen each other in maybe five months; she's Big Little Lies-ing, I'm American Horror Story-ing. We sat down in a corner and got to talk for a while. She's the best. She's so incredible and smart.
Do you remember when you first met her?
She's one of my parents' close friends, so I've been meeting her at parties and hanging out since I was a kid. It was so nice to work with her on Star Wars, because we never really knew each other and got to know each other better on the movie. She's incredible, and what she's doing with Time's Up is so inspiring. I dig her a lot.
What part of the judging process are you in right now?
All of the people have submitted their films and we are going to get together in the next couple of months and watch them. At the Tribeca Film Festival, we get to announce the winner. So I get to get together with all the cool, hip ladies and watch the movies and pick the winner. I keep saying this, but I'm going to be a Randy Jackson. I'm looking for good narratives, good lighting, good sound.
What other films have you seen this year that you loved?
I loved Lady Bird. Greta Gerwig is a goddess and I want to be her when I grow up. And Call Me By Your Name; Timothée Chalamet is so talented, and that is such a great movie. I still need to see tons because I am so behind. Those are like the only two I have seen. Thankfully they were both good, so I can say they were my favorites. I need to go sit in a theater and watch movies all day.
What are some of your favorite films, in general?
The un-intellectual, normal person side is going to say I Love You, Man. I'm obsessed with that movie, and Paul Rudd is everything to me. I can always go to sleep to that movie because it is the most uplifting, hilarious movie in the world. Shoutout to I Love You, Man. In terms of real good movies, I'm obsessed with 2001: A Space Odyssey, and I'm a huge Eternal Sunshine of the Spotless Mind person.
The theme for the films in the competition is "A Cause for Celebration." What is the best party you've ever been to?
Like, ever? Glastonbury. 100 percent. I know it's not really a party, but it feels like a big party. It's kind of like a hike mixed with a party, because you are traipsing through mud and wearing rain boots all day. But Glastonbury is the ultimate party.
Are you working on any other projects beyond the festival right now?
Well, everything I do is a freaking secret. Story of my career. I'm a real woman of mystery. So I can't really talk about anything that I'm doing. I swear I'm busy, but I can't tell you with what.
Related: Saoirse Ronan Swears She Has A Special Connection With Alanis Morissette