Don't Miss: Bill's Food & Drink
The Lion and Crown owners bring their brand of modernized old New York to Midtown with Bill's Food & Drink.
---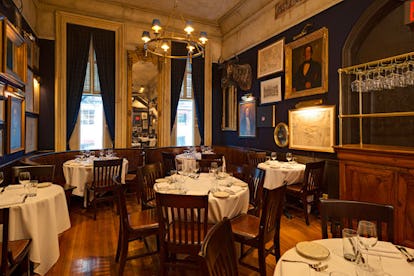 The Lion and Crown have become such staples in the fashion flock's eating habits downtown and uptown, respectively, that it was only a matter of time before the owners brought their brand of modernized old New York to midtown. After all, even the chicest of diners must occasionally venture into that waylay station between the West Village and Upper East Side. Enter Bill's Food & Drink, a multi-floor, all-American restaurant housed in an 1890s brownstone, once home to the Prohibition Era speakeasy, Bill's Gay Nineties. The former tenant's piano holds court in the downstairs bar and with help from designer Meg Sharpe, the owners set about preserving much of the building's past while making it 2012-ready: original moldings line the main dining room, there are circa 1940s murals on the first floor and round silver dollars in bar's floor; mixed in is a sculpture by Michael Combs, meat paintings by William Beenie and antique oil paintings, maps and line drawings sourced from auction houses in the Hudson Valley and London's Portobello Market.
As for the food, don't be fooled by the selection of prime-aged beef and veal on the menu.
"We don't really consider ourselves a steakhouse, more a classic American bar and grill with our homey, bistro feel," explains Sean Largotta a partner of the Crown Group Hospitality (John DeLucie and Mark Amadei round out the owners). Homemade pasta, classics like chilled seafood salad and Florida stone crab claws, and all manner of potato preparations help round out the offerings. Cocktails are contemporary riffs on prohibition-style beverages—the Bill'z Royal Rickey has Aylesbury Duck vodka, cedia acai berry, chartreuse and fresh ginger lemonade—for those who like their booze with a side of sly subversion.
Bill's Food & Drink is currently open for dinner and will start lunch service in December. 57 East 54th St, 212.518.2727