Björk Has Somehow Made The Perfect Song About Falling in Love via Text Message
The song should dispel the popular misconception that Björk only sings about Icelandic fairy unicorns and space.
---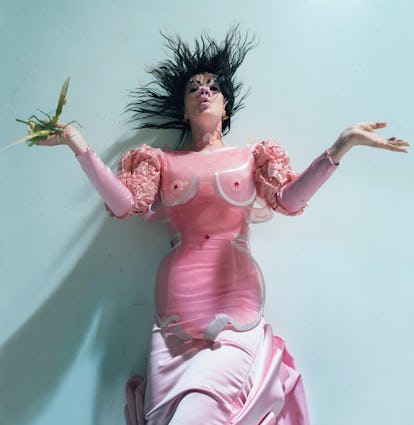 Photographs by Tim Walker, Styled by Katy England
The idea of falling in love online has existed even before the first AOL chatrooms, ramped up in the days of proto-social media sites like LiveJournal and MySpace even when it was still considered taboo, and has now become mainstream if not the norm thanks to our smart phones and apps like Bumble and Grindr. Yet, few pop songs have really captured the odd feeling and up and downs that comes with electronic flirtation. Sorry, Britney Spears' "Email My Heart" doesn't quite stand up.
Yet, it seems that Björk has really made good on her promise that her upcoming album Utopia would be something of a Tinder love album and somehow perfectly put the rush of a text-based love affair to words with her new video and song "Blissing." How this feeling didn't get captured by Taylor Swift, Carly Rae Jepsen or even Dua Lipa before is sort of astounding.
The song debuted today alongside a new video directed by Tim Walker (who also recently shot Björk for our special collector's cover), in which Björk, clad in her avant-garde finery, dances around in a white room.
It's the lyrics, though, that really get us here.
"Is this excess texting a blessing?" she sings in the first verse (a question we've all almost certainly asked ourselves). "Two music nerds obsessing."
Björk and her unnamed e-suiter start trading music files ("Sending each other MP3s / Falling in love to a song"), but then, suddenly, Björk wonders if it's too good to be true. Could her and the text buddy really work out in real life, or is there too much difference in their realities for them to truly gel? In this case, Björk wonders if he might be a little too young.
Then, as it happens, the text messages get a little less frequent. Why isn't he responding to her texts as much? Is he ghosting her? ("Cliffhanger like suspension / My longing has formed its own skeleton"). Then she realizes, to put it in DJ Khaled parlance, she might have just played herself ("Our physical union a fantasy / I just fell in love with a song"). It's not actually going to work out, and maybe she fell in love with what they were sharing with each other rather than him. It was all an SMS-assisted dream.
Then, like has happened to all of us—whether it's after 20 minutes of messaging on Grindr at 2 a.m. in the morning or four months of back-and-forth texting—she realizes she put herself out there a bit too much and emotionally recoils ("So, I reserve my own intimacies / I bundle them up in packages"). She's left wondering what exactly just happened. "Did I just fall in love with love?" she concludes.
If something like this hasn't happened to you then you've probably either been in a committed relationship or in a coma for the past 10 years.
The only thing not quite relatable about it? How Björk elegantly handles it, with her introspective poetry and fanciful interpretive dance. For most of us, our realization that we just read way too much into a string of text messages would be accompanied by red wine, sweatpants, Tumblr memes, ice cream, and subtweets. Maybe we all should try interpretive dance next time instead.
Whatever the case, the song should dispel the popular misconception that Björk only sings about Icelandic fairy unicorns and space. Turns out sometimes she can churn out an of-the-moment breakup song more relatable than anything on Swift's last album.
Related: Björk Has Already Created the Perfect Tinder Soundtrack
See What's Trending in W Video: