How Bumble Went From Dating App to the Millenial LinkedIn
With Bumble Bizz, the dating app is turning its focus to professional networking.
---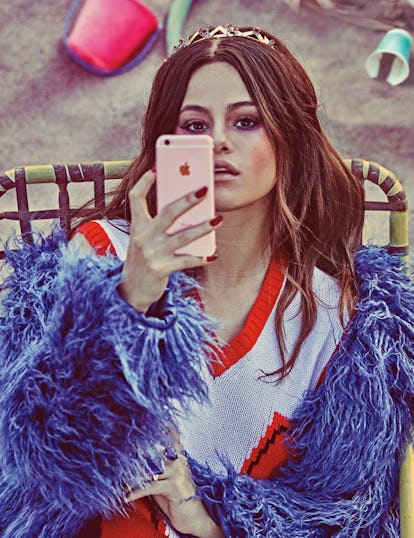 It is safe to say that Whitney Wolfe Herd knows a lot about swiping. After co-founding Tinder in 2012, Herd started her own smartphone application in 2014 with the focus on women first—Bumble, where only women can send the first message. Now, three years later, the Texan is turning her sights onto something beyond the dating space with Bumble Bizz, a new career networking space that exists within the Bumble app. Like with many dating apps, the interface allows users to swipe yes or no on a potential match, and as with Bumble proper, only women can make the first move—except this time, the ask is for career advice and career mentors rather than a potentially awkward first date. Last week, Herd hosted a blowout bash, alongside Fergie, Karlie Kloss, Priyanka Chopra, and Kate Hudson, to celebrate Bumble Bizz's official launch. Here, she explains why networking is so crucial to women, and why it is important to swipe right on your career's future.
What made you create Bumble Bizz?
We saw our users networking and being very explicit in their profiles that they didn't want to use the platform to date exclusively. We saw that users would edit their profile based on their mood that week. If they didn't want to date for a few weeks, they would go and edit their profile to say, "I'm just looking to network," or "I just left my job and I want to move from fashion to tech." We reacted.
What has been the initial response?
It's very early—it has only been a couple of weeks. But the early results are showing that people—predominantly women are using Bizz in an even more engaging way. There are more matches per user, more swipes right for per user. It is really incredible to see that they are so receptive to the idea of getting out there and networking. I think what is so wild is that women have been craving something like this because we all have had access to dating apps for five years now. It has been normalized and is kind of part of our bones. And LinkedIn for me, while it is a great platform, it doesn't give me the same immediate response. You can't just run and grab coffee with someone in 25 minutes.
Why do you think this is such an empty market for networking apps?
Amassing a user base is a lot harder than one might think. It is actually spooky in the sense that we are seeing the same thing happen now to networking that we are to dating. There were dozens of dating apps when Bumble came on the scene but they weren't able to attract critical mass in a young professional group. While I'm sure there are other people who have attempted to bring swiping to networking, I don't think they were able to get that critical mass. This was a ripe and opportune moment to take the user base that we already have and introduce another vertical into the equation.
You already have some amazing women on the app, like Karlie Kloss and Priyanka Chopra. How did you get them involved?
We have such incredible people on our team and we are a team of over 85 percent women. When women come together, we make a lot of amazing stuff happen. We are just all about empowering others around us, and even welcoming men into the conversation. This is not just a girl power club; this is about changing the dynamics and changing the conversation. We want to celebrate the men that appreciate a strong confident woman, and encourage more of that. That is what this is all about—balancing the gender imbalance in so many areas of society. We've been so fortunate in having so many amazing women support, and I think a big reason for this is it is a problem that we are trying to solve that so many women can get on board with. We have social impact and we really deeply care about our users and creating change.
Related: Fergie on Girl Power, Oprah, and Dating Apps: "That Is Going to Be a Whole New World For Me"
Priyanka Chopra: "I Don't Crush on People, They Crush on Me"