Fergie on Girl Power, Oprah, and Dating Apps: "That Is Going to Be a Whole New World For Me"
An interview with the singer at a launch party for Bumble Bizz, a network-y new feature of the female-first dating app.
---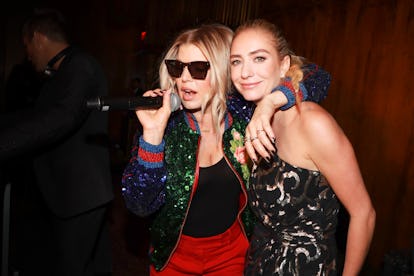 Neil Rasmus/BFA.com
Last night, the ultimate Throwback Thursday was not on Instagram, but rather the main room at Manhattan's iconic Four Seasons restaurant, in the now-revamped Grill and the Pool rooms. It was there that a musical time warp occurred, as Fergie ran through her greatest hits from the early aughts, from "Fergalicious" to "London Bridge" to the Black Eyed Peas' "I Gotta Feeling." The singer was performing to close out a evening, however, to celebrated an occasion very of 2017: the launch of Bumble Bizz, a brand new aspect of the female-first dating app, which focuses on professional networking. The singer joined the app's founder Whitney Wolfe, as well as her famous cohosts—Priyanka Chopra, Kate Hudson, and Karlie Kloss—to in a women-centric dinner party. Ahead of her raucous performance, which also included songs from her new album Double Dutchess, Fergie chatted about dating apps, growing up in the industry, and how Oprah inspires her.
How did you get connected with Bumble Bizz?
It was the perfect match. Their theories and the ways that they think seems to be my way of life. Not so much the dating app yet, it is still a little too soon. Maybe I'll get to that. I've never dated on an app because it all came out when I was married, so that is going to be a whole new world for me. I'm going to be like a 13-year-old girl, probably, when that occurs, and I have no idea when that will be because it's way too soon. But the Bizz part I really love because first of all; it is women and by women. I was always the girl in the group with all guys. It is about learning how not to be afraid of having huge dreams and really taking charge of your career and your life and your path. I think it is a great time for women to push through those boundaries and be fearless. And not be afraid of what maybe past or old-fashioned theories were about male-dominated businesses. We now can be hashtag girlbosses. This past year I got my own record company; not only did I get to put out my own album, put out a video for every song, and do my entire family schedule and balance that—after this, I'll be able to find the next artist and give somebody that pathway that a lot of people gave me.
Who were those women for you?
My mom. I started in the industry very young, at seven-years-old. She was supportive. I really had a very clear vision that I wanted to be in entertainment. She took me to a lot of plays when I was young, and I knew I wanted to be on stage. She would take me to auditions and say, "If you want to go, it is homework in the car." Both my parents are teachers, and she gave a lot of her time to me and so much support. And belief. Maybe a lot of parents might think those dreams I had were too big; she was never stifling those dreams.
You've collaborated with so many women on your new album, from Kendall Jenner starring in a video to Carine Roitfeld styling. What was it like working with them?
If anybody gets the chance to work with Carine, she is amazing. She's a legend. And same with [costume designer] Bea Akerland, who I've gotten to work with. These are like sisters. I look up to a lot of these women because they've done it in different areas that I have. It just makes me so proud to see women on top of their game. And these women are hard-workers. They don't just sit back because they've had success and just watch the sunset on the balcony. They continue to be driven, be nice people, and really just strive for greatness.
What advice would you give to someone you meet on the app?
I would love to encourage them in whatever strengths that they have. Sometimes other people can see things that you can't, and I would really love to just encourage women in the strengths that they have to keep following and go in that direction. And how to make a list and put a goal at the top of your list and really manifest it by taking those little steps all the time, however small they may be.
Is there anyone you would particularly like to see on the app and meet with?
Oprah Winfrey. I have met her before, and she definitely lived up [to expectations]. I would love to further that friendship. Her 21 meditations that she did with Deepak Chopra have gotten me through these few years of getting everything done and being a mom and all of the hats that I've worn. Really taking that little time to center yourself is so important for me. That and prayer. She's really been there with me in this album. Even though I've already met her, I want to talk about all of the things that have helped me and everything she has done for me already.
Related: Fergie Quietly Made Her Comeback in Brooklyn Last Night, Complete with a Couple of Surprise Kardashians
Oprah Winfrey Confesses Her First Cinematic Crush