Oprah Winfrey, 60 Minutes' Newest Special Correspondent, Is Exactly What America Needs
Oprah Winfrey is joining CBS's 60 Minutes as a special correspondent. She calls the show a "bastion of journalistic storytelling."
---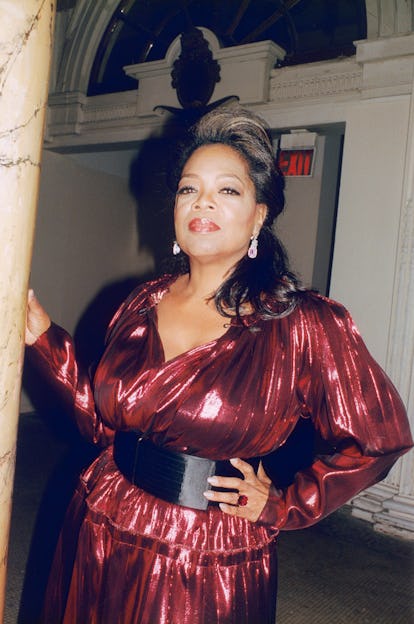 Photographer: Juergen Teller Stylist: Edward Enninful
It seems at times that the very concept of journalism has never been less popular: the public's trust in mass media has never been lower according to Gallup, both those on the farther edges of the left and right regularly harassed journalists on Twitter throughout the election cycle, the President of the United States has referred to journalists as the "opposition party," and his chief strategist likes to call up newspapers and, in the course of expletive-laden rants, tell them to shut up.
Perhaps what journalism needs right now is the addition of a voice that most Americans seem to trust. Perhaps what it needs most is, yes, Oprah Winfrey, the country's fourth most admired woman. Thankfully she's joining the likes of Anderson Cooper and Charlie Rose in the ranks of special correspondent on CBS News' 60 Minutes.
"There is only one Oprah Winfrey," the show's executive producer Jeff Fager said in a statement. "She is a remarkable and talented woman with a level of integrity that sets her apart and makes her a perfect fit for '60 Minutes.'"
"I've been a big admirer of '60 Minutes' since my days as a young reporter. I'm so excited and proud to join forces with this historic news program, which for me represents the bastion of journalistic storytelling," Winfrey added. "At a time when people are so divided, my intention is to bring relevant insight and perspective, to look at what separates us, and help facilitate real conversations between people from different backgrounds."
Winfrey started her career as a reporter and news anchor at various local news channels, and while her most famous program may have been more lifestyle-orientated, she managed to score as many news-making interviews as anyone (in fact, she once asked Donald Trump if he'd ever run for president all the way back in 1988).
The CBS announcement didn't elaborate much on what exactly Winfrey will be covering, nor how often she'll appear, but it seems clear from her statement that she seems intent on tackling more serious issues in a style different from the back-and-forth, controversy-slinging bickering that cable news relies on. Why else join one of the country's most storied news program unless she specifically wanted to tackle newsy stories, seemingly with an emphasis on bringing the nation back together? Oprah doesn't exactly need the money, her schedule isn't lacking for commitments, and she has an entire cable channel of her own to run any lifestyle programming of her choosing.
60 Minutes is also the nation's most watched regular news program (it was the 15th most watched network show in 2015 overall, for that matter), though the program has lost some of its more notable correspondents in the past few years. She'll also join her best friend Gayle King, co-host of CBS's This Morning, as part of the CBS News family.
Winfrey may not be able to redeem the very idea of journalism itself in the eyes of the country all by herself, but if there was anyone who could make any sort of positive impact on the media's reputation by just showing up to a news magazine a few times a year to file some stories, it would be Oprah. This does, however, mean that Oprah is not gearing up to launch a presidential run in 2020 of her own.
Watch Oprah Winfrey talk about her first onscreen crush: