Fergie Quietly Made Her Comeback in Brooklyn Last Night, Complete with a Couple of Surprise Kardashians
An evening in Brooklyn with the singer, whose second solo album features everyone from Kendall Jenner to Nicki Minaj to her four-year-old son, Axl.
---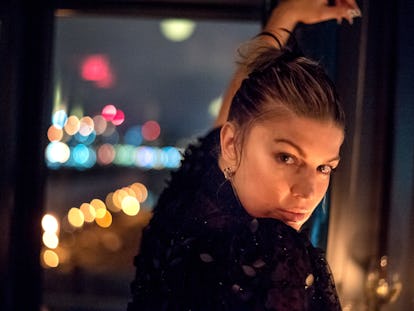 Madison McGaw/BFA
It was getting toward 11 p.m. in Williamsburg on Tuesday night, and Fergie, who was decked out in black lacy Rodarte that showed off her immaculately toned abs, was working her angles. An explosion of flashes was coming from the corner of the rooftop terrace of the Wythe Hotel where she'd just grabbed two lit tea candles to hold up and sandwich her face for a photographer—her next pose after grabbing onto a thick metal heating pole, with the skyline of Manhattan artfully behind her in the background.
The scene was a perfect illustration of one of the life lessons she's learned recently: "It's about living in this moment and enjoying it," she told me a couple of hours earlier and a handful of floors lower in the hotel, tucked away past its screening room in the basement, which she'd just been waxing poetic about. "I got here today, came straight from rehearsal, and was just taking in just being in Brooklyn. Now I'm like Wow, I'm really having this viewing, in Brooklyn," she said enthusiastically, gesturing to the surrounding walls. "I'm just taking it all in with the brick. It feels very much that it has history."
Few but a very green tourist would take such delight in prime Williamsburg these days, but if anyone has the right to positively glow with unbridled enthusiasm, it's Fergie. (And not just because she was finally getting to have some fun after announcing her split from Josh Duhamel, her husband of eight years.) She was about to debut the first official screening of her visual album Double Dutchess: Seeing Double, which comes out on her newly founded record label on Friday, marking her second solo album since she split from the Black Eyed Peas to release The Dutchess—and of course, songs like "Fergalicious"—over a decade ago, in 2006.
Of course, plenty has changed since then, and not just in Fergie's personal life, which now involves a four-year-old son, but on the very basic level of technology. The latter is in part why Fergie decided to make a music video for every song on the album—and why it took years and years to make the album, which she started shooting in January of last year. As Fergie put it, clearly pleased: "I got to make a movie."
"I just love that it's so accessible now—you didn't used to be able to see the video right there," she said, gesturing to my phone (which, little to my knowledge, was shortly about to be locked away in a sealed case during the album's hour-long screening). "You'd have to wait for it to come out on MTV at a certain hour. So now, if everyone can see it, why not do it? It just takes so long, so it pisses off a lot of people," she added with a laugh.
Of course, the so-called "visual experience" also serves to illustrate the new Fergie, who, despite her quite different style, she insisted is quite similar to the former early aughts one, even when it comes to her more out-there looks like the button-up crop top and super short Burberry shorts she wore to the 2006 VMAs. "Oh yeah!" she recalled of the ensemble fondly. "The whole nod to the British—that was very much an homage to [her single] 'London Bridge.' That's just where my mind goes with the creative; when I make songs, I don't just hear them, but I see visually where they're going. I love visuals; I'm a visual person."
And while these days, she's pairing her four rings spelling out "FERG" with Rodarte; wearing Tom Ford in her music videos; freely dispensing tips from Carine Roitfeld, who styled some of her music videos and gets a shout out in one of the song's titles; and working with art director Giovanni Bianco and even Kendall Jenner; Fergie made sure to point out her image overhaul hasn't changed her personality or taste in music one bit. In fact, she even described the new album as "The Dutchess part two," though it goes a bit deeper than that: "Double Dutchess" also refers to "the duality of my personality, the dark and the light, the hard and the soft, the girl with the mask on with all the frills and stuff, and then taking away that mask and seeing what's underneath all that," she explained.
She cited one of her new lyrics, "I'm gonna rip it open and show the world what's there," and continued: "It's not all pretty all the time. There are laughs, there's crying, there's anger, there's severe happiness, there's flirting, there's having fun. [The album] really encompasses the full me, and the full puzzle that makes up the misfit that I am, that doesn't fit into any one category."
Outside the brick basements of Williamsburg, Fergie has previously discussed how certain songs, like "Save It Til Morning," whose video features her sitting pointedly apart from a man in a car before posing for photos together on a red carpet, and escalates to them fighting so vehemently that a glass breaks, are about a couple's explosive fights and "torturing yourself with a relationship you keep going back to." When I asked Fergie if it was difficult to revisit those songs repeatedly now, in light of her recent split from Duhamel, she hesitated, then insisted that the songs are "about many different relationships, some of them romantic, some of them not."
"It wasn't really—I wouldn't say it was tough, I don't know. I would just say that you need to have therapy somewhere, and be able to express your thoughts and feelings, and for me, it's with pen and paper, and it always has been," she said, before again pausing. "And I like the drama of it all, so I like to go into it and create the most dramatic way to express my feelings."
Plus, the "more serious" songs like "Love Is Pain" and "A Little Work," the latter of which features her battling her demons in a padded room and in a straitjacket, she continued, "are based on a few different relationships," and inspiration came everywhere from the TV show Nurse Jackie to the character Nurse Ratched from One Flew Over the Cuckoo's Nest to Fergie's journals, which she painstakingly revisited to look back on lovers past. (And perhaps closer to the present: Earlier that day, Fergie said that she in fact split up with Duhamel long before they went public about it, and that "it was getting a little weird" pretending to still be together.)
In the end, Fergie also revised some history too: In another video, she's the one to break a glass, when an animated version of herself grabs a bottle and breaks it over the head of one of three men who all mistreat her—and whom she all kills with weapons like a cleaver. (They're then cheerfully turned into household items like a patio umbrella and flower pot.)
Otherwise, though, those in the videos are very much alive: There's Rick Ross, who calls Fergie his "queen"; Nicki Minaj, who wears a crisp white shirt with a tie to pair with Fergie's latex thong unitard for their single "You Already Know"; and Kendall Jenner, who stars in another video that features her dancing and rapping in a fur coat, and starts and ends with her propped up on a pink bed.
Jenner isn't the only Kardashian in Fergie's "movie": Lest you forgot, which the crowd definitely did, given the conversation after the viewing, Fergie's video "M.I.L.F. $," which came out last year, features Kim Kardashian dripping in milk, as well as an all-star cast with everyone from Gemma Ward to Chrissy Teigen and her newborn daughter Luna.
The most important cameo to Fergie, though, definitely seems to have been her son's, who turns up not just in one of the videos, but on the album itself, too. "He sings all around the house, just everything, whether it be Power Rangers or 'I Spy with My Little Eye,' and I brought [the song] 'Enchantée' home and started listening to it, and he started singing it, just naturally," she said of her four-year-old, Axl. She set aside her phone and recorded bits of it during one of their "pillow games," and eventually brought him to the studio, where she urged the staff to keep recording when they were "messing" with the microphone, snippets of which appear on the actual recording.
"When I brought it home and he heard it, he went"—Fergie gasped—"'It's me!' It was just the most adorable thing I've ever seen."
Related: Fergie Announces New Album Double Dutchess with Naked Visuals
Kendall Jenner Dramatically Reads Nicki Minaj's "Super Bass":