See All the Kendall Jenner Costume Changes in Fergie's New Video
Blink and you might miss one.
---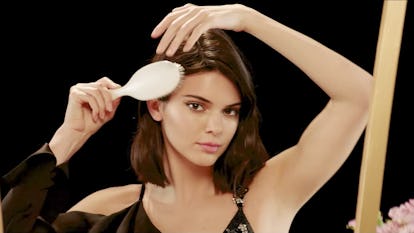 FergieVEVO
Kendall Jenner isn't just the star of the new music video for Fergie's single "Enchanté (Carine)." She's the star, costars, and every and all supporting players. She is literally everything.
Jenner really fills the room, appearing in an impressive collection of glamorous outfits to make up a dinner party, walk the dog, and lip sync to Fergie's new track. It's the first peek of Fergie's upcoming "visual experience" album (that's what she termed it when she talked to W earlier this week), Double Dutchess, and one of many videos to come.
Jenner isn't the only young star to leave a mark on the video. Fergie's son, Axl Jack Duhamel, has a credit on the song for adding his adorable 4-year-old vocals to the track. Though this music video marks a notable release from Fergie's new visual album, "Double Dutchess," this month's headlines have focused on the musician's personal life rather than her music. After an eight-year marriage, the singer recently announced she and Josh Duhamel are divorcing. The two released a joint statement explaining, "We are and will always be united in our support of each other and our family."
This isn't the first time Jenner and Fergie have collaborated on a music video. The model appeared in the 2016 video for The Black Eyed Peas' "#WHERESTHELOVE ft. The World," which focused on raising awareness of recent international and domestic acts of violence and featured celebrities, including Justin Timberlake, Usher, and DJ Khaled. Though Jenner's cameo in the video is brief, it was likely great lip-synching practice for her latest Fergie collab.
Related: Fergie Quietly Made Her Comeback in Brooklyn Last Night, Complete with a Couple of Surprise Kardashians
Kendall Jenner Dramatically Reads Nicki Minaj's "Super Bass"