Björk Has Come Forward With A Story Of Harassment By A Director
Björk won Best Actress at the Cannes Film Festival, but Retired From Acting Right After.
---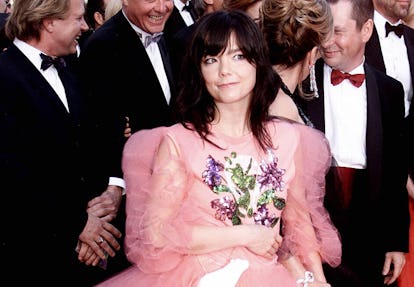 Photo by Dave Hogan/Getty Images
In the wake of the allegations against Harvey Weinstein, male and female celebrities are coming forward with their own personal stories of sexual harassment, assault, and other inappropriate behaviors and mistreatment to shed light on how pervasive the problem is in our culture and to erode the stigma around the topic that brings silence and shame on its victims. Adding her voice to that chorus this morning is Björk, the Icelandic singer-songwriter and now retired occasional actress. She claims she was "punished" by unnamed "Danish director" after turning down his advances.
She posted on her Facebook page:
i am inspired by the women everywhere who are speaking up online to tell about my experience with a danish director . because i come from a country that is one of the worlds place closest to equality between the sexes and at the time i came from position of strength in the music world with hard earned independence , it was extremely clear to me when i walked into the actresses profession that my humiliation and role as a lesser sexually harassed being was the norm and set in stone with the director and a staff of dozens who enabled it and encouraged it . i became aware of that it is a universal thing that a director can touch and harass his actresses at will and the institution of film allows it . when i turned the director down repeatedly he sulked and punished me and created for his team an impressive net of illusion where i was framed as the difficult one . because of my strength , my great team and because i had nothing to loose having no ambitions in the acting world , i walked away from it and recovered in a years time . i am worried though that other actresses working with the same man did not . the director was fully aware of this game and i am sure of that the film he made after was based on his experiences with me . because i was the first one that stood up to him and didn't let him get away with it and in my opinion he had a more fair and meaningful relationship with his actresses after my confrontation so there is hope let's hope this statement supports the actresses and actors all over let's stop this there is a wave of change in the world kindness björk
Björk has only sporadically acted, but her biggest triumph was in 2000's Dancer In the Dark, directed by Lars Von Trier, who is Danish. Björk would win the prestigious Best Actress award at the Cannes film festival for her role as a single mother with a degenerative eye condition who gets caught up in a murder. Despite the promise she showed as an actress, she reportedly didn't get along with Von Trier on set and hasn't appeared in a traditional film role since. Though, Von Trier once told GQ that the reason the two clashed is because they were both used to having total creative control over their projects.
Von Trier's next film was Dogville, which starred Nicole Kidman as a mysterious young woman who is enslaved and sexually abused by an entire small village until she enacts her own fiery revenge. The film was supposed to be the start of a trilogy, but Kidman and Von Trier fell out, and the actress was replaced by Bryce Dallas Howard for the following two films. In the same GQ interview, Von Trier says he knows Björk had sent a letter to Kidman encouraging her not to work with him.
Björk also appeared in 1990's The Juniper Tree by female director Nietzchka Keene.
Related: Björk on Björk: The Inimitable Icelandic Superstar Interviews Herself
Björk Returns to Iceland, for a Dreamy Photoshoot with Tim Walker
1,000 copies of W's Björk Special Collector's issue will be available at the below locations:

New York City, USA: Housing Works book store, Opening Ceremony, TRADE at PUBLIC, Project No. 8, Brooklyn Museum shop, McNally Jackson bookshop, Rachel Comey, Totokaelo, Apolis, The Apartment by The Line, Dover St Market. Los Angeles, USA: Magasin, Reservoir, Rachel Comey, Opening Ceremony, Apolis, The Apartment by The Line. London, United Kingdom: Photographers Gallery, ABC books, Dover St Market, Maison Assouline, Huh, Opening Ceremony. Paris, France: The broken arm, Merci, Fleux Paris. Berlin, Germany: Bless, Voo Store, Andreas Murkudis. Tokyo, Japan: Tsutaya Books. Toronto, Canada: Soop Soop. Amsterdam, Netherlands: Such. Reykjavik, Iceland: Eymundsson.

Björk wears a dress by threeASFOUR in collaboration with Cristina Cabada

Photographs by Tim Walker, Styled by Katy England
Björk wears a Sinéad O'Dwyer bustier; David Ferreira dress; Damselfrau earrings.

Photographs by Tim Walker, Styled by Katy England
Sinéad O'Dwyer bustier; David Ferreira dress; We Love Colors tights; Björk's own shoes.

Photographs by Tim Walker, Styled by Katy England
Viktor & Rolf Haute Couture dress; Damselfrau earrings; We Love Colors tights; Micol Ragni boots.

Photographs by Tim Walker, Styled by Katy England
Sinéad O'Dwyer bustier; David 
Ferreira dress; Damselfrau earrings.

Photographs by Tim Walker, Styled by Katy England
Dilara Findikoglu corset; Marlou Breuls pants; Damselfrau earrings; neck piece by James Merry; We Love Colors tights; Björk's own shoes.

Photographs by Tim Walker, Styled by Katy England
Photographs by Tim Walker, Styled by Katy England
Maison Francesco Scognamiglio 
coat; Damselfrau earrings; Renee Verhoeven gloves; Gucci shoes.

Photographs by Tim Walker, Styled by Katy England
Mask by James Merry; Philip Treacy London hat (on floor).

Photographs by Tim Walker, Styled by Katy England
Marlou Breuls shirt and pants.

Photographs by Tim Walker, Styled by Katy England; Hair by Malcolm Edwards for L'Oréal at Art Partner; makeup and flower appliqués 
by Hungry for Sugarpill. Set design by Shona Heath at CLM. Digital technician: Daniel Archer; Lighting Director: Paul Burns; Photography assistants: Sarah Lloyd, Tony Ivanov; Fashion assistant: James Campbell; Hair Assistant: Lewis Stanford; Production by Jeffrey Delich at Padbury Production; Printed by Graeme Bulcraig at Touch Digital; Special Thanks to James Merry, Oli PAll Torfason at SNARK, MagnUs Thoroddsen, and Sissa Olafsdóttir at LjOsmyndaskOlinn