Exclusive Music Video Premiere: How a Venice Barge Party with Michele Lamy and Rick Owens (and A$AP Rocky and Mos Def) Led to a Surreal New Techno Video
See Black Asteroid's new video for "Tangiers," starring Michele Lamy.
---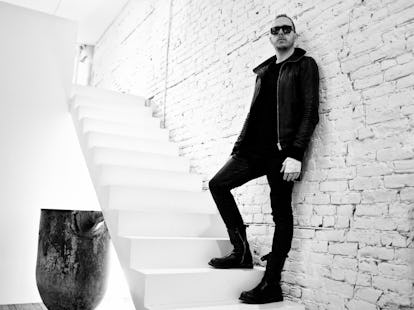 Matthew Reeves
Approximately six years ago, the designer Rick Owens selected a track by Black Asteroid, then a relatively unknown Minneapolis-based techno artist, to score his Spring 2012 menswear show. Bryan Black, the man behind Black Asteroid, found the clip while searching Youtube; he reached out to Owens, and they became fast friends. ("We're very introverted and we like to work alone," Black said.)
Soon after, Black met Owens's wife and business partner Michèle Lamy. And while Lamy might be best known for her gold teeth, ink-stained fingers, a fondness for heavy machinery, and being, as Black described, as "the machine behind Rick," she's less known as a musician—but that's precisely the capacity in which Black recruited her for his track, "Tangiers," the video for which which premieres exclusively here on W.
Two years ago, Lamy threw a party on a barge at the Venice Biennale—the "Bargenale," she titled it—intending it to be a petri dish of artistic collaboration with the likes of rappers A$AP Rocky and Mos Def, artist Gavin Turk, and electronic musician James Lavelle, as well as Black. Over a few days on the barge, Black began working on a track in the on-board studio, and Lamy joined him, ad-libbing a Langston Hughes poem. The track became "Tangiers"; two years later, it emerged as a centerpiece on Black's debut record as Black Asteroid, Thrust, for which Owens also consulted on art direction.
"Things get interesting when Michele is involved," Black said. "She's intense." (An avid boxer in addition to everything else, Lamy put her just-as-intense pastime to good use in the video, which finds her facing off against her longtime sparring partner, the director Katya Bankowsky. "I know now ……that I love Bryan who makes me Box ……" Lamy wrote in an email to W.)
The video for "Tangiers" was a natural extension of their collaboration on the track for Lamy and Black, who share an interest in the visual component of music. ("Normally, with techno, a, you don't have vocals, and b, you don't have vocals from Michele Lamy," said, adding that the video is "kind of giving a face to a genre of music which is usually faceless.") Black cut his teeth as the keyboard engineer for Prince: "For me, music is 50 percent songs and 50 percent presentation," he said. "A song is not complete for me unless I could see it as well as hear it, and I learned that working with Prince."
Just like when they began writing the track, when Black and Lamy arrived on set with director Timothy Saccenti, a longtime friend of Black, they had little in the way of a specific narrative. But they had a boxing match as a framework, and they had actors dressed like druids milling about the set, making for a suitably austere, ceremonial atmosphere. Much of the set, including the three-dimensional prism floating through the air and the boxing ring itself, were developed in post-production by the visual effects firm Motion Picture Company, whose credits also include Blade Runner 2049, Ghost in the Shell, and Alien: Covenant.
But for Black, an essential component—and one of the few set pieces constructed in real life, rather than in post-production—was the wall of amps in front of which he plays in the beginning of the video. "I was able to live out my rock and roll fantasy and play guitar in the video," he said—"even though the song doesn't have guitar."
James Corden never thought he'd have 35 people at his birthday party: