Black Golden Globes Outfits to Be Auctioned Off for the Time's Up Legal Defense Fund
The bidding starts January 19th.
---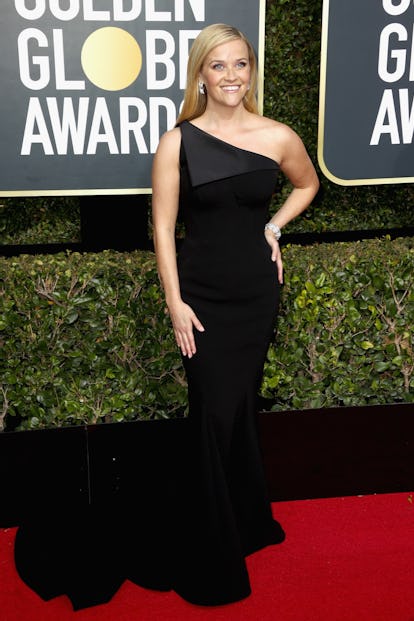 Last Sunday, actors and actresses including Reese Witherspoon, Viola Davis, and Nicole Kidman wore black dresses at the Golden Globe awards in solidarity with survivors of sexual harassment and assault, as well as to raise awareness about anti-workplace harassment initiative Time's Up. But Hollywood stars aren't finished doing their part to combat sexual harassment, assault, and gender and racial inequality in the workplace.
Now, they're putting those red carpet outfits up for auction to benefit Time's Up's legal defense fund. The initiative was announced on Wednesday by Time's Up, eBay, and Condé Nast, who are partnering up to run the auction this Friday. All money raised will be donated to the legal defense fund, they announced.
"We're thrilled that actors and others in the entertainment industry are leading in this extraordinary way to end the scourge of workplace sexual harassment," said Fatima Goss Graves, the President and CEO of the National Women's Law Center, which is in charge of Time's Up's legal defense fund. "Each time they've stepped up they've inspired more attorneys to join the Time's Up Legal Defense Fund and more individuals to contribute."
According to a press release, the black dresses and tuxedos were donated by the designers, who include Versace, Vera Wang, Armani, Balenciaga, Gucci, Prada, and many others. The outfits will be available for bidding starting January 19, here, with the auction running through January 26.
While they'll no doubt end up in the hands of extremely wealthy people, there's a way to participate even if you don't have the funds to buy a dress worn by a Golden Globes winner. Three of the dresses, designed by Stella McCartney for Claire Foy, Diane von Furstenburg for Madeline Brewer, and Rosie Assoulin for Mandy Moore, will be up for sweepstakes for eBay users who donate $25 or more to the legal defense fund.
"At Condé Nast, we've always believed in the importance of swift action to support meaningful social change," said Condé Nast Artistic Director and Vogue Editor-in-Chief Anna Wintour in the press release. "Through this auction powered by eBay for Charity, and harnessing the compelling pull of both fashion and activism, we're hopeful that the black dresses worn at this year's historic Golden Globe Awards will raise funds for the Time's Up initiative, and serve to support the stories and voices of those who have been victims of sexual misconduct."
Here is the full list of designers and celebrities who are donating their outfits:
Armani – Laura Dern Balenciaga – Salma Hayek Pinault Brandon Maxwell – Viola Davis Brioni – Hugh Jackman Calvin Klein – Sarah Paulson Chanel Haute Couture – Caitriona Balfe Chloe – Isabelle Huppert Diane von Furstenberg – Madeline Brewer Dior – Michelle Pfeiffer and Elisabeth Moss Dolce & Gabbana – Sarah Jessica Parker Givenchy – Nicole Kidman Gucci – Dakota Johnson, Margot Robbie, Daniel Kaluuya Louis Vuitton – Alicia Vikander, Michelle Williams, Emma Stone Marc Jacobs – Tracee Ellis Ross Monse – Maggie Gyllenhaal Prabal Gurung – Issa Rae, Kerry Washington Prada – Diane Kruger Oscar de la Renta – Greta Gerwig Ralph Lauren – Shailene Woodley Ralph & Russo – Penelope Cruz Ronald Van Den Kemp – Emma Watson Rosie Assoulin – Mandy Moore Saint Laurent – Jude Law, Zoe Kravitz Stella McCartney – Claire Foy Tom Ford – Gal Gadot and Neil Patrick Harris Valentino – Seth Meyers, Kate Hudson, Lily James Vera Wang – Meryl Streep Versace – Saoirse Ronan Zac Posen – Reese Witherspoon
Related: What's Next for Time's Up According to Tina Tchen, the Powerhouse Lawyer Behind the Famous Faces
Golden Globes 2018: See Hollywood's Biggest Names Wearing Black Dresses On the Red Carpet
Allison Williams arrives to the 75th Annual Golden Globe Awards held at the Beverly Hilton Hotel on January 7, 2018. (Photo by Kevork Djansezian/NBC/NBCU Photo Bank via Getty Images)

Kevork Djansezian/NBC
Caitriona Balfe arrives to the 75th Annual Golden Globe Awards held at the Beverly Hilton Hotel on January 7, 2018. (Photo by Kevork Djansezian/NBC/NBCU Photo Bank via Getty Images)

Kevork Djansezian/NBC
Sadie Sink arrives to the 75th Annual Golden Globe Awards held at the Beverly Hilton Hotel on January 7, 2018. (Photo by Kevork Djansezian/NBC/NBCU Photo Bank via Getty Images)

Kevork Djansezian/NBC
Debra Messing arrives to the 75th Annual Golden Globe Awards held at the Beverly Hilton Hotel on January 7, 2018. (Photo by Kevork Djansezian/NBC/NBCU Photo Bank via Getty Images)

Kevork Djansezian/NBC
Alexis Bledel arrives to the 75th Annual Golden Globe Awards held at the Beverly Hilton Hotel on January 7, 2018. (Photo by Kevork Djansezian/NBC/NBCU Photo Bank via Getty Images)

Kevork Djansezian/NBC
Tracee Ellis Ross arrives to the 75th Annual Golden Globe Awards held at the Beverly Hilton Hotel on January 7, 2018. (Photo by Kevork Djansezian/NBC/NBCU Photo Bank via Getty Images)

Kevork Djansezian/NBC
Claire Foy arrives to the 75th Annual Golden Globe Awards held at the Beverly Hilton Hotel on January 7, 2018. (Photo by Kevork Djansezian/NBC/NBCU Photo Bank via Getty Images)

Kevork Djansezian/NBC
Catherine Zeta-Jones arrives to the 75th Annual Golden Globe Awards held at the Beverly Hilton Hotel on January 7, 2018. (Photo by Kevork Djansezian/NBC/NBCU Photo Bank via Getty Images)

Kevork Djansezian/NBC
Frankie Shaw arrives to the 75th Annual Golden Globe Awards held at the Beverly Hilton Hotel on January 7, 2018. (Photo by Kevork Djansezian/NBC/NBCU Photo Bank via Getty Images)

Kevork Djansezian/NBC
Chrissy Metz arrives to the 75th Annual Golden Globe Awards held at the Beverly Hilton Hotel on January 7, 2018. (Photo by Kevork Djansezian/NBC/NBCU Photo Bank via Getty Images)

Kevork Djansezian/NBC
Laurie Metcalf arrives to the 75th Annual Golden Globe Awards held at the Beverly Hilton Hotel on January 7, 2018. (Photo by Kevork Djansezian/NBC/NBCU Photo Bank via Getty Images)

Kevork Djansezian/NBC
Allison Brie arrives to the 75th Annual Golden Globe Awards held at the Beverly Hilton Hotel on January 7, 2018. (Photo by Kevork Djansezian/NBC/NBCU Photo Bank via Getty Images)

Kevork Djansezian/NBC
Dakota Johnson arrives to the 75th Annual Golden Globe Awards held at the Beverly Hilton Hotel on January 7, 2018. (Photo by Kevork Djansezian/NBC/NBCU Photo Bank via Getty Images)

Kevork Djansezian/NBC
Meryl Streep and director of the National Domestic Workers Alliance Ai-jen Poo arrive to the 75th Annual Golden Globe Awards held at the Beverly Hilton Hotel on January 7, 2018. (Photo by Kevork Djansezian/NBC/NBCU Photo Bank via Getty Images)

Kevork Djansezian/NBC
Amy Poehler arrives to the 75th Annual Golden Globe Awards held at the Beverly Hilton Hotel on January 7, 2018. (Photo by Kevork Djansezian/NBC/NBCU Photo Bank via Getty Images)

Kevork Djansezian/NBC
Christina Hendricks arrives to the 75th Annual Golden Globe Awards held at the Beverly Hilton Hotel on January 7, 2018. (Photo by Kevork Djansezian/NBC/NBCU Photo Bank via Getty Images)

Kevork Djansezian/NBC
Sarah Paulson arrives to the 75th Annual Golden Globe Awards held at the Beverly Hilton Hotel on January 7, 2018. (Photo by Kevork Djansezian/NBC/NBCU Photo Bank via Getty Images)

Kevork Djansezian/NBC
Susan Sarandon arrives to the 75th Annual Golden Globe Awards held at the Beverly Hilton Hotel on January 7, 2018. (Photo by Kevork Djansezian/NBC/NBCU Photo Bank via Getty Images)

Kevork Djansezian/NBC
Allison Janney attends The 75th Annual Golden Globe Awards at The Beverly Hilton Hotel on January 7, 2018 in Beverly Hills, California. (Photo by Frederick M. Brown/Getty Images)

Frederick M. Brown
Alicia Vikander attends The 75th Annual Golden Globe Awards at The Beverly Hilton Hotel on January 7, 2018 in Beverly Hills, California. (Photo by Frazer Harrison/Getty Images)

Frazer Harrison
Issa Rae attends The 75th Annual Golden Globe Awards at The Beverly Hilton Hotel on January 7, 2018 in Beverly Hills, California. (Photo by Frazer Harrison/Getty Images)

Frazer Harrison
Kendall Jenner attends The 75th Annual Golden Globe Awards at The Beverly Hilton Hotel on January 7, 2018 in Beverly Hills, California. (Photo by Frederick M. Brown/Getty Images)

Frederick M. Brown
Pamela Adlon attends The 75th Annual Golden Globe Awards at The Beverly Hilton Hotel on January 7, 2018 in Beverly Hills, California. (Photo by Frazer Harrison/Getty Images)

Frazer Harrison
Elizabeth Moss attends The 75th Annual Golden Globe Awards at The Beverly Hilton Hotel on January 7, 2018 in Beverly Hills, California. (Photo by Frazer Harrison/Getty Images)

Frazer Harrison
Maggie Gyllenhaal attends The 75th Annual Golden Globe Awards at The Beverly Hilton Hotel on January 7, 2018 in Beverly Hills, California. (Photo by Frazer Harrison/Getty Images)

Frazer Harrison
Viola Davis attends The 75th Annual Golden Globe Awards at The Beverly Hilton Hotel on January 7, 2018 in Beverly Hills, California. (Photo by Frederick M. Brown/Getty Images)

Frederick M. Brown
Connie Britton attends The 75th Annual Golden Globe Awards at The Beverly Hilton Hotel on January 7, 2018 in Beverly Hills, California. (Photo by Frederick M. Brown/Getty Images)

Frederick M. Brown
Millie Bobby Brown attends The 75th Annual Golden Globe Awards at The Beverly Hilton Hotel on January 7, 2018 in Beverly Hills, California. (Photo by Frederick M. Brown/Getty Images)

Frederick M. Brown
Kerry Washington attends The 75th Annual Golden Globe Awards at The Beverly Hilton Hotel on January 7, 2018 in Beverly Hills, California. (Photo by Frederick M. Brown/Getty Images)

Frederick M. Brown
America Ferrera and Natalie Portman attend The 75th Annual Golden Globe Awards at The Beverly Hilton Hotel on January 7, 2018 in Beverly Hills, California. (Photo by Frazer Harrison/Getty Images)

Frazer Harrison