Rashida Jones Explains Why Critics of the Golden Globes "Blackout" are Missing the Point
"This is not a silent protest."
---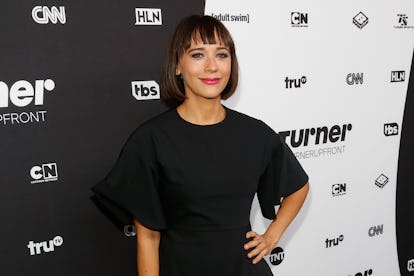 Taylor Hill
Ever since rumors of its existence were first reported, the planned effort to get as many attendees to wear all black at Sunday's Golden Globes has been criticized. The types of people on Twitter quick to judge anything have wondered, "What will it accomplish?" "It it hypocritical?" "Who cares?" Haters will always whine, but Rashida Jones, one of the 300 women who signed an open letter announcing the creation of the Time's Up campaign, says they're missing the point.
"This is not a silent protest," Jones told InStyle. "I don't think why we wear black is divisive as much as it is being discussed and debated without all the facts. Many women on the red carpet will discuss what's important to them about their choice to protest and wear black. "
Jones, an actress, writer, and producer, also says the move will be a show of solidarity and a message that time has run out on inequality and harassment in all workplaces, Hollywood or otherwise.
Hollywood stars have long engaged in smaller coordinated shows of red carpet activism, dating back until at least the iconic red HIV/AIDS ribbons of the '90s. This however goes farther by suggesting that the solidarity should be truly head-to-toe, and it's already getting reports. The New York Times, for example, is changing up its red carpet coverage of the Globes to reflect more than just fashion. In fact, the paper is sending Jodi Kantor, one of the reporters who originally broke the Weinstein scandal, to help cover the event. "The red carpet is now a prime soapbox to speak out about harassment, sexism, racism, industry practices — as well as Hollywood success — and we want to continue to cover that," Styles section editor Choire Sicha wrote in a memo to staff. The Cut announced that it won't engage in the business of dolling out accolades for best and worst looks for the event, and other outlets have surely rethought their traditional coverage plans even if they've stopped short of pre-announcing those editorial shifts.
The nature of the event also means that Time's Up's message may reach a wider audience, and, hopefully, solicit more donation to the group's legal defense fund which seeks to provide legal resources to women facing harassment in all work places who may not be otherwise able to afford it.
"I think this is where the Legal Defense Fund, which is designed as a tool to empower those affected by harassment and abuse, is vital," said Jones.
Related: Rashida Jones Calls Out Pixar for Its "Culture" of Mistreating Women and People of Color