Rashida Jones Calls Out Pixar for Its "Culture" of Mistreating Women and People of Color
The actress has turned her back on writing Toy Story 4 and is no longer working with the studio.
---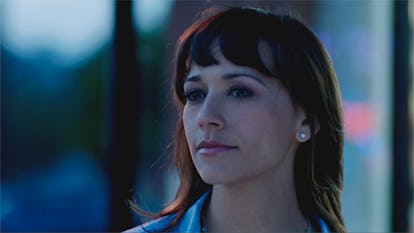 It was already bad enough in 2012 when Pixar fired the only woman who's ever directed one of their now 19 feature-length films, Brenda Chapman, midway through the production of 2012's Brave, which also happened to be the studio's first film with a woman protagonist, simply because she'd had some disagreements with one of Pixar's founders, John Lasseter. Now, however, five years on, that decision is only looking worse with age: Lasseter announced on Tuesday that he'll be taking a "six-month sabbatical" following an unspecified series of "missteps," which the Hollywood Reporter soon elaborated on with a report that Lasseter is known in the entertainment industry for "grabbing, kissing, making comments about physical attributes" and making other sexually charged advances.
According to "sources," the story continued, among those whom made Lasseter has made such unwanted advances on was the writer and actress Rashida Jones—an unfortunate but understandable enough explanation of why Jones and her writing partner Will McCormack have stopped working on writing the screenplay of Toy Story 4. That easy explanation, however, turns out to be "untrue," as Jones and McCormack said in a statement to the New York Times—even if it definitely is true that Jones takes issue with the way women are treated over at Pixar.
The real reason why Jones and McCormack left the studio is unfortunately equally egregious: "We parted ways because of creative and, more importantly, philosophical differences," they continued in their statement. "There is so much talent at Pixar, and we remain enormous fans of their films. However, it is also a culture where women and people of color do not have an equal creative voice."
The fact that Jones and McCormack called out Pixar for discrimination this week is of particular importance; on Wednesday, the studio released its new film Coco, and the revelations could damper excitement for the film. Coco, which stars a Mexican boy named Miguel, is also the studio's first-ever film with a non-white protagonist, and their words prove that the studio still has a long, long way to go when it comes to making progress—something the pair also addressed head-on in their statement.
"We encourage Pixar to be leaders in bolstering, hiring and promoting more diverse and female storytellers and leaders. We hope we can encourage all those who have felt like their voices could not be heard in the past to feel empowered," they continued, echoing Jessica Chastain's words advocating for more women storytellers earlier this year, after her biggest takeaway from seeing every single film at the Cannes Film Festival was that their depiction of women was "quite disturbing."
But Jones's story more closely resembles the recent one surrounding Gal Gadot. The actress played a large part in ultimately successfully ousting the director Brett Ratner, whom multiple women have recently accused of sexual harassment and assault, from the Wonder Woman sequel—even though she did not refuse to star in in the movie if Ratner was still involved with it, as was widely reported. (To be clear, Gadot, who definitely did make moves to separate herself from Ratner and speak up for victims of assault, was also definitely not opposed to the idea in retrospect.)
Jones, too, has been misportrayed in the reporting that allows for these exposés to happen, which unfortunately puts the onus on women to relive the trauma they've gone through by telling their stories, ideally with as many disturbing details as possible to succeed in driving home the reality of the horror of sexual assault, rather than the men who unhelpfully deny their actions. It's fortunate that Lasseter did not assault or harass Jones, then, not only for the obvious reason that he would have violated her, but also because that would have meant that those unnamed "sources" were violating Jones's consent in sharing a traumatic story she may not have been ready to share—a scenario similar to the dilemma that Gwyneth Paltrow faced in deciding whether or not to publicly relive her own experience of assault with Harvey Weinstein, enduring online attacks for not calling out the former Hollywood mogul all the while.
In addition to making the issue much bigger than Lasseter, then, Jones covered all her bases in calling out those who've acted irresponsibly in other ways, too: "The breakneck speed at which journalists have been naming the next perpetrator renders some reporting irresponsible," she reminded in her statement, advising caution yet still giving her approval to the eagerness that many have felt for finally holding abusive men accountable as the movement increasingly balloons.
Related: Gal Gadot Confirms Brett Ratner Has Been Cut From Wonder Woman Sequel
"Women's Rights Are Human Rights": 62 Fashion Insiders Speak Out in a Powerful Video for International Women's Day: