Oprah Loves Black Panther, And So Does Everyone Else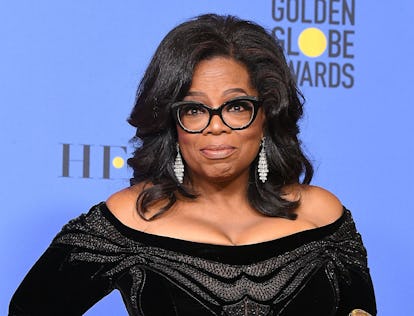 Photo by Steve Granitz/WireImage
Black Panther just premiered, and already the Marvel film is breaking box office records and stealing the hearts of moviegoers around the world.
With its impressive cast (Chadwick Boseman, Lupita Nyong'o, Michael B. Jordan, Letitia Wright…), incredible cinematography (Rachel Morrison!) and bold storytelling from director Ryan Coogler, Black Panther is already 2018's first must-see movie. And you weren't already buying tickets, America's foremost tastemaker, Oprah Winfrey, recently tweeted out her endorsement:
"Just saw it with Stedman. It's Phenomenal!! Layers and layers of it. Wakunda ForEveeeerrrr! #BlackPanther," she wrote. (Please note that Oprah, and only Oprah, is allowed to misspell Wakanda.)
She's not the only celebrity fan of the superhero blockbuster, which ties into the Marcel Cinematic Universe/Avengers story but also works on its own if you, like me, don't particularly want to sit through Iron Man 2 just to understand what's going on. Filmmakers, actors and fellow Avengers have been raving about the movie all weekend:
Some celebrities are taking their fandom a step further and paying for tickets so everyone can see the film on the big screen. Kendrick Lamar's label hosted a free screening in Watts, Los Angeles, and Travis Scott rented two movie theaters for kids.
Brie Larson used her Twitter following to set up a peer-to-peer ticket exchange, connecting people who couldn't afford to see the movie with others willing to pay for their tickets:
On President's Day, former First Lady Michelle Obama tweeted her approval for the movie, as well:
The film is on track to gross nearly two hundred million dollars by the time the work week starts again, making it "the highest debut ever for a February film and the fifth highest of all time," according to Variety. All hail the king.
Related: Black Panther Breakthrough Star Letitia Wright on How She Became Shuri, Wakanda's Brainy Princess
Watch: Oprah Winfrey Confesses Her First Cinematic Crush