Black Panther Is Going to Get a Big Oscars 2019 Push From Disney
Could it be the first superhero movie to be nominated for Best Picture?
---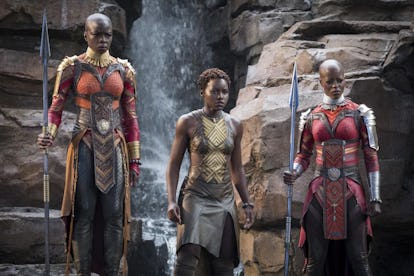 Black Panther is a success by every measure—from its messaging and inclusivity to its box office and reviews—and, soon, it will be in a position to be rewarded accordingly with the highest of film honors. The movie is going to get a full Oscar push from Disney, as one executive at the company revealed to Deadline.
This is significant because superhero movies nowadays rarely transcend their genre constraints in the eyes of the Academy. Last year's Wonder Woman, for instance, which was near-universally beloved with a 92 percent Rotten Tomatoes score and the highest grossing film of 2017, according to the Los Angeles Times, didn't even garner one nomination for this year's awards. Black Panther, by comparison, has a 98 percent Rotten Tomatoes score and has been crushing the box office. Even outside of those arguments for a nomination—as Jimmy Kimmel noted at this Oscars, most of the best picture nominees didn't even break $100 million—it's hard to imagine Black Panther getting shut out completely in 2019 considering how strong the directing, acting, and dialogue were. There's also the fact that Avatar, a fantasy action movie (sci-fi does tend to get more consideration as a genre than superhero fare) with a timely message, ended up securing a nomination for best picture in 2010, as well as best director, best cinematography, and best visual effects, to name a few.
But, given the Oscars' history, there is always reason to be dubious. The Academy has a long history of rewarding mostly white and male contenders, and shutting out diversity—or, in the case of some longtime voters this year, ignoring it altogether, as they reportedly didn't even watch Get Out, which ended up winning for best original screenplay. The Oscars also has a pattern of giving its statuettes to safer films, and ones that aren't always in step with mainstream culture.
"Awards are just icing on the cake. We bake the cake," Victoria Alonso, Black Panther's executive producer, recently told BBC. Similarly, Andy Serkis, who played Black Panther villain Ulysses Klaue, has expressed that Black Panther might not fit the Oscars' obsolete mold. "What do these awards mean?" he told BBC. "They are prestige awards for serious filmmaking. But blockbuster films have performances that take a lot of skill. You have to be an athlete, a comedian, skillful, technically minded, and you have to bring a character to life that's believable in a fantastical world. It's not sitting at the kitchen table moping about life."