Get Out, Which Is Up for 4 Oscar Nominations, Wasn't Even Watched By Some Older Voters
Thanks to younger voters the film still secured four nominations.
---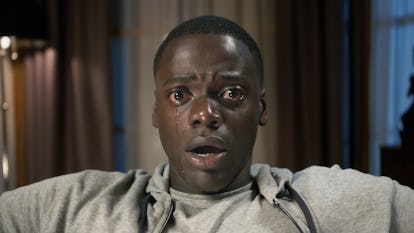 For everyone who's ever questioned how much the Oscars actually reflect culture — and the world we live in — a new report suggests that it truly doesn't. Get Out, a timely film that is up for four trophies including Best Picture, has not even been viewed by some of the Academy's longtime members, as one voter anonymously revealed to Vulture.
"I had multiple conversations with longtime Academy members who were like, 'That was not an Oscar film,'" said the voter. "And I'm like, 'That's bullshit. Watch it.' Honestly, a few of them had not even seen it and they were saying it, so dispelling that kind of thing has been super important." Aside from missing out on Jordan Peele's brilliant take on how racism remains embedded in the fabric of this country, those longtime voters aren't even doing the bare minimum of their duty. It's also tragic to see up close that the some people responsible for what's often touted as the biggest monoculture event of the year — at least in film — are so disengaged from culture to the point of downright laziness. Not to mention, the decision to not even view a film on racism that's scored four nominations is a tone deaf move at best in the wake of the #OscarsSoWhite movement.
As for how Get Out still managed to earn nods for Best Director, Best Actor, Best Original Screenplay and Best Picture without all of the voters seeing it, one voter suggested that it's due to the younger class of Academy members who have recently joined. "With Get Out, Lady Bird, and even Call Me by Your Name, you're feeling the younger demographic," they said. "Then you have The Post and Darkest Hour, which definitely represents the older half of the Academy."
"I think Get Out is a movie that we wouldn't have necessarily thought of as an Academy movie two years ago," another new voter said. "It doesn't really fall into any of the boxes that we think these movies do. It came out in February, and that's almost never worked for Academy … it actually is provocative. It questions everything. It's brilliant."
Laughably, one voter confirmed how irrelevant the Oscars are in 2018, saying, "It used to be, having a nomination would lead you to generate a certain amount of revenue, which is not happening anymore. In that way, I'm concerned: Are the Oscars going to become totally irrelevant? The Oscars feel like this weird southern debutante ball — it's so antiquated. Usually the opening monologue is kind of entertaining, and there's one or two people who say something outrageous, but other than that, it's just looking at people in these fancy dresses. Young people aren't even watching movies anymore … let alone, why would they watch something like that?"
If there is any silver lining, it could be that the Academy seems to be leaning towards rewarding more untraditional Oscar nominations, as one voter revealed. "In general, it just feels like there is a feeling that we have to award people who have maybe been overlooked before," another new voter said. "It's about not wanting to award people who they felt had been rewarded a lot in the past. Maybe we need to give someone else a chance. I definitely think, whether it was conscious or subconscious, that was happening."
Related: Is Get Out a Comedy or a Drama? Jordan Peele Weighs in on the Debate