Jordan Peele's Reaction to Get Out's Oscar Nominations Is the Only Good Twitter Thread
Get Out is nominated for Best Picture, Best Director, Best Original Screenplay, and Best Actor.
---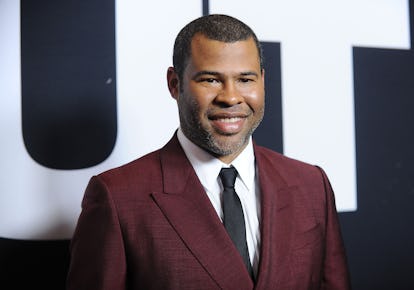 Jason LaVeris/FilmMagic/Getty Images
After getting absolutely robbed at the Golden Globes, Get Out finally received the recognition it deserved during the 2018 Oscar nominations on Tuesday. Sweeping all the big categories, Get Out got a nod for Best Actor for Daniel Kaluuya, Best Original Screenplay, Best Director, and, of course, Best Picture. This, by the way, makes director Jordan Peele not only the third writer/director to ever receive the latter nominations in all three categories, but the first black man to do so, according to MTV.
Twitter promptly imploded with excitement, with many users unable to contain their effusions of glee. But no carefully selected GIFs or pithy one-liners can top the reaction of Peele himself. Upon hearing the news, the first-time feature writer/director fired off a series of tweets that should probably win something. (A runner-up, however, should be Peele's wife, comedian Chelsea Peretti, who tweeted, "AND OUR BABY SLEPT THRU THE NITE W NO MILK‼️‼️‼️‼️‼️????????? ")
No doubt a lot of fans celebrated with a GIF from the movie, but Peele's choice of Chris crying while being hypnotized is perfect for reasons one should not have to explain. But his follow-up tweets (after he presumably got over his shock) are even better: "What's the opposite of the Sunken Place?" "I just spoke to Daniel. You know when you're on the phone trying to disguise the sound of an ugly cry? I failed at that." "Right now I'm just thinking about everyone who bought a ticket and told someone else to. You did this. Thank you. ✊? " I'm not ugly-crying, you're ugly-crying.
And this was just for the nominations. Just imagine the reaction should Get Out win an award.
__Related:___ Get Out's Oscars Nominee Daniel Kaluuya, Who Is British, On Why Racism Is More "Pronounced" in America
Oscar Nominations 2018: See Photos of Mary J. Blige, Meryl Streep, Timothée Chalamet, and More Actors
Frances McDormand, Best Actress, Three Billboards Outside Ebbing, Missouri

The Neal Peters Collection
Octavia Spencer, Best Supporting Actress, The Shape of Water

Sorrenti Mario
Gary Oldman, Best Actor, Darkest Hour

Sorrenti Mario
Christopher Plummer, Best Supporting Actor, All the Money in the World

Sorrenti Mario
Denzel Washington, Best Actor, Roman J. Israel, Esq.

Teller Juergen
Meryl Streep, Best Actress, The Post

Thompson Michael
Richard Jenkins, Best Supporting Actor, The Shape of Water

Ari Marcopoulos
Sally Hawkins, Best Actress, The Shape of Water

Anna Bauer
Mary J. Blige, Best Supporting Actress, Mudbound

VAN LAMSWEERDE INEZ & MATADIN VINOODH
Margot Robbie, Best Actress, I, Tonya

CRAIG MCDEAN
Saoirse Ronan, Best Actress, Lady Bird

SORRENTI MARIO
Daniel Day-Lewis, Best Actor, Phantom Thread

TIM WALKER
Timothée Chalamet, Best Actor, Call Me By Your Name

Luca Khouri
Willem Dafoe, Best Supporting Actor, The Florida Project
Jordan Peele, Best Director, Best Original Screenplay and Best Picture, Get Out

©Universal/Courtesy Everett Collection
Allison Janney, Best Supporting Actress, I, Tonya

Courtesy Everett Collection
Daniel Kaluuya, Best Actor, Get Out

©Universal/Courtesy Everett Collection
Greta Gerwig, Best Director, Best Picture and Best Original Screenplay, Lady Bird

Everett Collection / Everett Collection