Blake Lively Is Forever Young
The actress talks about growing up in The Age of Adaline.
---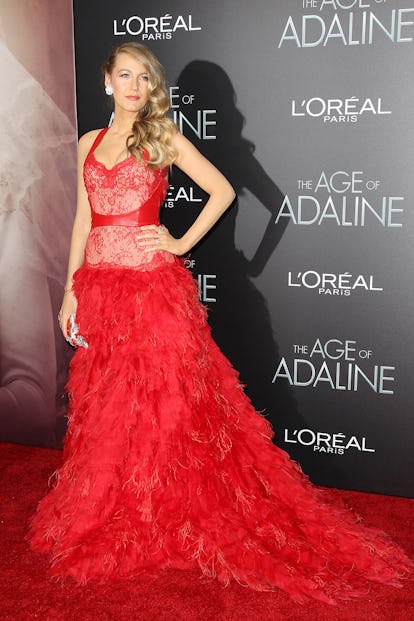 In The Age of Adaline, Blake Lively plays Adaline Bowman, a 29-year-old woman who hasn't aged a day in almost eight decades. Although a life without wrinkles or back pain may sound like a fairytale (especially in Hollywood), Adaline wants nothing more than to find a gray hair. At the New York premiere of the film on Sunday night, the film's writer Salvador Paskowitz explained that he wanted to show the joy of growing old with those you love—something Adaline is running from until she meets Ellis, played by Michiel Huisman. Paskowitz also felt strongly about writing an empowering female lead. "Let me just put it this way: I like to write female characters who have their own building — who fly their boyfriends on their helicopter. That's all I'm going to say." Hint, hint. The red carpet was full of such leading ladies, including Kelly Rutherford and Zuzanna Szadkowski, both of whom starred alongside Lively in Gossip Girl—a very real blast from the past. Lively confesses though that at the age of 27, she still doesn't feel like a grown up. "I still kind of feel like a child, which is strange because I have a child," she says. "One day I hope to feel grown up, but my mom still doesn't, so I don't think there's hope for me yet." At the end of the day, age is just a number, it seems.
Photos: Blake Lively Is Forever Young
Blake Lively. Photo by Getty Images.
Tara Elders and Michiel Huisman. Photo by Getty Images.
Lee Toland Krieger. Photo by Getty Images.
Ellen Burstyn. Photo by Getty Images.