How Blake Lively Incorporated Her Family's Initials Into Her Met Gala 2018 Look
A family crest, but make it fashion.
---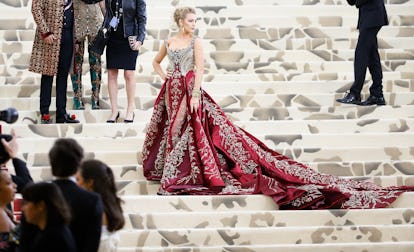 John Lamparski
On Monday night, Blake Lively hit the red carpet at the 2018 Met Gala on the arm of iconic shoe designer Christian Louboutin wearing one of the most over-the-top gowns of the night. So, it's okay if you missed the fact that Lively incorporated a sweet tribute to husband Ryan Reynolds and their young daughters, 3-year-old James and 19-month-old Ines, into her ensemble.
Her custom-made Judith Leiber clutch was covered in tiny, multicolored rhinestones. While the front depicted classic "sacred heart" iconography behind a veiled woman—in keeping with the gala's theme of "Heavenly Bodies: Fashion and the Catholic Imagination"—the back featured a riff on a medieval family crest. On top of a scarlet, blue, green, and gold striped background was a scroll reading "Reynolds." In the center of the bag, on each of the four points of a cross featuring larger jewels in the middle, were the letters B, R, J, and I, the first initials of each member of the Reynolds-Lively family. Does this count as James and Ines's first Met Gala appearance?
The clutch paired perfectly with the rest of Lively's elaborate look. She wore a crimson Versace gown with a gold, richly embroidered bodice, bejeweled straps, and an extra-long train, all of which took more than 600 hours to create by hand. Besides the meaningful handbag, she accessorized with a golden halo-esque headpiece, bright green earrings, Louboutin pumps, and a stack of gold bracelets on her left wrist.
At last year's Met Gala, Reynolds was there in his human—rather than bedazzled accessory—form. Ahead of the 2017 event, Reynolds shared a sweet love note to his wife via the popular Humans of New York Instagram account. "She always responds with empathy. She meets anger with empathy. She meets hate with empathy," he said. "She'll take the time to imagine what happened to a person when they were five or six years old. And she's made me a more empathetic person."
Met Gala 2018: See What Celebrities Wore on the Red Carpet
Rihanna at the 2018 Met Gala. Photograph by Benedict Evans for W Magazine.

Benedict Evans
Cardi B at the 2018 Met Gala. Photograph by Benedict Evans for W Magazine.

Benedict Evans
Lily Collins at the 2018 Met Gala. Photograph by Benedict Evans for W Magazine.

Benedict Evans
Donald Glover at the 2018 Met Gala. Photograph by Benedict Evans for W Magazine.

Benedict Evans
Selena Gomez at the 2018 Met Gala. Photograph by Benedict Evans for W Magazine.

Benedict Evans
Katherine Langford at the 2018 Met Gala. Photograph by Benedict Evans for W Magazine.

Benedict Evans
Jasmine Sanders at the 2018 Met Gala. Photograph by Benedict Evans for W Magazine.

Benedict Evans
Rosie Huntington Whiteley at the 2018 Met Gala. Photograph by Benedict Evans for W Magazine.

Benedict Evans
Kate Upton at the 2018 Met Gala. Photograph by Benedict Evans for W Magazine.

Benedict Evans
Winnie Harlow at the 2018 Met Gala. Photograph by Benedict Evans for W Magazine.

Benedict Evans
Alek Wek at the 2018 Met Gala. Photograph by Benedict Evans for W Magazine.

Benedict Evans
Zendaya at the 2018 Met Gala. Photograph by Benedict Evans for W Magazine.

Benedict Evans
Priyanka Chopra at the 2018 Met Gala. Photograph by Benedict Evans for W Magazine.

Benedict Evans
Migos at the 2018 Met Gala. Photograph by Benedict Evans for W Magazine.

Benedict Evans
George and Amal Clooney at the 2018 Met Gala. Photograph by Benedict Evans for W Magazine.

Benedict Evans
Lena Waithe at the 2018 Met Gala. Photograph by Benedict Evans for W Magazine.

Benedict Evans
Ariana Grande at the 2018 Met Gala. Photograph by Benedict Evans for W Magazine.

Benedict Evans
Kim Kardashian at the 2018 Met Gala. Photograph by Benedict Evans for W Magazine.

Benedict Evans
Travis Scott and Kylie Jenner at the 2018 Met Gala. Photograph by Benedict Evans for W Magazine.

Benedict Evans
Blake Lively at the 2018 Met Gala. Photograph by Benedict Evans for W Magazine.

Benedict Evans
Bella Hadid at the 2018 Met Gala. Photograph by Benedict Evans for W Magazine.

Benedict Evans
SZA at the 2018 Met Gala. Photograph by Benedict Evans for W Magazine.

Benedict Evans
Kendall Jenner at the 2018 Met Gala. Photograph by Benedict Evans for W Magazine.

Benedict Evans
Janelle Monae at the 2018 Met Gala. Photograph by Benedict Evans for W Magazine.

Benedict Evans
Emily Ratajkowski at the 2018 Met Gala. Photograph by Benedict Evans for W Magazine.

Benedict Evans
Daniel Kaluuya at the 2018 Met Gala. Photograph by Benedict Evans for W Magazine.

Benedict Evans
Gigi Hadid at the 2018 Met Gala. Photograph by Benedict Evans for W Magazine.

Benedict Evans
Katy Perry at the 2018 Met Gala. Photograph by Benedict Evans for W Magazine.

Benedict Evans
Paris Jackson at the 2018 Met Gala. Photograph by Benedict Evans for W Magazine.

Benedict Evans
Madonne and Nicki Minaj at the 2018 Met Gala. Photograph by Benedict Evans for W Magazine.

Benedict Evans