Blake Lively and Ryan Reynolds Are Back to Their Typical Instagram Antics
The celebrity couple are back to their usual antics.
---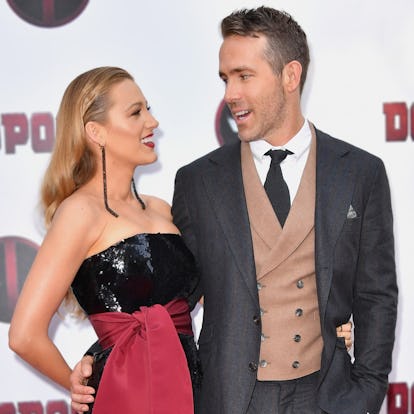 Michael Loccisano/Getty Images
After a short, promotional hiatus, Blake Lively and her husband Ryan Reynolds are back to their usual behavior on Instagram. Over the weekend, Reynolds posted a clip from a video interview in which he's interviewed by his "twin brother," Gordon Reynolds (yes, it's just himself in a different shirt). "My brother is an a**. Which is why you can't have one without the other," he joked in the caption.
As usual, Lively was more than ready with a quip of her own. "Sh*t. Your brother is hot," she commented. "I've made a terrible mistake…" Without missing a beat, Reynolds replied, "You haven't made a mistake. You've been living with him for over a year." Plot twist!
The entire exchange was captured by Instagram account @commentsbycelebs (who captioned it "Dibs on Gordon"), and it seems like fans are loving it in the comments. "Why are they so perfect? ??" wrote one, while another commented, "Third wheel dreams."
Lively and Reynolds's history of friendly social media battles has been well documented, with the pair particularly upping the ante for special occasions like Christmas and birthdays. In May, however, fans became worried that it had all ground to a halt when Lively unfollowed Reynolds on Instagram and deleted all her pics. This quickly turned out to be a false alarm, because it turns out she unfollowed everyone except girls named Emily as a promo for her upcoming movie, A Simple Favor.
Although she re-followed Reynolds (and someone named Emily Nelson, her character's name in A Simple Favor) five days later, he couldn't resist joking about it in the meantime. "I'm very sad about that. Definitely stinks," he told Australian radio program Smallzy's Surgery. "It's a terrible way to find out that I've been kicked out of the house, to be honest. Absolutely terrible. I don't know where rage like that comes from."
"'Mommy unfollowed daddy on Instagram,'" he added, imagining telling his kids about the non-incident. "My child would just fart and then walk away." Oh, you two. Never change!
Related: Gigi Hadid and Blake Lively Discuss Social Media Trolls and the Dangers of Retouched Images