Blake Lively Is Already Back on Instagram, and Has Re-Followed Ryan Reynolds
She had to post her outfit, okay?
---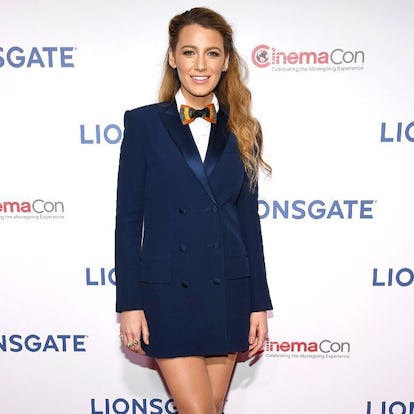 @people
Ryan Reynolds and Blake Lively, America's troll-iest sweethearts, are back together on every social media platform. After Lively seemingly wiped out her Instagram to promote her upcoming film A Simple Favor (she hid all her pictures and unfollowed every account except for a handful of women named Emily Nelson, her character's name), all of the photos have now been restored, and she currently follows her husband, Reynolds, and @hope.for.emily, the mysterious account of her mysterious character (we guess).
Why'd she come back? Fashion, duh. Lively posted a picture of herself in a checkered dress and camel coat with the explanation, "Reuploading my page and loving this excuse to post this ? outfit from last month that I forgot to post the next day. Because after a couple days it's strange to post, like you're hung up on how awesome you were 2 days ago. Which highlights how lame you are now by comparison to how cool you were when you wore that amazing outfit. So you wait a week or so for a #tbt. But then you realize it's way too soon for a #tbt, what were you thinking??! You should've just posted the next day! ?! What are you gonna do now?!? You can't let that outfit go unposted! And then you realize something even more important— you've lost your cool entirely. Thanks social media. You've officially taken my chill." Hey, same.
The Emily Nelson account, meanwhile, looks like a Fifty Shades Of Grey mood board. There are a lot of luxurious, minimalist interiors, some jewelry, and a spiky heel.
Reynolds, too, is starting to promote his next project. The upcoming Deadpool sequel features a song by Celine Dion but, no, that's not Ryan dancing around in the costume in the video.
Related: Blake Lively Just Deleted All of Her Instagram Photos and Unfollowed Ryan Reynolds In Likely Publicity Stunt for New Film A Simple Favor
Jennifer Lopez, Blake Lively, and Beyoncé Are All About Super Curly Hair These Days
Taking a break from her signature bombshell waves, actress Blake Lively elevates her look with voluminous, bouncy curls.

@blakelively
French model Jeanne Damas opts to wear her curls in a tousled top knot paired with a vibrant red lip.

@jeannedamas
Victoria's Secret Angel Lily Aldridge flaunts her natural beauty with radiantly bare skin and side-swept beach waves.

@lilyaldridge
Singer Ciara pairs her voluminous, long curls with full brows and a creamy nude lip.

@ciara
Wonder Woman actress Gal Gadot shows off her spring time glamour with tousled curls and a berry pink lip.

@sabrinabmakeup
Singer Jennifer Lopez is all about the drama, wearing her curls middle parted with a magenta smokey eye.

@jlo
Singer SZA makes the case for long, polished curls and tousled, brow skimming bangs.

@sza
French beauty and Estée Lauder's Global Beauty Director Violette, poses pretty in pink with her soft curls and matching magenta smokey lids and lips.

@violette_fr
It's all about dark plum lips, a natural smokey eye, and a sleek, polished up do for Beyoncé.

@beyonce
Model Sara Sampaio channels the 70's with her shoulder length voluminous curls and exaggerated smokey eyes.

@sarasampaio