Blondie's Back
Jeffrey Deitch and Chris Stein celebrate the legacy of Debbie Harry.
---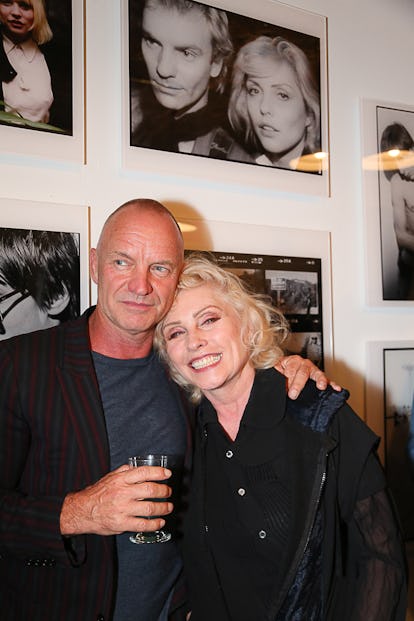 On Monday night, art dealer and curator Jeffrey Deitch unveiled his latest project: a exhibition celebrating punk rock legend Debbie Harry and the 40th anniversary of Blondie in conjunction with the launch of lead guitarist Chris Stein's new book, Chris Stein/Negative: Me, Blondie, and the Advent of Punk. The opening, which was held in the storefront gallery of the historic Chelsea Hotel, felt almost like a time machine thanks to the leather-clad crowd that came out to support one of their own. "We picked the Chelsea Hotel because it's very authentic and a part of the band's history," explained Deitch about the unorthodox locale. "The aesthetic of punk rock was not about the plastic manufactured star who is unapproachable, they were very real. You'd see them on the sidewalk after the performances. The audience was very much a part of it all." The evening's audience, a swarm of red-lipped beatniks wielding electric blue drinks reminisced to a throwback playlist while trying to get a glimpse (read: Instagram) of the night's star. Shy in front of the aggressive paparazzi box, the elusive Harry seemed most in her element chatting with old friends including Sting, Bob Gruen, and, of course, Stein. "We never used to have the photographer feeding frenzies we have now," explained Stein from behind his signature dark sunglasses. "Maybe they should just wear funny hats to get people to look at them. Or dildos."
Sting and Debbie Harry. Photo by Debora Spencer.
Jeffrey Deitch. Photo by Debora Spencer.
Trudie Styler. Photo by Debora Spencer.
David Godlis. Photo by Debora Spencer.