Security Breach
The user's guide to tastefully getting around town with your bodyguards.
---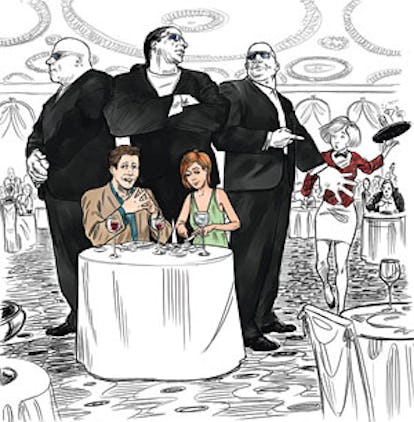 It was a typical night at Koi in Los Angeles. Mariah Carey was there. And Serena Williams. And Rick Fox, the former NBA star and ex-husband of Vanessa Williams. Interspersed among them were clusters of skinny women picking at their spicy tuna—except at the bar. There, sporting jackets of indeterminate materials, sat a row of men with remarkably thick necks. Meet the bodyguards. These intimidating specimens have become commonplace everywhere from Melrose boutiques to exclusive Upper East Side restaurants. "So many people are trying to make a statement by hiring bodyguards," says Josh Woodward, owner of the trendy Table 8 restaurants in L.A. and Miami. "They want the stares and the whispers. It's ostentatious." Herewith, six rules of etiquette that separate the good behavior from the gauche.
Be important. Ehud Olmert faces threats from terrorists and political enemies the world over. Tara Reid need be saved only from herself. Unless you're likely to be abducted, slugged, pawed or rushed by a camera phone–wielding fan, lose the entourage. "Guys just use bodyguards to get past a velvet rope," says celebrity publicist Lizzie Grubman, "and girls use them to get noticed by the paparazzi." Adds Bungalow 8 owner Amy Sacco: "Wealthy foreigners will come up to the doorman and say, 'It's me and four buddies and our guards.' It's absurd! No kidnapper is going to nab them here. And no one inside knows who they are—or cares."
Emulate government types. "Ex-generals are the most discreet," says Diana Biederman of 21 Club, a New York dining institution. "They reserve the table right next to them for their security. It just looks like two more business guys eating lunch." Eric Ripert, the chef-owner of Le Bernardin, notes that "politicians' security are extremely civilized. They never stand around a table; they sit at the bar or a table nearby, or we bring them lunch in their cars. And they are always neatly dressed."
Your bodyguard (unlike your hairdresser, stylist and personal assistant) is not your friend. One restaurateur tells me that Justin Timberlake is lunching in his dining room as we speak, surrounded by friends and his bodyguard at one big table; he cites this as proof of how cool and laid-back Timberlake is. Perhaps, but according to Charles Carroll, vice president of ASET Corporation, which protects musicians and Fortune 500 CEOs, it's also not so professional. "Eating with a client is a fireable offense," he says.
Mind your manners. "Rich parents send their trouble­maker kids out with guards so that when they get drunk and pick fights, someone's there to get them out of hot water," says one publicist. Sometimes it's the bodyguards who flout the rules. Ripert recalls having to eject poison-detecting dogs from the kitchen and wine caves. "It's not pleasant to cook with a dog," he sniffs, "and I cannot have my sommelier terrorized every time he returns to his cellar!" Says Manhattan nightclub owner Jeffrey Jah, "If a guard touches a patron, that is an automatic 'Goodbye!'" Which is why Elijah Shaw, president of Icon Services, which has protected Naomi Campbell and 50 Cent, values "verbal judo more than physical martial-arts skills" when hiring staff.
Know the dress code. "Start off in a suit," Shaw tells his employees. Of course, security staff don't typically scream high fashion—unless you're talking about Karl Lagerfeld's men, who are regularly clad in Dior. While most club owners prefer a more inconspicuous look for security, they agree that sloppiness is a major offense. "We've turned down Shaq for wearing sneakers," says a Las Vegas PR director. "Then Diddy shows up the other night with a guard who's wearing shorts and sneakers. Diddy was hosting an event, and he wouldn't enter without his guy. So we had to let him in, but it's obnoxious."
The coolest VIPs often travel alone, or at least make it appear that way. "Mick Jagger has maybe one guy, and he stands 15 feet away," says Jah. Adds the Vegas PR director, "Cameron Diaz, Drew Barrymore—they'll come with no one." By contrast, in her latest malfunction, Janet Jackson drew glares when her guards accompanied her inside the Metropolitan Museum's Costume Institute gala in May. "Even the Beckhams leave their guys outside that event!" says Sacco. Jah, for one, thinks quotidian use of security has gone too far. "Security is necessary at large commercial events geared at the public, but not at a bar, restaurant, hotel or private party," he says. Bottom line: Unless you've recently received a threatening collage, consider leaving your goons at home.