Cameron Diaz, Margot Robbie and Scarlett Johansson Joined an Instagram Fight Club
Watch Halle Berry, Scarlett Johansson and more "beat each other up" in the #BossBitchChallenge.
---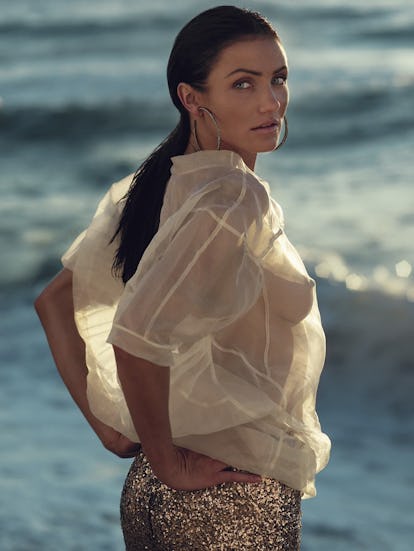 Photo by Mert Alas and Marcus Piggott. W Magazine, December 2006.
We're pleased to announce that the celebrities have finally come together and figured out how to produce good viral quarantine content. And it has nothing to do with singing John Lennon songs.
In fact, when we first saw that Cameron Diaz posted an Instagram video with the hashtag #BossBitchChallenge, we sighed deeply, figuring that she was the latest celeb to join TikTok and was about to attempt some choreography to a Doja Cat song. Instead, what we got was so much more.
Organized by Zoë Bell, the legendary Hollywood stunt professional and star of Quintin Tarantino's Death Proof, the five minute clip features a who's who of top female action stars and famed stuntwomen kicking each other's asses through clever editing.
In addition to Diaz and Bell, the clip includes (deep breath) Drew Barrymore, Rosario Dawson, Margot Robbie, Scarlett Johansson, Rosie Perez, Florence Pugh, Halle Berry, Lucy Lawless, Daryl Hannah, Zoe Saldana, Thandie Newton, Juliette Lewis and even little Julia Butters.
It's like the Marvel vs DC vs Charlie's Angles vs Xena: Warrior Princess vs Kill Bill vs August: Osage County crossover battle we know we've all long been waiting for.
The clip appears to exist for no other reason that the participant's collective boredom and our own delight, but we'll take any hit of entertainment we can get.
Of course, as is typical of these things, they do give us little glimpses into each celebrity's quarantine living situation, but mostly the thing that struck out to us is Lawless wearing a logo shirt from Wonkette, the once great political snark blog.
Related: Cameron Diaz Doesn't Miss Acting, Just Loves Married Life