Garden Variety
The newest antiaging wonders are harvested from nature and far from ordinary.
---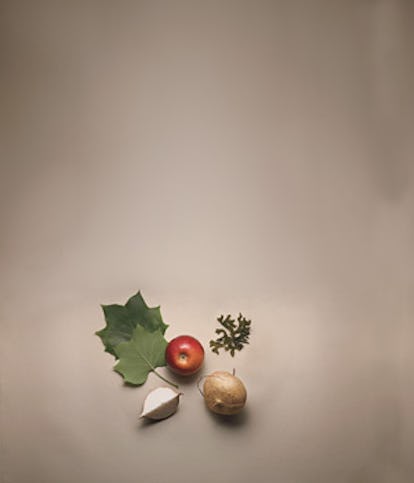 For centuries, women have benefited from the beautifying powers of plants. The famously vain Cleopatra slathered her skin with aloe to protect it from the sun; today we use everything from açai berries to red rice to preserve our looks. But a new crop of even more unorthodox greenery is about to take on the fight against aging.
Xavier Ormancey, director of Chanel's primary research center, says a lot has changed since Coco Chanel, back in the Twenties, prescribed jasmine oil for wrinkles. "We're discovering new botanicals nobody has ever used before, and they're the best we've found," he says. Ormancey has traveled to the Himalayas and the jungles of Peru in search of miracle ingredients, but his latest discovery, a wax that he claims rids skin of pollution, comes from a tree found in his native France. The large leaves of the tulip tree (its yellow blooms resemble tulip flowers) secrete the wax, which absorbs airborne pollutants before they can hinder photosynthesis. Though our skin's natural oils perform a similar function, Ormancey says he is able to boost their efficacy by adding tulip-tree wax to Chanel's new Précision Cleansers. "If you don't remove pollutants, they will penetrate the skin and accelerate aging," he cautions.
SkinCeuticals is also hoping to protect skin with a native botanical—American apple trees—in its new Phloretin CF serum. The company says it is the first to bottle phloretin, a powerful antioxidant present in the fruit. Surprisingly, the commonly found extract is "relatively unstudied when compared to other plant antioxidants," says SkinCeuticals consultant Sheldon Pinnell, professor emeritus of dermatology at Duke University. Pinnell suggested the company use the molecule after observing its ability to combat an especially wide range of free radicals while enhancing the defensive powers of vitamin C (also in the serum), reducing hyperpigmentation and preserving collagen.
These botanicals may be new to the beauty aisle, but the concerns they address are as old as Father Time. Good old collagen boosting, for one, is the goal of Raw Natural Beauty's new antiaging line. Each of the lightweight potions contains extract of ambiaty, an African plant traditionally used to heal wounds. "A wrinkle is like a wound," says Raw's founder, Christina Marcaccini. "[In both cases], skin has to rebuild collagen to repair itself." Fresh is also looking to firm skin with its Black Tea Instant Perfecting Mask. It contains jicama, and Fresh cofounder Lev Glazman claims the crunchy root vegetable is a whiz at prompting cell turnover, which also leads to greater skin elasticity.
A Middle Eastern root called Ferula foetida is shedding new light on another age-old issue: skin brightening. The root, which has been used as a spice for ages, stars as an unlikely whitening agent in Dermalogica's ChromaWhite TRx range, which debuts in the fall. The company reports that an all-natural extract from the root is just as effective as—and far safer than—hydroquinone (which is still under FDA scrutiny as a possible carcinogen) in inhibiting melanin production.
To raise moisture levels, La Mer's Hydrating Infusion (out in September) uses a brand-new blend of skin-quenching algae ferments. The marine ingredients are sourced, in part, from a shallow-water kelp that stays damp even when exposed to dry air. Paul Tchinnis, La Mer's director of research and development, says that when applied before the company's classic moisturizer, the infusion acts as a primer, "premoistening skin so it can better absorb Crème de la Mer."
There may be no shortage of interest in new botanicals, but Chantecaille's founder, Sylvie Chantecaille, is working to make sure there is no shortage of supply, either. She is currently investigating plant stem cells, which she hopes will improve healthy skin function and have the added benefit of promoting environmental sustainability. As she says, "We can take one cell of a plant and multiply that in a lab so we don't have to take the whole forest."
Styled by Victoria Petro Conroy