Bottega Veneta's New Short Film Examines Toxic Masculinity
The brand shipped projectors and the film for its new short movie, made by Daniel Lee and Tyrone Lebon, to homes around the world.
---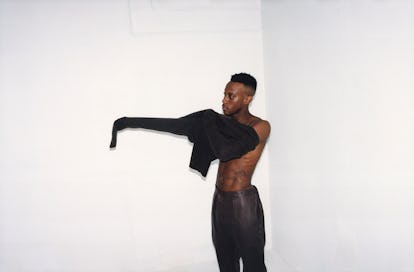 "In your eyes, what qualities make a man?" a deep, far-off voice asks a kid. "I'm not sure," the kid replies.
This is the opening scene from Bottega Veneta's short film, titled "Men"—an eight-minute movie made by the brand's creative director, Daniel Lee, and the filmmaker and photographer Tyrone Lebon, known for his work on the music video for Frank Ocean's "Nikes." Lee's quiet demeanor and Lebon's fine artistry comes through clearly in the film, which finds a cast of men (and one woman, Neneh Cherry,) including the actor Barry Keoghan, British musician Octavian, director Dick Jewell, and dancer Roberto Bolle. Each man is filmed in various stages of undress, as they change into outfits from past and present Bottega Veneta seasons.
The short was made not as an advertising campaign, nor to herald a new collection—it was simply a piece of art that Lee, who was brought on to helm Bottega Veneta in 2018, and Lebon wanted to make. It's available to watch on the brand's website, and on Mubi.
Each person featured in the video discusses what being a man means to them. It might seem like an odd time to poll guys on this topic, when patriarchy and toxic masculinity are being protested and questioned. But "Bottega Veneta: Men" does the opposite of reinforcing an old-school mentality of what it means to be a man—the people in the video are totally open, sharing their own stories in snippets and baring some deep emotions while they, both literally and proverbially, shed their armor.
"I grew up in foster care, there wasn't a father figure there for me at all," Keoghan says, while the camera dips back and forth between close-ups of his eyes, and far-away shots of his outfit: a rain-slicked anorak, a black turtleneck, a diamond chain. "We put this front on, we don't show anyone anything, it's a weakness. It gives me hope that I don't have to live up to this masculinity. The real leading men are the ones who are vulnerable and who do show their true feelings."
During a moment when fashion is leaning on video as a central form of expression—a stopgap for when the industry can get back to real shows—Bottega Veneta took things one step further with "Men." The brand shipped large boxes containing projectors and film to fashion editors, allowing them to watch the short movie in their homes. It evoked the feeling of being in a theater, or watching an art piece play out on the wall of a museum.
The driving point of the film is that there is no one way to be a man, especially in 2020; each participant's story, distinct in its nuances, proves that much. The scene closes with the same little boy from the beginning, saying that he plays video games as random characters, it doesn't matter the gender.
"Is it something you've thought about?" the deep, far-off voice can be heard saying. "Never, really," the child responds.