Bouchra Jarrar Is Departing Lanvin After Just 16 Months as Artistic Director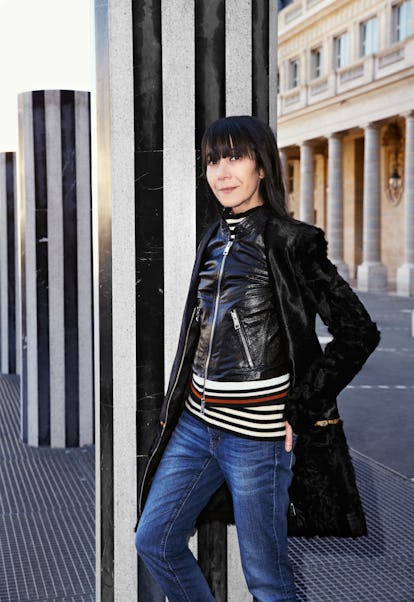 Photographs by Hugues Laurent, Styled by Felipe Mendes; Les deux plateaux: sculpture in situ par daniel buren 1985–86 dans la cour d'honneur du palais royal, copyright DB & adagp Paris
Just more than a year ago, designer Bouchra Jarrar shuttered her namesake label and was announced the new creative director of the French fashion house Lanvin. She succeeded Alber Elbaz, who had occupied the position for 14 years before his sudden ouster, reportedly the result of disagreements with the company's CEO. But now, after just 16 months and two collections, Jarrar is also out, according to Business of Fashion.
Jarrar had been charged with reviving the brand, and indeed, her designs were a departure from Elbaz's. Her debut Lanvin show during Spring 2017 featured her own signatures, like sharply tailored jackets, playful suiting, and tactile details, where Elbaz had been known for his elegant, red carpet-ready eveningwear. (Celebrity clients included Adele, Natalie Portman, and Cate Blanchett.) But business has continued to struggle even with Jarrar's retooled look—already declining at the end of Elbaz's tenure, according to Business of Fashion Lanvin's revenue continued to fall in 2016.
At Bouchra Jarrar's First Lanvin Show, Refined Luxury Backstage
In an interview earlier this year with the South China Morning Post, Jarrar revealed that she had encountered some opposition from the corporate leadership of the brand. "I need the whole house's support; alone it's impossible," she said. She entered Lanvin during a contentious period: Elbaz was particularly beloved in the fashion world, both by his celebrity clients and his design atelier. In the wake of his firing, the brand's staff was furious, demanding an explanation. When human resources managers declined to meet with staff members to discuss their concerns, tensions only further escalated. "There is a breakdown in relations between staff representatives and management that is unheard of," a works council representative told WWD in late 2015.
And for all the turmoil she inherited, Jarrar's tenure hasn't been without its own share of controversy. Reviews for her first two collections were quite positive—though Sarah Mower wrote, somewhat ironically, in Vogue: "She probably needs to work more on figuring out what a new Lanvin dress means to a modern woman, but she has plenty of time for that"—but Lanvin was subject to scrutiny over casting director James Scully's allegations that the brand had indicated it did not want to cast women of color in its Fall 2017 show. (Joan Smalls, who "expressed support" for Scully's Instagram alleging model abuse at several major fashion houses, according to Vogue, ended up walking the show.)
But when she signed on at Lanvin, Jarrar was also, significantly, part of a new wave of women designers taking up posts at major brands.
"It's wonderful to arrive at Lanvin as a woman because it's a woman's story," Jarrar told the South China Morning Post in the same interview. The same season she debuted at Lanvin, a house founded by a woman—Jeanne Lanvin—in 1889, Maria Grazia Chiuri showed her first collection for Christian Dior, where she was the first woman ever to be named artistic director of the label. Since then, Clare Waight Keller has departed Chloé for Givenchy, succeeding Riccardo Tisci; and Natacha Ramsay-Levi has stepped out from Nicolas Ghesquière's shadow at Louis Vuitton as Keller's successor at Chloé. With Jarrar out at Lanvin, that's one less woman at the front.
Bouchra Jarrar's Inspirations, from Jeanne Lanvin to Prince
Bouchra Jarrar, wearing a Lanvin coat, in Daniel Buren's installation Les Deux Plateaux, at the Palais Royal, in Paris.

Photographs by Hugues Laurent, Styled by Felipe Mendes; Les deux plateaux: sculpture in situ par daniel buren 1985–86 dans la cour d'honneur du palais royal, copyright DB & adagp Paris
Inspirational photographs in her office.

Photographs by Hugues Laurent, Styled by Felipe Mendes
A crystal chandelier and exposed ducts point to the yin and yang of Jarrar's workspace.

Photographs by Hugues Laurent, Styled by Felipe Mendes
The designer's runway lineup for her debut Lanvin collection.

Photographs by Hugues Laurent, Styled by Felipe Mendes
Photographs by Hugues Laurent, Styled by Felipe Mendes
The stripped-down decor at the rue du Faubourg Saint-Honoré studio.

Photographs by Hugues Laurent, Styled by Felipe Mendes
Brittany, France, a favorite vacation spot.

Getty Images
Jarrar (right), with the model Karlie Kloss, at the finale of her spring show.

Getty Images
A Lanvin sketch by Jarrar.

Courtesy of Lanvin
One of Jarrar's inspirations, David Bowie, 1973.

Getty Images
A white satin suit from the Lanvin spring 2017 collection.

Getty Images
Prince is another of Jarrar's inspirations.

Jean-Baptiste Mondino/Iconoclast image
A floral print for spring.

Getty Images
Jeanne Lanvin, at a fitting in her Paris atelier in the 1930s.

Getty Images
Her salon, in 1921, designed by the architect and decorator Armand-Albert Rateau. Lanvin Décoration services could be engaged through the boutique.

Courtesy of Lanvin
The Lanvin logo was created by Paul Iribe in 1923, inspired by a photo of Lanvin and her daughter.

Courtesy of Lanvin
Nicole Kidman, Milo Ventimiglia, and James Franco cover the Spice Girls' "Wannabe":